Have you ever looked at your wardrobe and wondered where do these clothes come from, how are they made, where will they go once the use is over.
Yes, they did come after you hit that buy button on the eCommerce site, or went on a shopping frolic, or got gifted by a family member.
But, your favorite piece of garment took many other resources along its way before it got delivered to you. Let's look at a couple of major ones and the impact it has on the environment
The materials are mostly cotton, nylon, or polyesters. In the case of nylon & polyesters, each time it gets washed, many microfibers are released into the water bodies and get consumed by aquatic life. While cotton cultivation requires many times more water than most other crops. As per research, 2,700 liters are needed to make a single cotton t-shirt.
The next big component in our garments is the heavy application of chemicals during fiber production, dyeing, bleaching, and processing. Thus causing extensive water contamination, water pollution, and soil degradation.
Another big problem with the fashion industry is the after-life of the garment. While few of you may donate to a charity, otherwise most of it ends up in the local landfills.
These telling signs cannot be ignored anymore by consumers.
PECKD is one such company that is addressing the above environmental aspects of the fashion industry. We got an opportunity to have a wonderful interaction with its co-founder Hitesha Deshpande.
PECKD is a fully compostable fashion label that designs garments that naturally decompose when buried in moist soil.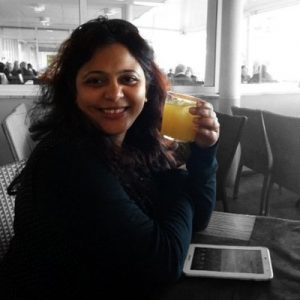 Author, serial entrepreneur, and animal lover Hitesha along with founder Himanshu Kulhari started working on their idea in 2018 and launched the first set of PECKD garments in 2020.
The Gurgaon-based company uses fabric that is made with fruits & vegetable extracts, buttons made with nuts, and even thread is made of compostable yarn.
We do not recommend tasting the fruity PECKD garments, but you can surely give it a peck (kiss) once you get these environment-friendly & biodegradable garments in your hands.
Here is an edited version/excerpts of our conversation with Hitesha Deshpande, where she gives interesting insights about PECKD garments, the thought process behind creating this biodegradable & compostable fashion brand, her journey, and the plans for the company. For the full discussion please watch the video.
Tell us about your Journey?
I have been a serial entrepreneur where I run 3 companies other than PECKD.
Production House
Marketing & Communication agency
Digital marketing agency
I am also an author, have written a couple of fiction books.
How did the idea of PECKD come?
What led to PECKD was very regular, 2 friends having a conversation post-work discussing love for animals. They also happen to be fashion enthusiasts, the only thing which you get in fashion is quirky animal printed t-shirts.
There is nothing which we can wear to our workplace or evening outing and show our love for animals. We decided to bring a fashion label which can show our love for animals in regular everyday wear.
The fashion industry is not hunky-dory as it may seem, we got exposed to pollution in the industry. Fashion is the second most polluting industry in the world and causes a lot of depletion of the ecosystem. At one point in time, we wanted to leave this idea as we did not want to contribute to this deterioration.
In 2018, we started to research the market and realized that people are not very conscious about their clothes, where they are coming from, and what's happening after they are worn. The discarding of the clothes is another big process where most of the clothes go into landfills.
We decided to make a difference in all of that, a solution that is not only sustainable but goes beyond sustainability. It took about 2 years of research to find a compostable material that doesn't disintegrate.
The fabric is the most obvious component, the next thing in the process were buttons, zippers, tread. The biggest challenge was the thread because no matter what we do if the garment is not going to hold on to your body, no one is going to wear it. Thread is usually made of nylon, but we would lose the compostable element if we use it. We were finally able to find a compostable yarn to stitch our clothes.
It took us two years to come up with the first range of PECKD garments in January 2020.
When we say PECKD garments are fully compostable, it only means when you bury the cloth in moist soil it will decompose in 180 days and not when you are wearing it.
What we uncovered in the process as our fabric naturally decomposes, we do not add to the toxicity of the soil. We actually end up protecting the current value of the soil.
Can you explain Organic Clothing and Sustainable Fashion?
Sustainable is something that does not cost you a lot of natural resources and the best way to go sustainable is to reuse & recycle. For example, so much water is used to make one t-shirt, and if we consider the water shortages in villages, we feel ashamed to wear t-shirts. As we are not aware of these stats and due to the affordability of these t-shirts, we keep buying them regularly. With sustainability, you will be more conscious and buy only when needed.
Organic simply means that you are avoiding chemicals.
Organic & sustainable choices are commendable, but we need to do much more.
PECKD garments have come out as the solution to repair that damage. We not only conserve our natural resources, but we also give back to nature. When we say that you can wear the PECKD garments to the soil, we genuinely mean it. Our clothes take care of the discarding problem, once you are done with the garment, put it into your compost bin.
PECKD is a step beyond sustainable and organic.
Can you elucidate the fabric and where do you get it from?
We have a direct connection with the vendors, 2 of them are in India, and 1 is in Cambodia. Any fabric which comes needs to be sample tested by us.
In the fabrics we source from India, we use vegetable pulps, the one from Cambodia uses lots of fruits & flower extracts. We are trying to avoid machines in fabric development as that will mean chemicals will be used in the fabric.
In the case of fruit extracts, we have success with banana, pineapple, lotus, etc. Our buttons are made from nut pulps like walnuts and almonds.
The fabric is not traditional silk, cotton, or satin, but we use words like silk & satin to explain the texture of the fabric. As we sell it online and customers are not able to touch & feel those words help customers visually benchmark.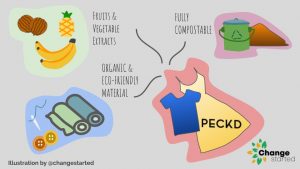 Why did you go for the garment and not something else?
The way you dress is the first impression we give out to people, the accessories are an add-on. We wanted to make a statement, hence we started with apparel.
We are still figuring out if we can use this for accessories and how we can make accessories compostable.
Did you have prior experience in the fashion or the garment sector?
Yes, I have studied fashion designing and there is always a connection with the fashion world, but it's only after PECKD that I have come back to it.
Making PECKD garments must be an intricate exercise
I remember in our earlier days, we had so much trouble in explaining to our partners – about the compostable, the difference between biodegradable & compostable. They used to throw organic fibers at us, saying this also works in the market.
The other resistance we got was from our own tailors and masters, they found it difficult to find alternatives to plastic buttons and zippers.
Now they have got used to our processes and are willing to accept the challenges we throw at them. We have created a system where we do not accept any alternative solution. We have to thank the fashion industry as retro fashion is back in the business, which makes our lives easier.
The sourcing of the fabric, threads, and buttons is happening through our vendor partners. As these partners are custom manufacturing only for us, they usually demand a higher minimum order quantity (MOQ), which substantially increases our prices.
A lot of times, we are told that if you want to make a difference in the world, you have to make your garments affordable. There is a big process that happens behind it, which not many people understand.
Are things happening in-house?
We have a team of designers, tailors, quality checks (QC), the structuring of the garment happens in-house.
How are you planning to increase adoption?
We want to keep the fashion quotient very high, there is a segment that is willing to spend a higher amount on clothing for occasional wear. This is why we only have designer pieces, which justify the higher price point.
Manufacturing costs for us are very high, hence we are constantly looking to add value to our products. We also want more & more people to buy our product so that it becomes affordable for everyone.
We get very good acknowledgment from the US and Australian markets. Over there people have already bought into the concept of bio-degradable, organic and compostable garments.
Having said that, we want more people to latch on to the idea, we don't care if it is India, Australia, or the USA. When people will understand the concept, more of them will be willing to embrace it.
How can people buy PECKD garments?
We are only online, which helps us to control the QC, shipping, and also our biodegradable & plantable packaging. I don't see ourselves occupying stores in the malls or big retail outlets.
What are your product categories?
We are sticking with women's apparel like shirts, skirts, and dresses. The idea behind our collection is inspired by an animal.
We wanted to launch men's apparel last year, but have to put that into the backseat. Most likely it will come this year. It is not just women's responsibility to care for the ecosystem.
What are the future plans?
We want to introduce new fabrics, men's collection, more range in women's collection. We plan to introduce a slightly lower-priced segment of fashion as well.
Are you open to funding?
Yes, we are open to opportunities with people who want to partner with us. We are interested to work with people who are invested in the idea and share the same passion.
PECKD is an interesting name, what was the idea behind it?
Peck is a little kiss, this brand is showing our gratitude towards nature.
What is your personal connection with Environment and nature?
I want a fairer, cleaner, and consistent eco-system. I don't want the masks to become the way of life.
You can watch the full conversation here