Introduction
The Fast Moving Consumer Goods (FMCG) industry is the 4th largest in the Indian Economy. By its nature, the industry includes goods that are produced, marketed, sold, and consumed rapidly – cycle time being at its minimum.
Thus, also arises the need to package it not only with utmost safety but also at the lowest possible manufacturing cost due to the large manufacturing volume. How can stringent measures of plastic neutrality among the companies operating in the FMCG industry can help save the planet? Let us take a look at some facts and figures.
How do the World and India Fare with Plastic Waste and Pollution?
The World Plastic Pollution
In the last 50 years, world plastic production has increased 200 times from around 2 MT/year to about 400 MT/year today. And it has been steadily growing at an alarming rate of 15 MT/year.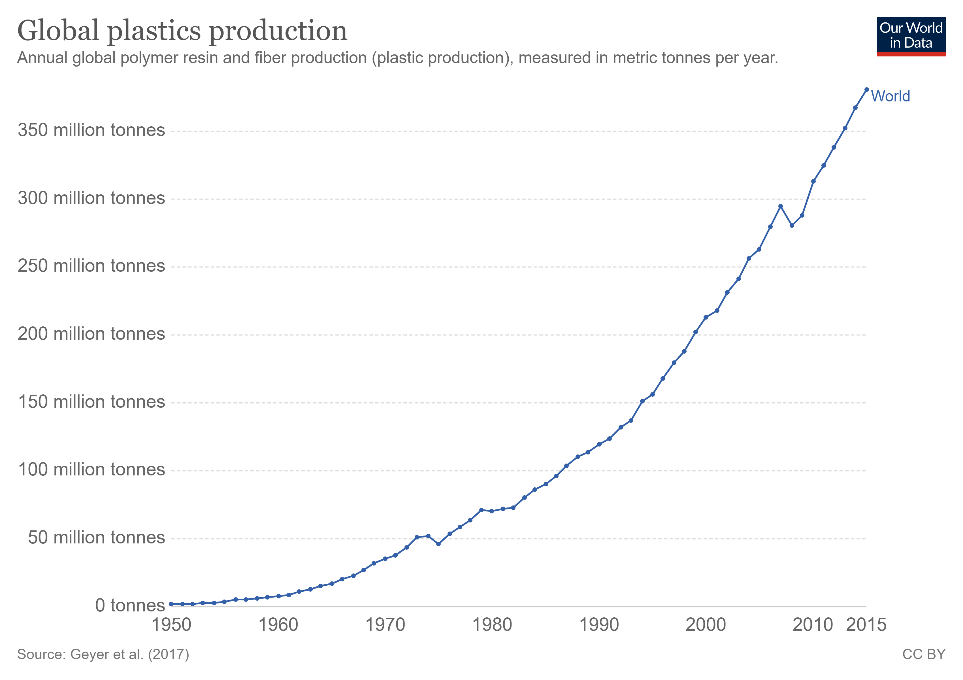 While the usage of plastic has been growing over the years, efforts are being made to find ways to recycle waste. The result, however, is not too encouraging. Below are the statistics by Geyser (for the year 2010) –
Plastic Produced in the world – 381 MT
Recycled – 74 MT (19%)
Burned – 97 MT (25%)
Discarded – 210 MT (56%)
India at a Glance – Plastic Pollution
Some startling "plastic" facts about India
India is one of the few countries in the world that generates less than 100 gms of plastic per person per day. (Germany, Guyana, Ireland, Kuwait, USA, New Zealand generate more than 300 gms of plastic per person per day
India ranks 15th in the world for total plastic waste generated in a year
85% of the plastic waste generated in India is littered
India ranks 5th in the world (just behind China, Pakistan, Nigeria, and Indonesia) among the highest plastic litterers of the globe amounting to 2% of the world's total mismanaged plastic waste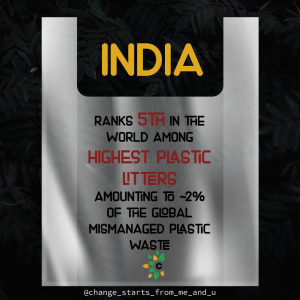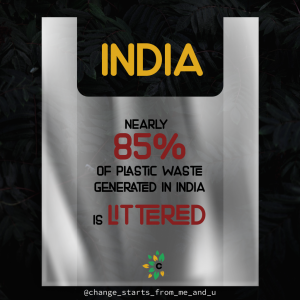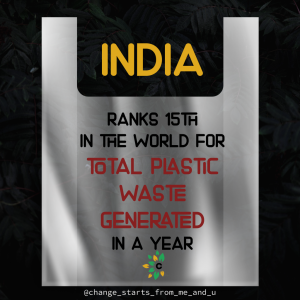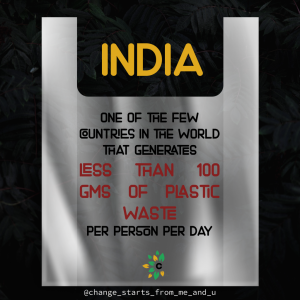 While the per capita consumption of plastic in India is low, the amount of plastic waste generated is huge and largely remains untreated.
A quick look at the industry statistics reveals that the Packaging industry produces the maximum amount of waste –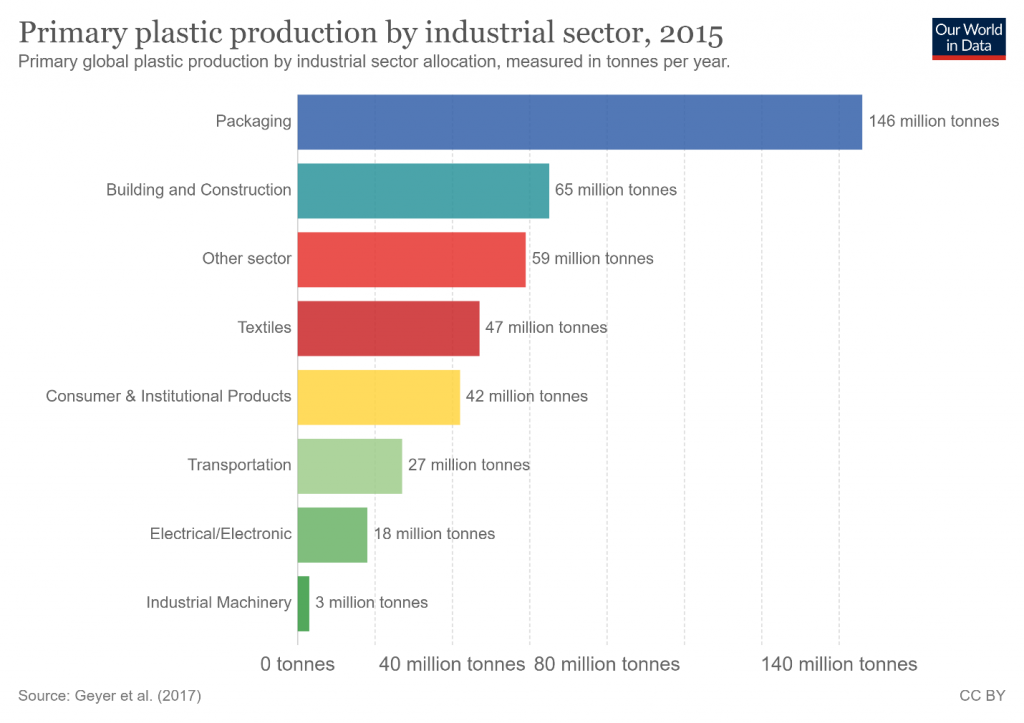 FMCG industry is the biggest contributor to the packaging plastic waste generated. Statistics reveal that – In 2014, >95% of the total number of biscuits, dried processed food items, and hair care products; and >85% of dairy products, baked goods, laundry, and skincare sold in India were packaged in plastic.
According to the government reports –
India generates 10 MT per year of plastic waste from the FMCG sector
India's recycling rate is now at 60% against the global average of 20%
While these statistics do not align with that of some independent research reports, the bottom line remains that with the growing usage of plastic, it is time that the FMCG companies start putting up efforts to help India achieve its goal to become plastic neutral by 2022.
Stepping Stone – Being Plastic Neutral
Before the Prime Minister's speech on October 2nd, 2019 about eliminating the usage of single-use plastic, more than 20 FMCG companies pledged to become plastic neutral by 2022. This included FMCG companies like Hindustan Unilever, Dabur, ITC, Kelloggs, Mother Dairy, Nestle, Modelez, Pepsico India, Bisleri, Coca-Cola India, among others.
Below are some of the statements by some of the leading players in the FMCG industry.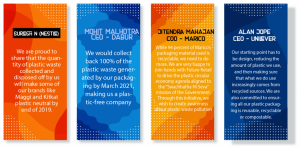 Recently, Nestle announced that two of its biggest brands – Maggi Noodles and Kitkat – to go plastic neutral by Dec 2019. Reporting doubt digit profits in the last quarter, this commitment from Nestle comes as a welcome change effective within a span of just 2 months.
Challenges
While efforts are being made to eliminate the use of plastic in the FMCG industry, there is a need to find innovative solutions in the packaging industry. The current usage of plastic is one of the cheapest and effective ways to help reduce commodity prices thereby helping the masses esp in the rural areas.
With growing concerns on the environment and a subsequent upcoming ban on plastic usage completely, it needs to be seen how will the companies operating in the packaging sector help curtail prices by using alternative means of packaging. Questions have also been raised on the livelihood of people working in this sector.
While there are many questions to answer and a long way ahead, one thing remains clear – environmental consciousness has reached the right person and we will definitely come up with innovative solutions in the near future to address questions pertaining to an alternative packaging material that is cost-effective.
Solution Ideas
Some of the ideas which the FMCG companies can incorporate as part of their action plan, which we have written in another post as well.
Reducing the reliance on sachets bags and single-use plastic packaging.
Investing in alternative delivery systems – like using biodegradable materials, or home refill service
Large companies also need to collaborate with startups and small companies that are working on creating sustainable packaging. Most times the niche company will come up with a better solution than the R&D wing of a big corporate.
Introduce non-plastic-based packaging, probably paper, glass, or metal-based wherever applicable.
Reduce virgin plastic (new plastic made from oil) packaging and instead use recycled materials
In a world where only 14% of the plastic packaging makes its way to recycling plants, it becomes pertinent for companies to encourage consumers to return the plastic after use – such that effective waste disposal can happen.