"When you smoke the herb, it reveals you to yourself."
That quote is credited to one of the pioneers of reggae music, Bob Marley – Jamaican singer, songwriter, and musician. Different people have their own perspectives of what he meant when he said this, but one thing is clear, the herb is Cannabis.
While most of us understand the psychoactive effects of the Cannabis plant, popularly known as weed, but there is another side to this highly versatile plant.
Cannabis has tetrahydrocannabinol (THC) content, if that is more than 0.3% THC, it is used for recreational purposes (gives psychoactive effects), if cannabis contains 0.3% THC or less, it is known as Hemp or Cannabis Sativa.
Hemp can be grown for a wide variety of industrial purposes, including paper, textiles, animal feed, food products, and clothing.
In fact, it's considered to be one of the most sustainable alternatives for making products like paper and textiles. In the last few years, hemp clothing has become a preferred choice for many consumers.
There are many reasons for the growing admiration, Hemp grows much faster than other crops, requiring far less water than cotton. That's not all, hemp absorbs bad pollutants from the soil and it does not require pesticides, because it is natural pest repellent.
Even that's not enough, clothes made from Hemp textiles are strong, resilient, anti-microbial, and also have the ability to regulate body temperature.
Given that the fashion industry is the second biggest polluting industry, responsible for 20% of wastewater production and releasing tonnes of microplastics in the ocean, we need sustainable fashion brands that offer Hemp clothing.
Where can you buy Hemp Clothing? Ecentric is a sustainable fashion brand from India which offers various garments for males and females made with Hemp Clothing. The brand is gaining huge popularity in the Indian market.
We caught up with the founder of the Ecentric, Salendra Gupta to have a fascinating discussion on this journey and why he decided to go for hemp clothing, his plans.
Based out of India's tech capital, Bengaluru, Ecentric sources hemp fabric from Europe and then gets them processed through its partners to offer some simple-looking garments made with Hemp.
The Jamaican singer probably did not know that you can wear the herb as well and it will reveal your eco-friendly choice.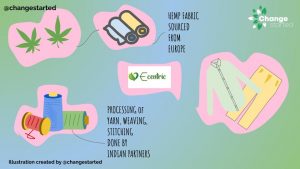 Here is an edited version/excerpts of our conversation with Salendra Gupta, on his journey, about hemp clothing, the idea to make sustainable fashion affordable, and future products. For the full discussion please watch the video.
Tell us about your journey
I did my engineering at HBTI, Kanpur, and then worked with Ericson in the telecom domain for 3 years. After that like many engineers did my MBA from IIM Calcutta and worked with Godrej Properties in their land acquisition team.
In 2020 when the pandemic hit, while we were all stuck in the homes, I became more aware of what I am eating and consuming.
Then suddenly I realized about the thing which I am wearing which causes so much environmental damage. When I read more about it, I realized that the textile industry is the second most pollution-causing industry and then I decided to do something in this space.
A year before lockdown I came to know about Hemp fabric, Hemp is a cannabis plant that is a bast fiber like linen or other natural fiber, and its environmental impact is almost 4 times less than cotton. It doesn't require fertilizer, pesticides, and it helps in protecting soil erosion.
I was very intrigued by the environmental impact and the quality of the fabric. It keeps you warm in winters and cools in summers. Then I thought let me take forward this idea by starting this brand using hemp fabric.
The company was registered in June 2020.
Why you got into the fashion business and not some other sustainable business
I come from Surat and I had knowledge of textiles and my younger brother is a textile engineer and because of my connections, it was easier for me to start in the textile industry.
Moreover, I thought about the wellness and health food segment, but I could see there are more than 20 different brands.
There were very limited brands in textiles doing sustainable fashion in India. Even the brands which were there, personally I felt was not very affordable and the designs were not something which I would wear.
That's why I thought this is the space I could enter.
Can you elaborate a little more on Hemp, it is associated more with wrong connotations.
Broadly cannabis family has two kinds of plants – Cannabis Sativa and Cannabis Indica. Cannabis Indica gives you high or causes psychoactive effects while Cannabis Sativa does not.
There is a component called Tetrahydrocannabinol (THC) in a cannabis plant that gives psychoactive effects, in Cannabis Sativa it is less than 0.3% and it has its own medicinal advantages.
Normally people associate Cannabis with psychoactive effects, but there are two totally different plants. More than 20000 products can be made from the Cannabis Sativa plant.
When the government banned Cannabis, it has banned both the plant categories. Now the government is realizing that Cannabis Sativa and Cannabis Indica are totally different from each other and have started legalizing them.
Even in India, cultivation of Cannabis Sativa is allowed in some states, where THC is less than 0.3%. States like Uttrakhand, UP, Andhra Pradesh have legalized it for medicinal purposes.
How do we change the mindset towards Hemp Clothing?
When we started people used to ask whether they would feel any psychoactive effect after wearing this. The answer is No.
In the case of Cannabis Indica, the THC is in the range of 5% to 35%, which causes psychoactive effects and in Cannabis Sativa it is less than 0.3%. Hence even if you consume this, you will not get any impact.
Do you source your Hemp raw material from India or elsewhere, what is the process of manufacturing?
The three states Uttrakhand, UP, Andhra Pradesh have legalized it only for medicinal purposes and not for fiber. Industrial cultivation is still not happening in India.
In our case, the fiber comes from Turkey and the processing, spinning & weaving of the yarn is done in India, similar to linen where you import flex fiber and the rest is done in India.
I have a supplier who does the weaving and spinning of the yarn based on my business requirements. For the shirt, we need a different kind of fabric and for the pants, we need a different kind of fabric. Once the processing of the fabric is ready, they will send it to my facility in Bengaluru. Then we get the stitching done from our stitching partners.
How can we buy Ecentric Garments? How is the response?
We sell on Amazon, Myntra, and through our own website as well.
Initially, the traction was less but slowly it is growing, as more people realized the importance of fabric.
Amazon is also realizing the importance of sustainable clothing. We are part of the Amazon Launchpad program and they have an organic store on Amazon India, Ecentric is the featured brand on that store.
Myntra has Mytra for Earth which is a sustainable store, Ecentric is a featured brand in that as well.
These marketplaces are also promoting sustainable fashion brands in a big way, which is very good for the ecosystem in India.
Even on my website, repeat purchase is very high.
A lot of people fill our feedback form, write an email and call us telling us that our collection is very affordable and is very Indian. Like Women Kurtas which other sustainable brands don't have in India as they focus more on western wear.
What are your product categories?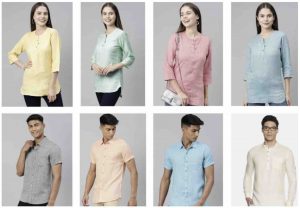 We have men's wear and women's wear.
Men's wear we have half sleeves shirts, full-sleeve shirts kurtas, shorts, lounge pants
Women wear we have kurtas, casual tops, and lounge pants.
We are also planning to launch t-shirts and dresses for women. Tshirts are knit fabric which is difficult in the case of Hemp, hence we are doing R&D with my suppliers to make it possible. It might not be 100% hemp but may be blended with some other fabric like cotton.
Do you have designers?
Designs are done in-house mostly by consultants, but we have kept the designs very simple.
Are you looking for funding?
Not currently, maybe in future
What is your take on the Hemp Clothing industry in India?
Himachal Pradesh, Tripura, Madhya Pradesh, and few other state governments are planning to legalize the cultivation of hemp. The state governments are realizing the importance of hemp as it helps the farmers as well. Compared to cotton the yield of hemp is also more.
Once they legalize it, the supply will increase, then more players will come in and once more players join, the economies of scale will kick in which will further reduce the prices, and then more customers will join.
In the case of Ecentric, the idea was very simple, the sustainable fashion brands in India are not very affordable. If a consumer wants to try sustainable clothing they were not able to make the switch because of the cost.
Ecentric will help in making that switch easier, our price points are very affordable, which helps consumers make a switch to sustainable clothing.
How are your financials looking?
We have started making money from last December and our margins are in double digits.
As we are working on a very lean model, where most of the activities are outsourced to external partners, that's the reason we are financially viable.
Once the demand increases, we will scale and build more teams.
What was the idea behind the name
Ecentric means environment-centric.
What is your personal connection with nature?
I am very fond of mountains, when I was doing my engineering, every year I used to travel to mountains. When you go there you realize the disconnect between the fast-paced life of big cities and what nature bestows us.
Since then I have always wanted to do something associated with nature and somehow I got the opportunity to work.
The pandemic has taught us the importance of the environment
If you are interested to buy Ecentric Hemp clothing from Amazon, you can do it from the link below –
For the full discussion, you can watch the video here: