Brazil's National Institute for Space Research (INPE) has launched a remote sensing satellite – Amazônia-1. This is first satellite that is completely designed, integrated, tested, and operated by INPE.
Amazônia-1 is an earth observation satellite that will further strengthen the existing structure for monitoring deforestation in the Amazon region. 
Additionaly, the Amazonia satellite will also provide analysis of diversified agriculture across the Brazilian territory.
The satellite launch was performed by the Indian Space Research Organization (ISRO) on Polar Satellite Launch Vehicle PSLV-C51. On February 28, 2021, Amazonia-1 became the first Brazilian Satellite to be launched from India.
Watch Live: Launch of Amazonia-1 and 18 Co-passenger satellites onboard PSLV-C51 https://t.co/qFAbowphNo

— ISRO (@isro) February 28, 2021
Purpose of Satellite
The purpose of Amazonia's mission is to monitor the coastal region, water reservoirs, forests, and environmental disasters. The data collected from the satellite will be available to all the stakeholders who interested in a better understanding of Brazil's terrestrial environment.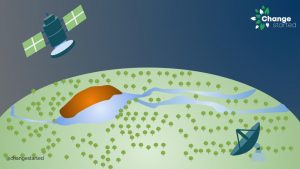 Amazon rainforest is the world's largest forest spread across 9 countries — Brazil, Bolivia, Peru, Colombia, Ecuador, Venezuela, Guyana, Suriname, and French Guiana. The majority of the Amazon Basin (~60%)  is in Brazil and is under severe threat for the last few years.
Brazil is losing its rainforest at an alarming rate due to illegal woodcutting, agriculture, cattle ranching, and forest fires. According to data from the National space research agency (INPE), deforestation in the Amazon rainforest in Brazil jumped to a 12-year high in 2020.
Amazônia 1 will be able to generate high definition images for environmental monitoring. The system will be operated by INPE (DETER) who will monitor deforestation in real-time and share information with IBAMA, to guide inspections and combat illegal logging.
DETER was developed as an alert system to support the inspection and control of deforestation and forest degradation carried out by the Brazilian Institute of the Environment and Renewable Natural Resources (IBAMA).
About the Amazonia Satellite
The satellite and is equipped with an optical sighting wide imaging system consisting of a camera with three bands in the visible spectrum and one band in the near-infrared. It carries an observational field of view of 850 km with 60-meter resolution, has a launch mass of 637 kg, and is designed to operate for four years.
The development of the Amazonia satellite took about 8 years and an investment of R $ 400 million (USD 70 million). The satellite development was complete in December 2020 and was dispatched to India.
The Amazonia series satellites are composed of two independent modules: a Service Module, which is the Multi-Mission Platform (MMP), and a Payload Module, which houses image cameras and equipment for recording and transmitting image data.
The camera concept, design, and manufacture were done by 2 Brazilian companies from Akaer Group – Equatorial Sistemas and Opto Space & Defense, both companies have a long history and experience in satellite camera development.
About Brazil's space program
Brazil has one of the oldest space programs in the world, with the founding of INPE dating back to the 1960s. The Amazonia-1 is the 13th satellite of the institute and will be the 44th Brazilian satellite
Future Plans
Next in line is the Amazônia-2 satellite that is planned for launch in 2022 to replace its predecessor.