Anil Joshi Emerges As A New Sensation
Anil Joshi was in the news from the time the trailer of the game reality show Kaun Banega Crorepati was released. Now, after the broadcast of the KBC episode, where Dr. Anil Joshi along with filmmaker Anurag Basu participated in the show, the man has emerged as a sensation because of several reasons.
Meet Padma Bhushan DR. ANIL JOSHI who created employment through locally available resources, and promoted self-reliance and ecosystem sustainability in Himalayas. Watch him on the hotseat on #KBCKaramveer, tomorrow 9PM only on Sony TV. @SrBachchan @SPNStudioNEXT@basuanurag pic.twitter.com/qpJRdIMiRA

— sonytv (@SonyTV) December 24, 2020
First, he is a Social worker, Botanist, and Green activist. Secondly, he is the recipient of India's civilian awards (Padma Bhushan, Padma Shri), and thirdly, he is known for his illustrious and amazing work at the Himalayan Environmental Studies and Conservation Organization (HESCO).
We bring to you through the lens of The ChangeBlazers, a series of life-changing stories aimed at 'Me and You' from people bringing in a positive change every day. This is a story of the man who brings Mountain to life, one that will surely leave you inspired and hopeful of a better future.
Early Life and Background
Let's start with his early life, Anil Joshi was born in a middle-class family on 6 April 1955 in Kotdwar, Pauri Garhwal district in the Himalayan state of India – Uttarakhand. He secured a master's degree in botany and a doctoral degree in environmental science.
After three years of teaching botany in a local college, Joshi decided to take his ideas from the laboratory into the field.
Himalayan Environmental Studies and Conservation Organization – HESCO
At age of 24, Anil Joshi decided to provide a more formal name and face to his approach, and thus Himalayan Environmental Studies and Conservation Organization, or HESCO was formed in 1979. HESCO, a Dehra Dun based voluntary organization, is dedicated to the development of environment-friendly technologies for the rural population, especially in the Himalayan region.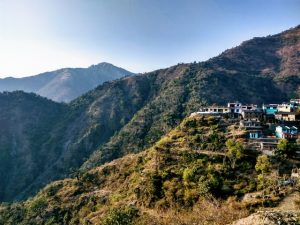 Most of the team comprised of people who are scientists and engineers including his students who have joined HESCO as well. The team applies their knowledge of the environmental sciences to help improve the quality of life of the vulnerable populations.
HESCO and the team of scientists work directly with grassroots communities of villages in the Himalayan region.
Anil Joshi HESCO has been researching the biodiversity of the Himalayan region for a long time and helped spread awareness about the protection of biodiversity of the region at national as well as international platforms.
Dr. Anil Joshi has been particularly regarded for his contribution to making villagers aware of the importance of environmental conservation. He encouraged mountain village farmers to revive traditional agricultural practices and generate income, this brought a remarkable change in the local economy and ecology.
Anil Joshi – Man and Mountain Meet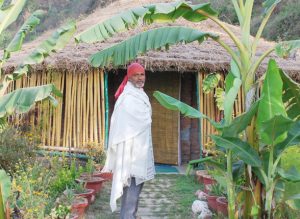 The environmentalist believes that, if the mountain region has to progress holistically, then the efforts of development must reach out to the remotest of villages. A couple of the noticeable achievements by the green activist, which was also shown on the TV show Kaun Banega Crorepati
Upgradation of Watermills – The traditional Indian watermills, also known as 'gharats' is a common household machine in Himalayan villages used to grind wheat. Over the years, these watermills become neglected gave way to diesel and electrical engines. Through the efforts of Dr. Joshi and his team, the watermills have been successfully upgraded to generate electricity from water pressure and light up villages. With simple technological changes, the watermill can generate 2-5 kW of electricity, enough to illuminate a villager's home.
Temple Prasadam (sweets) – Another great initiative by Anil Joshi and his organization was promoting the use of locally-sourced ingredients to make prasad (sweet offerings) at temples.

At Vaishno Devi shrine in Jammu & Kashmir, Joshi got villagers to grow maize, which was slowly getting into oblivion. Then he got local women to make laddu (sweets) using that maize, which is then used as offering at the temple. The idea is now replicated at many other temples in the region.
Joshi has been proactively helping in providing villages with composting pits, toilets, plant-based drugs, and herbal pesticides, and rainwater harvesting techniques. This apart, he has been working to find uses for a local shrub, Kurri, which had been considered a weed, by utilizing it for making furniture and incense sticks.
Further, he is now concentrating on recharging rivulets by digging holes in catchment areas. He educated the farmers of Uttarakhand about the use of gobar (bio) gas to minimize the dependence on wood for cooking.
After the 2013 Uttarakhand disaster, he not only helped people in rehabilitation but also encouraged people towards fruit processing to get income for the families.
He is also advocating the need to measure Gross Environmental Product (GEP) in addition to GDP, which normally all the countries use as a standard measurement of economic development. GEP will provide data on forests, water sources, quality of air, and soil for the ecological growth measures of the country for overall sustainability.
His home state, Uttrakhand has already adopted GEP and few other Indian states are considering the modalities.
Awards and Accolades
In the year 2006, the Jamnalal Bajaj Award for Application of Science and Technology for Rural Development is awarded to Anil Joshi. For his achievements, he was awarded many prestigious awards, including Nadoja Award, Karnataka Kalpavalli Award, Godfrey Phillip Award, and Vishwathama Award, and more. Anil Joshi has also been listed in "The Week" Magazine. He was declared as the "Man of the Year" in 2002 by the Indian Science Congress in 1999 and received India's fourth-highest civilian award Padma Shri in 2006.
In the year 2016, Dr. Anil Joshi at a ceremony held at the Vigyan Bhawan, New Delhi got conferred by President Pranab Mukherjee with the third-highest civilian award Padma Bhushan. He was presented with a scroll of honor and a cheque of Rs 5 lakh, for his contributions to Indian society.
Anil Joshi has been conferred Biotechnology Social Development Award, The award is given to personalities whose organizations have done commendable work in the social development sector.
The Real Hero Award
For his contribution to the needs of rural India, Dr. Anil Joshi has conferred the Real Hero Award, jointly instituted by Reliance Industries and CNN-IBN, to honor unsung heroes from all across the country in various fields. Nita Ambani, on behalf of the Dhirubhai Ambani Foundation, handed over the award to him.
Image and References from HESCO