Indian cities like Gurgaon, Delhi, Bengaluru, Chennai, Hyderabad, and Pune are hubs of global business houses, multinational organizations, and BPO & IT companies.
Thousands of employees are part of these organizations, each traveling back and forth from their homes to their swanky offices. Many of these employees rely on the cab services provided by their employers for their daily commute.
Lately, many of these corporations are increasingly shifting away from fossil fuel-driven vehicles to more sustainable alternatives for employee commutes, thereby reducing their carbon footprint and deriving economic benefits.
It is not that these companies are providing employee cab services on their own; there is a slew of startups helping businesses to make their employee commute fleet sustainable. Here are a few Indian startups offering sustainable fleet management services.
Lithium Urban Technologies
Bengaluru-based Lithium Urban Technologies is one of the largest EV fleet companies in India. The company offers B2B e-mobility solutions across passenger and freight segments to many corporate clients. In 2014, Lithium started as a taxi company before venturing into fleet management, charging infrastructure, and a demand management platform.
Bombay Logistics
Bombay Logistics is an employee transportation service provider to its clients in the IT/ITES, banking, insurance, and aviation sectors. The Mumbai-based company provides electric vehicles fleet to Infosys, GE, Accenture, Capgemini, and Cerner, among others.
MoveInSync
MoveInSync is a Bengaluru-based EV startup that enables commutes from employee homes to offices, shuttles along fixed routes, and cabs for business travel. The company's software also helps companies manage pick-and-drop schedules, monitor the car's health and battery life, and keep a tab on the driver's alertness.
Everest Fleet
Everest Fleet operates in the shared mobility space across multiple cities in India. The Mumbai-based company is one of the only companies to use a 100% CNG fleet of vehicles.
Evera Cabs
Founded in 2019, Evera is an EV fleet company that provides cabs for employee daily pick-and-drop services. Apart from personal rides, Delhi-based Evera Cabs also offers fleet management services to corporations and businesses.
Wrapping Up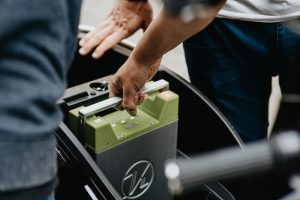 The demand for Electric vehicles is rapidly increasing as consumers become more conscious of their environmental footprint and economic benefits and as technology improves. This is also percolating to choices that employees want to make in the organizations where they work.
Transitioning to EV, the company signals its commitment to sustainability and environmental responsibility. It further helps them financially as electric vehciles have lower operational costs, and companies can also accumulate carbon credits, which can be sold in the market.
However, company cab services run on extremely tight schedules that involve pickups and drops of employees from different parts of the city. This gives EV cabs potentially very little time for charging and runs the risk of being stuck somewhere in the city or delaying the employee.
Therefore, it is pertinent that companies not only hire a sustainable fleet management company but also facilitate in providing space for putting charging infrastructure and other necessary support.
Cities are responsible for half of road vehicle emissions, and the United Nations predicts that almost 7 in 10 will live in cities by 2050. With these dangerous statistics staring into our faces, it is not a matter of choice but an obligation for all of us to transition towards a sustainable world.