Every time I open the leftmost drawer of my kitchen cabinet, I am dismayed at the number of spoons, forks, knives that I have accumulated. Then on the bottom shelf, there are containers of all shapes and sizes.
The anguish is because all this cutlery and containers are made of plastic, polystyrene, and styrofoam.
Plastic Waste is a colossal problem in the entire world, especially the countries which are home to a large affluent section of society. More specifically, those families and individuals that do not believe in cooking by themselves rather prefer food ordering. Probably the pandemic which forced people to stay home accentuated the demand for online food delivery.
DoorDash, Uber Eats, Grubhub in the USA; Meituan, Ele.me in China; Deliveroo in the UK; Delivery Hero, Just Eat in Europe; and Zomato, Swiggy in India among many others came to the rescue for all those who liked to have restaurant food while sitting at home.
Each of these companies is a food delivery behemoth in their respective countries. Apart from providing convenience to consumers, market access to restaurants, and jobs to delivery partners, probably one thing which is missed out in this discussion is the plastic and plastic waste that the online food delivery business generates.
The food delivery needs containers, bowls, cutlery, glass, cups, lids, foil, condiments sachets, ketchup, stirrers, delivery packets, etc.
Most of the time the containers, bowls, cutlery, glass, packaging, etc. are made with styrofoam or plastic.
Plastic as most of us understand takes hundreds of years to decompose with certain categories worse than others. Plastic is generally categorized from Type 1 to Type 7.
Type 6 is the one that is mainly provided by restaurants for take-out deliveries and is made of polystyrene (styrofoam).
In one of our interactions with Sonal Shukla, co-founder of Eco Deco, a company that makes home decor items from plastic waste, she smilingly remarked, "Zomato and Swiggy (Indian food delivery players) have promoted so much plastic waste because of take-out containers, cups, and plates and the recyclability is very low for this type of plastic."
Plastic waste generated by food delivery is simply enormous for any one entity to solve.
Who is responsible for the plastic waste food delivery generates?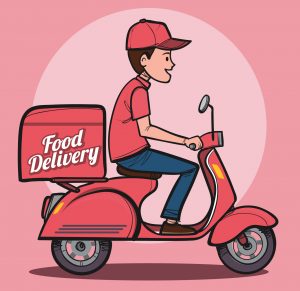 While one may argue regarding the responsibility of plastic waste generated by food delivery, where does the buck stops? Whether it is,
Restaurant owners & staff that pack the food.
Food aggregators who deliver it to consumers' homes.
End users, who unpack the food from the parcel and indiscriminately throws it as waste.
On one hand, restaurants are spread across the length and breadth of the country and it is difficult to enforce checks there. On the other hand, consumers are still largely unaware of the consequences of plastic waste.
Hence, either out of self-consciousness or investors & environmentalists' increasing pressure, the onus has fallen on the food aggregators to plug the gap.
Solutions for reducing food delivery plastic waste
Opt-in for Cutlery on Mobile App
With huge financial backing and technological prowess, some of these food delivery companies are trying to reduce their carbon footprint by leveraging technology.
The majority of consumers eating at home neither need nor want plastic containers, plastic cutlery, ketchup packets, etc along with their food orders. Taking the clue, a slew of companies have introduced the 'Opt-in for cutlery' feature on their mobile app.
In September 2019, food tech major Uber Eats introduced this feature that requires customers to opt in to receive single-use items such as utensils and straws.
On similar lines, India focussed Zomato announced in August 2021 that customers will now have to explicitly request cutlery, tissues, and straws. The Gurgaon headquartered company has made a change in its feature on the mobile app. Earlier the customers had the option to skip cutlery with their order by clicking a small checkbox, but as per the company's blog post, this is what they had to say.
"On the Zomato app, customers always had the option to skip cutlery with their order. However, very few customers used that option. We learnt that it wasn't because they always wanted the cutlery, but because they weren't making an active choice. Defaults almost never get changed by customers during product flows.
We surveyed thousands of our customers, and a whopping 90%+ of them said that they didn't really need plastic cutlery with their orders. Keeping this in mind, we decided to change the default mode for cutlery – customers will now have to explicitly request for cutlery, tissues, and straws, if they need it. This is now a 'opt-in' instead of a 'opt-out'. " – Deepinder Goyal, Co-founder and CEO, Zomato
As per the company estimates with this change on the Zomato app, it will "help save up to 5,000 kilos of plastic in one day – that is up to 2 million kilos of plastic in a year". Additionally, it will also "help our restaurant partners save ₹2-5 (~0.5-1% of order value) on every order going forward". Though it is a small percentage of 26,000 tons of plastic India generates every day, but each small step counts.
Zomato which became India's first food tech company to go public (in July 2021), is also planning to convert its entire delivery fleet to electric by 2030.
China's three biggest food delivery companies—Meituan, Baidu, and Ele.me succumbed to the pressure from the environmental body and social media to launch a similar feature. All three companies added a "no utensil" option to their mobile apps.
Reusable containers
Before any of the food tech business founders were even born, Mumbai in India had the famous dabbawalas where thousands of home-cooked meals were delivered in metal tiffin carriers on foot or by bicycle.
Probably taking some inspiration, US-based Go Box and DeliverZero are using reusable food containers for their food deliveries.
Portland-based GO Box and has partnered with restaurants to provide reusable packaging to its customers.Go Box charges customers to pay the subscription fee for the use of a reusable container. After the usage customers can deposit their container at a designated drop site for the Go Box team to collect and wash for reuse.
NewYork based DeliverZero delivers food in reusable containers which customers can return to the delivery courier on their next order.
Biodegradeable packaging and materials
The UK-based Deliveroo apart from having a customer opt-in feature also offers eco-friendly alternatives to its restaurant partners. The company BioPak's range includes cups, napkins, and cutlery that is made from plant-based material and is certified 'home compostable'.
Another UK-based food ordering company, Just Eat has partnered with sustainable packaging firm Notpla to provide recyclable takeout containers lined with seaweed. Launched in February 2020, the company claims that the container is able to decompose in four weeks if put in a home compost.
Wrapping Up