The bright yellow flowers drooping from the trees are reminiscent of the water drops of a bathroom shower, hence aptly named Golden Shower Tree. The sight could also remind you of brightly lit chandeliers.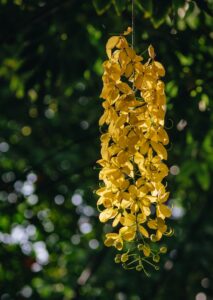 Cassia fistula, popularly known as Golden Shower Tree, Purging Fistula, Indian Laburnum, or Amaltas in India, is a flowering plant in the family Fabaceae. The trees are native to the Indian subcontinent and South East Asia.
The trees are the quintessential symbol of the onset of summer when the flowers bloom from April to June. The beginning of golden-yellow hues is a sight to behold that brings happiness to any onlooker.
The flowers are highly delicate, making a yellow carpet as they fall on the ground after a few days. So whether it is grown in a park or on the sides of the road, the golden flowers of Cassia fistula add luster to the landscape.
Cassia fistula is a deciduous tree which means that during summer, it sheds its leaves, which reappear after the bloom is over towards the end of June. The ornamental nature of the tree indicates that it does not provide any shade from the scorching heat of summers in tropical regions.
Significance of

Golden Shower Tree
Cultural
However, the tree has cultural significance apart from its beauty. Amaltas have been mentioned in ancient textbooks in India, such as Ramayana and Mahabharata.
In Srilanka, the tree is part of many Buddhist temples. In Thailand, the Cassia fistula Tree is the national tree, and the yellow flowers became the country's national flower because they represent both Buddhism and Thai royalty.
Cassia fistula is also the state flower of the Indian state of Kerala.
Culinary and Medicine
In the ancient Indian medicine Ayurveda, the tree is cited as 'Aragvadha,' meaning "disease killer" because of its healing qualities and health benefits.
In addition, it is also used for making tea, dips, jams, and other food options.
Here is a small video to give you a feel of the Golden Shower Tree and its beautiful yellow flowers.