Given the uncertainties around climate change and its impact, humanity is racing against time to bring solutions that address the climate crisis. In that aspect, businesses have an important role to play in preventing and solving the climate change problems and investors have an equally significant role to encourage these companies.
If you are one of those looking for sustainable investments in Indian companies, we have listed a few green companies in India that are listed on stock exchanges – National Stock Exchange (NSE) and the Bombay Stock Exchange (BSE). Most of these green companies are well established.
Adani Green
Adani Green Energy Limited is the world's leading green energy company that is listed on the stock exchange. Adani Green is part of India-based business conglomerate Adani Group. The company develops, builds, owns, operates, and maintains utility-scale grid-connected solar and wind farm projects.
Key customers of AGEL include Solar Energy Corporation of India (SECI), National Thermal Power Corporation (NTPC), and various State Discoms.
Founded in 2015
Headquarters: Ahmedabad, Gujarat
Suzlon Energy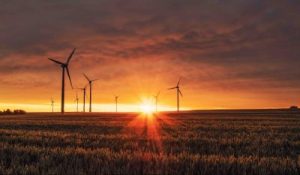 Suzlon Energy is India's one of the oldest renewable energy solutions providers, primarily in the wind energy sector. The company has developed some of the largest operational onshore wind farms in states like Gujarat, Rajasthan, Maharashtra, and Tamil Nadu. In recent times, the company has ventured into solar power and has plans to get into Wind-Solar hybrid solutions.
The company has more than 25 years of experience in the Indian market, however, liquidity constraints, a high level of debts, and a large focus on wind Energy will remain to be challenges for the company
Founded in 1995
Headquarters: Pune, Maharashtra
Praj Industries
Praj Industries is a leading process solutions company with expertise in integrated offerings for bio-energy, high purity water solutions, and engineering-led businesses.
The Indian government has renewed its focus on biofuels by enhancing policies that will facilitate energy security. This has boosted demand for Praj's bio-energy portfolio, like ethanol and compressed biogas. Additionally, Praj's biogas solution will help combat air pollution and environmental hazards caused by stubble burning while facilitating the country's gas economy.
Founded in 1983
Headquarters: Pune, Maharashtra
Gravita
Gravita India is an Indian multinational company having state-of-the-art manufacturing units of lead metal & lead products, aluminum alloys, plastics granules, and PET flakes. The company possesses specialist experience in the recycling of used lead-acid batteries, cable scrap, lead scrap, aluminum scrap, plastic scrap, etc.
The company's recycled products like pure lead, lead alloy, Aluminium alloy, and PET flakes find application in a variety of industries and sectors. Gravita has a customer presence in more than 50 countries in Europe, America, Asia, and the African continent and over 50% of the revenue comes from overseas markets.
The company's manufacturing facilities are spread across many Indian cities, Sri Lanka, and African countries like Ghana, Mozambique, Tanzania, and also in Nicaragua & Jamaica.
Founded in 1992
Headquarters: Jaipur, Rajasthan
VaTech Wabag
VA Tech Wabag is an Indian multinational company that is focused on water treatment for municipal and industrial users. The company has business in America, Africa, and Europe.
The company was founded by Max Reder in 1924 in Breslau, Germany, and after a series of acquisitions and mergers, the company's water business was taken over by VA Technologies. In 2010, Va Tech Wabag joined the list of green Indian companies that are listed on stock exchanges – the National Stock Exchange (NSE) and Bombay Stock Exchange (BSE) and since then the company has seen a lot of price movements in its stock price.
Refer to a detailed analysis by Finshots on VA Tech Wabag.
Founded in 1924
Headquarters: Chennai, Tamil Nadu
ION Exchange
Ion Exchange is into various environmental solutions like water treatment & recycling, air pollution control, solid & hazardous waste management, and generation of energy from waste.
The company offers end-to-end water solutions for industry, homes, and communities – planning, integrating and managing water on supply, quantity, quality, discharge, and environmental fronts.
Founded in 1964
Headquarters: Mumbai, Maharashtra
Wrapping Up
India is on the cusp of many opportunities, especially in the areas of renewable energy and solar in particular. With 300 days of sunlight, a vast coastline, and many rivers & tributaries – India has all the necessary wherewithal to reduce its dependence on the coal-based energy resources to a major extent.
At Glasgow Summit 2021, India has set an ambitious target of becoming a net-zero economy by 2070 and achieving 500 GW of non-fossil fuel energy generation by 2030. To achieve this the government has been formulating conducive policies, including efforts to incentivize private players to participate in realizing this vision.
India heavily depends on the Chinese companies which have been integral to India's clean energy success. Take the case of solar energy, India does not make silicon wafers needed for solar cells and depends on imports for the majority of its module requirements. Taking cognizance of this gap, the Indian government in the Budget 2022 announced an additional allocation of Rs 19,500 cr for PLI for manufacturing high-efficiency solar modules
Many large-scale listed Indian companies have already taken the clue and have ventured into the renewable sector – Tata Power, Reliance, NTPC, Torrent Power to name a few – these companies cannot be termed as green companies in India as currently, their major source of revenue is from the fossil fuel business.
Take the case of Reliance, even though the company announced in 2021 an investment of more than $10 billion (Rs 75,000 crores) over the next 3 years toward the green energy sector but its petrochemical, oil, and gas-related operations still form the core of its business. However, if Reliance decides to separate its renewable business and list on the Indian bourses, it can very likely become one of the investors' favorite green companies in India.
One thing to always consider for sustainable investment is to look beyond renewables and solar. As you can see from our above list apart from renewable, we have included a few companies in waste management, recycling, and water treatment sector as well.
As India continues to work towards its climate goals, we will surely see more green companies in India that raise public money and are listed on India's stock exchanges.
The article is only for information purposes and does not make any recommendation on any stock.
If you are aware of any Indian listed company that primarily works in the environment sector, let us know we can add that to the list. Furthermore, if you like this article, please leave a comment below, so that we can continue to share updates about companies working in the green sector.
Change Started is the platform where we cover stories from the environmental sector.
We have not included green companies in India that are listed on the stock exchange and are working in the electric vehicles segment. You can read about those companies here.
Companies supporting the Electric Vehicles Revolution in India