In November 2019, the Civil Aviation Ministry of Indian government asked all the domestic airlines to promote the country's cleanliness campaign i.e. Swachh Bharath. Some of the activities which the airlines have been asked to do are –
Play the cleanliness anthem on board
The staff and crew of the airline to wear swachhata badge, 
Text messages and emails to flyers 
Material related to cleanliness on the magazine and booklets in seat pockets
Last week we looked at a few of the leading domestic airlines – we flew with a couple of them (GoAir and SpiceJet) though for other purposes, but thought to keep a check on this new diktat. We did not hear any anthem or see staff wearing badges, but we definitely found the in-flight magazines in the seat pockets with Swachh Bharath (Clean India) theme on the cover pages.
GoAir magazine – Go-Getter had the Swachh Bharath symbol – Gandhi's spectacles and caption – "Go Swachh, Bharat". The article gave out some interesting tips for travelers to follow when they venture out. Packing own toiletries, carrying a cloth bag to load all the shopping, using personal handkerchiefs instead of paper napkins, refilling water bottles are some of the examples given.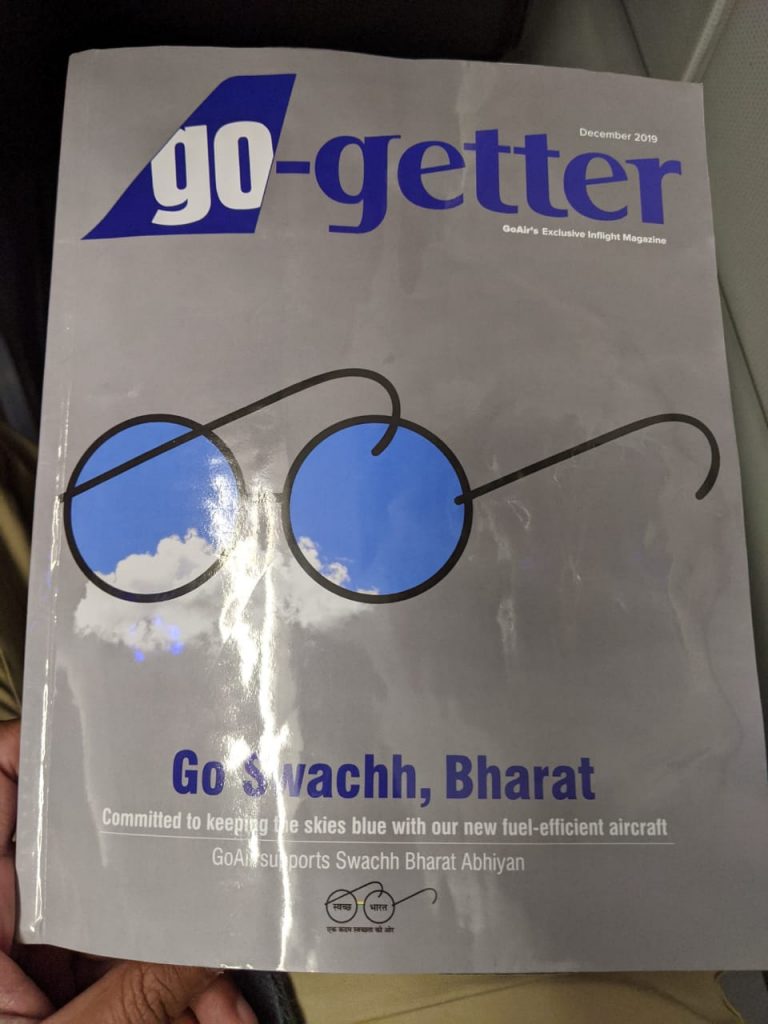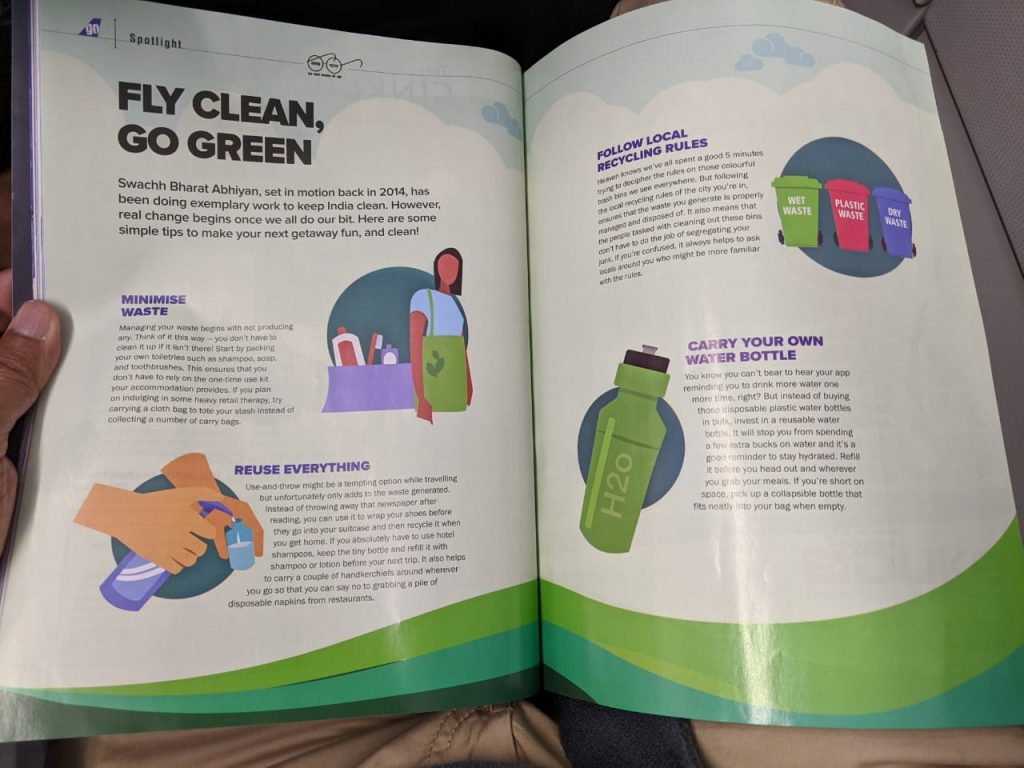 SpiceJet magazine – Spice Route had a picture of a brightly colored toilet with a couple of people in front of the door. The caption said, "Towards a Cleaner India". The 4-page story resonated with the theme and gave out details and facts about India's progress towards cleanliness. "Since October 2014, 1013.96 lakh toilets have been built and there has been 61.30 percentage increase in households with toilets".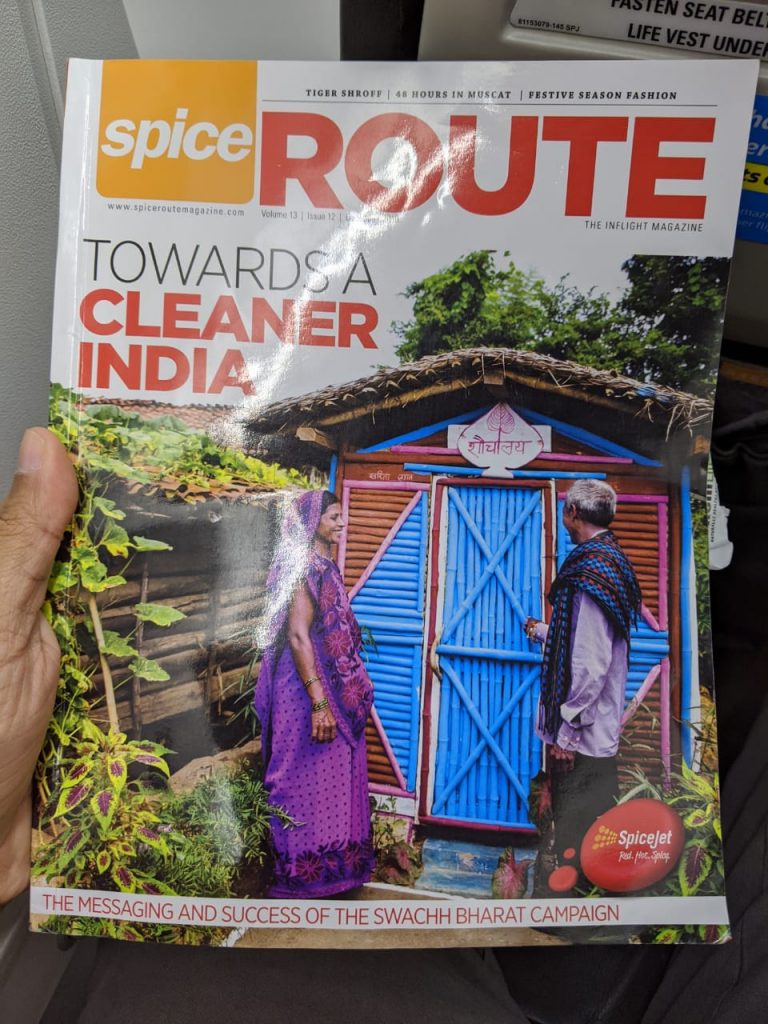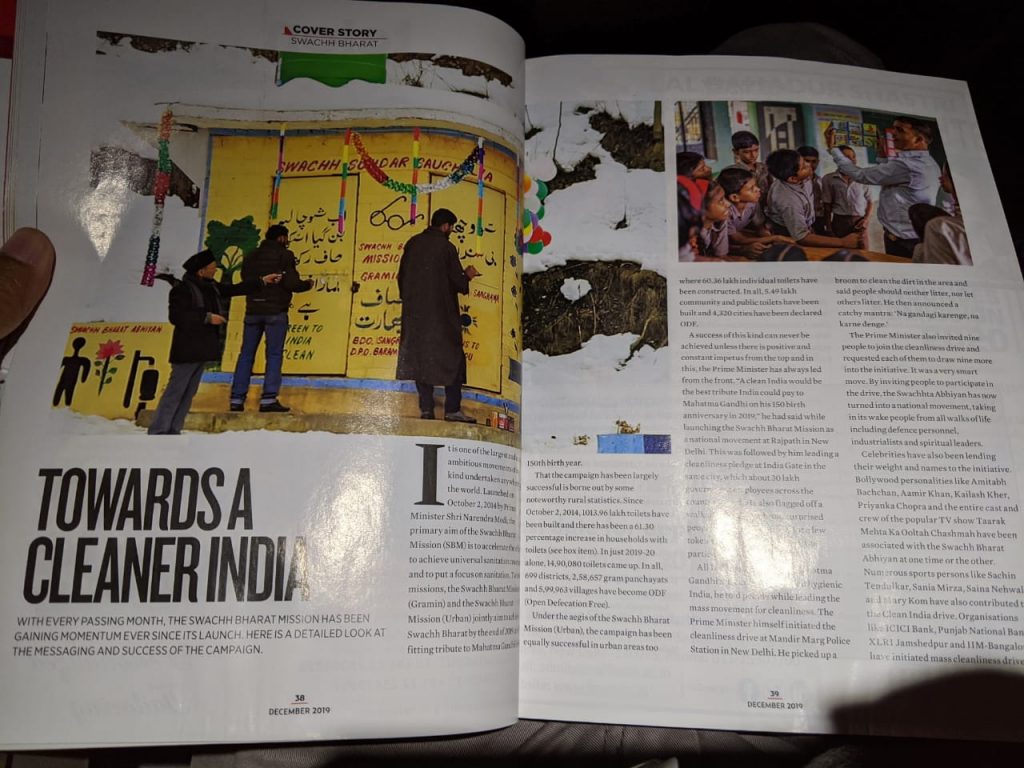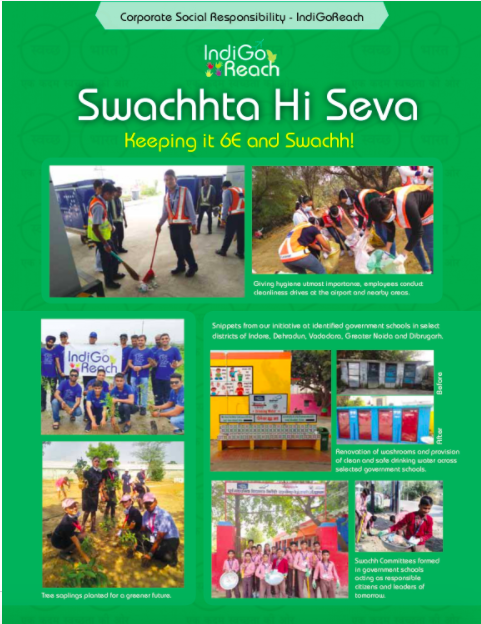 Indigo, which has cheekily named their magazine as 6E, though did not have a cover story, in one of the articles they touched upon a different aspect of pollution – air pollution. In the story titled "Wipe the Pollution", the author Ajay Shankar, fellow at The Energy and Resources Institute, New Delhi, presented his take on ways and means to tackle India's air pollution menace. The airline presented its own CSR activities on cleanliness with a page filled with pictures.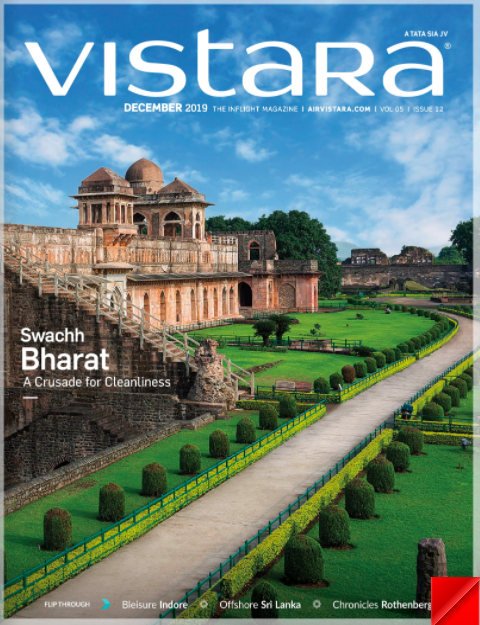 Vistara also did not have any cover picture, but there was a story which stressed on the progress India has made on the initiative, "Since 2014, India has invested over $20 billion for Swachh Bharat Mission (SBM), arguably the largest every sanitation budget for 5 years, anywhere in the world"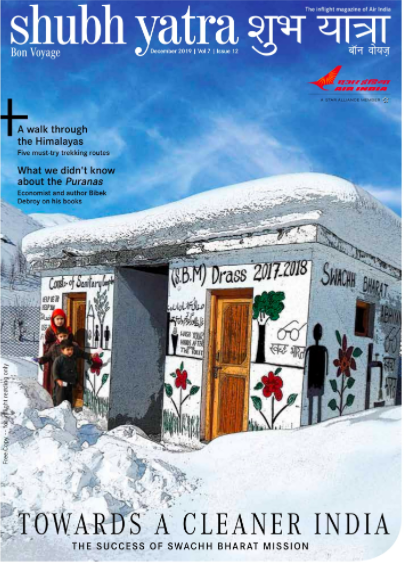 Inflight magazine of Air India – Shubh Yatra, which was the reference point for all the other airlines as per the Government directive. The story "The Clean Revolution" was once again driving home the point of how it all started and the amazing impact it has created.  There are lakhs of people who have become part of this mission, they not only have tried to keep their societies and home clean but are also propagating the initiative in their own unique way. "A study by Bill & Melinda Gates Foundation has found that in Open Defecation areas, there were 32 percent fewer cases of diarrhea among children, 15 percent fewer cases of stunting and 32 percent fewer cases of women with below normal body mass index (BMI). Better nutrition and health for women and children directly contributes to higher school attendance and improved learning outcomes." In addition, there is direct employment for people working in the sanitary ware sector and other cleaning work.
While people would have their opinions on the logic of this enforcement, but we see this as another important step towards propagating a cleaner initiative. Considering the magnitude of the problem, each effort is a step in the right direction to make more and more people aware. The fight is not between rich and poor or educated and illiterate, this is a crusade to make India and the world a much cleaner place. There are over 10 million passengers flying on Indian domestic airlines every month, even if a small portion of them reads, who knows what impact it might create. As it was given in one of these articles, that African country, Nigeria, has taken inspiration from India and has launched its own open defecation free campaign. Who knows success from India can lead the word to create a better society.
For the airlines, apart from filling a few pages, the Government has proposed an official reward for best-performing airlines. Based on the success of the initiative, airlines could possibly be rewarded with traffic rights on a lucrative route or perhaps a prime airport slot.