If you take a walk in a nice flower garden, most likely you will be amazed by the hues and colors of various flowers and plants. A common marigold can display plenty of different yellow and orange shades. Such is the beauty of nature that mesmerises one and all.
Imagine, if those shades can be put on your clothes – those subtle shades of orange, blue, red, green, yellow, etc. on your Shirts, Stoles, Sarees…
That would be wonderful, wouldn't it?
Imagine, the fabric of your favorite clothes is completely organic, natural, and handwoven through sources like cotton, linen, and silk…
Wouldn't it be a sublime and delightful experience?
The closest thing for human beings is not a loved one, but, to be practical, their clothes. Should that not be sustainable?
Sustainable clothing is not only delightful for your body but less stressful for the environment too.
We caught up with Jigisha Shukla, founder of Bageeya – a company that is creating an ecosystem of craftsmen from around the country to build a sustainable fashion brand.
Here is an edited version/excerpts of our conversation with Jigisha, for the full discussion please watch the video.
Let's start with the basics. Can you tell us what sustainable clothing and fashion is? It's a buzzword and yet I am sure not many of us know about it.
I would term sustainable clothing as textiles and handicrafts that would not harm Mother Nature. Also, which provides employment and growth opportunities to all the people who are working towards the cause.
People consider cost as a major factor in shifting a change towards a sustainable lifestyle. But, people are not aware that garments are in touch with your skin all the time. So you need to be aware of this fact that what you're wearing is also very important.
When you wear something which is herb dyed or something which is hand-loomed, your skin can breathe. When you read about Ayurvastra which was practiced in the Vedic period it is mentioned that it's very important to know what you keep close to your skin. When I talk about bringing sustainability in textile, the major awareness is needed in consumers as well.
Also, a major shift is needed in the brands who want to actively work towards this idea because many times not all of the brands are staying very true to their ethics. They mention 'hand-loomed'; they say 'natural dyes'; but brands don't follow that. Because at the end of the day your manufacturing cost would go very high.
Calling a fake chanderi – chanderi – would bring down the entire market. So, if you're not able to do that then don't make sustainability a buzzword just for marketing. In that case, you would be destroying the root.
Since the Vedic times we are known to use mostly tree-based textiles- cotton, jute, etc. Where do you think we as a country have gone wrong?
It would be a very long process. It is from the British era where they started this machine-made garment. Initially, we were much inclined towards weaving our own fabric. During the British era, they brought an option – a cheaper quality fabric, variety – and that was widely adopted.
There were a number of fabrics from which you can choose from. People took the easy path.
It is said that the handloom industry is the second most employment generating industry in India. But proper initiatives are not taken towards it. Agriculture is the first and second is the handloom industry. The government should also come in and take this initiative where they educate people. We should have a subject about textiles if we really want to see a major change in the handloom industry of India.
People are not aware and they don't want to change their habits. If you are used to wearing something which is easily available in the market and is according to the style, where you can buy like almost a thousand pieces a year then you won't switch to that lifestyle where you are just buying one garment in a month.
We have come a long way from the British era to the modern age where people are making conscious choices. But people could take it for fashion but will not take something which is hand-loomed.
Also, the brands need to bring more styles, more quirkiness, more fun into the garments.
Interesting!!
How did you got into sustainable clothing and started the sustainable fashion brand Bageeya?
Even in my college, I used to do a lot of work with Indian textiles. Also, connecting with Mother Earth comes very naturally to me. I always wanted to work in that particular area.
What I observed in our handicrafts is that it's very exquisite, amazing and you can see the process. But I saw that somewhere some kind of the quirkiness or joy element was missing.
It was then that I started conceptualising Bageeya where I can work with Indian textiles, Indian artisans, and use my contemporary eco-dye technique.
So whenever you'll see any one of our garments it would have stories from majorly 3-4 states. So if I talk about our Kimono the main body of the fabric comes from Bihar, the inside fabric which is of Kalamkari comes from Andhra Pradesh and that is also natural. While the pockets are of brocade which is from Banaras.
So I thought of bringing something new, people can think of it like it is handloom but this is something different. Also, all of our garments are unisex so anybody can wear them and those are freestyle.
When did you start Bageeya?
I started Bageeya two and a half years back (2017). But one and a half years went into exploration because this is not a technique that has been practiced over the years.
So I was working with eco dyes from a small room where I made like 50 to 100 samples. But then I was not able to color wash those things. With every wash, the color was coming out.
Then, my friend and I took training and then we started again. So it was like lots and lots of experimentation.
Now to build up the entire palette which was naturally dyed and on Indian handloom fabric, it was a difficult task because all of the Indian handloom fabrics are very different from each other.
In the eco dyes since it's an entire handcrafted process, you will see the change of the patterns – something which I have done on Kala cotton which is from Kutchh would be different on something which is done on Chanderi.
You are building an ecosystem of artisans in the country. How do you go about picking the right kind of talent?
We get to know about artisans through the students who work on their group projects and find artisans while doing so or if they have visited certain artisan in their college and they would tell me that this weaver is doing such a fabulous job and we can buy some raw material from them. That's how the entire process works because someone has seen how the entire thing is being made.
Furthermore, when we do an exhibition we meet many artisans and handicraft people. I pick some of the fabrics first and see how they function, what are the certificates that fabric has, and then we proceed.
When you see our website you will notice that we have tried to bring transparency. You will see that on every garment the artisan number is given. People do mention their name but here the number is given so that you can buy from them if you come across them. We can assure you about their quality so we have given the name.
We need to build this kind of community.
If you are telling that you promote ethical fashion and sustainability thereby promoting the country's weavers and artisans, you are not really "promoting" them rather you're using their work.
You need to give their due credits; they have immense experience and I would be nothing in front of them. If I'm buying something from them then at least I should give their number to any of the people who would like to buy from them.
That is the small initiative which we have taken on our website so that people can go and check their work and buy from them.
What is your business model?
We buy handloom textiles and crafts from artisans and weavers across India.
Then, we do eco-dyeing which is done in our manufacturing unit.
Before COVID we were doing 1-2 exhibitions in a month. But, post COVID we have shifted to our website which we built recently, which was a very intensive work.
You can just check out our website where you will find all the information. Anybody who doesn't know even 'H' of handloom fabric would know everything about it since we have written the entire description of our textiles, we have written about the medicinal properties of the herbs that we are using, we have written the entire craft stories.
This is how it functions. So everything comes to us and then we do our own dyeing technique, then we design and then it goes to the market.
We operate in India and abroad.
What is the science behind dyeing? What is the role of dyes in sustainable clothing?
It involves a lot of chemistry!
Each time during the preparation of the dye, you have to look after many minute things. You have to first be very sure of the temperature, you have to be sure of the pH value of the water and the ph value of your final dye.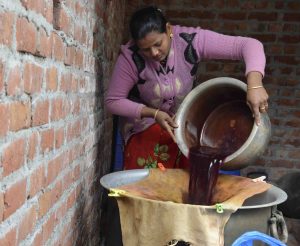 You also have to see how much proportion of the dye you are using. When I say I dye one particular fabric, first I take the weight of the fabric, then according to the weight of the fabric I take the quantity of my dye and when I want to change the color of the dye, I have to use a proper proportion of the mordant. That is also a different quantity which depends on the weight of the fabric.
Post dyeing I need to see what I want to use as a post mordant depending on the quality of the dye and the mordant which I have used during pre-mordanting. It's a lot of chemistry and lots of technicalities are involved too.
Wow!! Do you have a team that is helping you?
I have a group of artisans. They are women. I trained them and now, of course, they helped me with a lot of things.
We are 5 artisans.
How has the growth been and how are people reacting?
We were doing exhibitions and so there were a lot of conversations happening.
The first thing that I have noticed when somebody sees Bageeya's wardrobe is that they would have a big smile on their face. Even if they don't buy they would smile saying that this is something different.
So, yeah it has been a very nice journey with a lot of gratitude that we have got. We have got lots and lots of blessings. People do tell us that this is a very different concept and that it may take some time to fly but to not give up.
It has been good. But like I mentioned it's a very new concept so reaching out to a huge market has been a challenge for us but we are doing different things like doing live sessions, we are focusing more on the videos. This time we did very nice photography; for the first time, we invested in photography so that people would know how it is styled.
Do you have fashion designers with you?
Initially, when we started it was a very small team where I was taking care of all the design work. I have done my postgraduate from Pearl. I am a fashion designer but now I have a team that does major work on the research part.
I have a team of interns who work extensively towards the research and building up the story around the product. Somewhere when you do design and you're involved with the manufacturing you're not able to create these kinds of stories. They help me with designing as well.
So now it's building up.
How are you dealing with the current challenges?
We started with exhibitions and we were doing really good in the South. We did really good exhibitions with The Crafts Council of Karnataka.
We have got a very good response. However, we took about a couple of months time during the COVID situation to build the website and come on to the digital platforms.
This was a shift wherein we were earlier focussing on our physical presence and now we are being into the digital platform. So these two to three months had been hard. But the website has come out really beautiful and since I wanted to invest as much time as needed to bring it up nicely. We have started getting the inquiries now.
What is your personal connection with nature and sustainability?
I care for small things like using less water for washing hands, being around trees, using cloth bags than plastic, not spilling water, and not wasting food. I would be the first one to switch off the lights.
I always wanted to do this. Sustainability for me was never a buzzword; I was living that lifestyle years before and even our parents have been living this lifestyle years before but we never flaunted the idea.
We would just replace things but our forefathers would rather develop a personal connection with everything.
Do you take inspiration from anybody?
Inspiration comes from everywhere for me. Not particularly from one person. Along the journey, people have come and inspired me.
Let us wish Jigisha great success and hope her Bageeya flourishes into the most sought after garden of sustainable clothing not only in India but across the world.
Here is the complete video of the conversation.