Ever gone for a walk on a road nearby and wished for pure air? Due to the increasing level of vehicular pollution, it is difficult to find air that is free from smog and particulate matter.
The alarming situation of increasing pollution due to cars and bikes run on fossil fuels has led to finding alternative options that are more sustainable.
The answer came in the form of electric vehicles.
The segment has emerged significantly over the past years all across the world. The electric vehicle in India is also evolving with time and the country is emphasizing the adoption of electric vehicles.
People nowadays choose to buy electric vehicles due to their endless benefits.
E-Vehicle is sleeker, safer, comfortable, and more exciting to drive compared to gasoline-powered vehicles. This ultimately boosts the electric vehicles market to touch new heights in the forthcoming years.

Crowing the features like silent ride, immediate torque, long-lasting, higher efficiency, and excellent performance, electric vehicles have zero fuel consumption and minimum maintenance costs. Owing to the mentioned reasons and many more, electric vehicles have caught the attention of commuters and car-lovers to go for e-vehicles over traditional vehicles.
Electric Vehicles in India
With the market being so volatile and lacking a sustainable demand, it's imperative to assess the time when India will switch towards electric cars.
But industry leaders are optimistic and believe that the shift will happen very soon because of the favorable policies, incumbents & startups making rapid and significant advancements towards the EV segment, the user interest, and institutional interest.
In India by 2025, the electric vehicle (EV) market is likely to be a Rs 50,000-crore opportunity, with expecting two- and three-wheelers to drive higher electrification of the vehicles India EV companies.
More Perks For Driving An EV
One of the big reasons for electric vehicles gaining popularity in India is the role of the government. The policymakers are taking some concrete actions (like introducing the FAME-II scheme) to make the purchase of electric vehicles in India lucrative for consumers. The government wants 100% electric vehicles in India by 2030.
While the main driving factor is sustainability, another substantial reason for the government is to reduce the dependency on oil imports. For a country that is reliant heavily on crude oil imports for fueling the transport sector, it makes a compelling case to shift towards alternative fuels like ethanol and electricity.
What will you get by switching to electric vehicles in India
By purchasing an EV, you could be qualified to receive subsidies from the government. The government has also reduced the goods and services tax (GST) rates, on EVs from 12% to 5% and even offered additional tax exemptions to individuals on the interest on loans taken to pay for EVs.
In addition to what is covered under the FAME-II scheme, many state governments have announced their respective state EV policies offering financial incentives on the purchase of electric vehicles.
Moreover, by switching you can contribute to the local community by making efforts to reduce air pollution, sound pollution, and much more.
The upcoming models of electric vehicles require low-maintenance, cost-effective, and quieter. With EV charging stations becoming more accessible to the public, the convenience has also increased manifold.
What Electric Vehicle companies are supporting India's growth story?
A lot of this has happened because of the home-grown companies. The automobile sector as a whole is not doing that great, because for a variety of reasons but the electric vehicles in India are seeing some decent action.
4 Wheelers Electric Companies in India
Tata Electric: TATA group is India's largest business conglomerate operating in over 100 countries across many sectors. Such is the belief of TATA group in the potential of Electric Vehicles in India, that company has pulled in all its best resources from its family stable – Tata Motors, Tata Consulting Services (TCS), Tata Chemicals, Tata Power, and Tata Croma to pool their expertise in order to build an electric vehicle ecosystem.
Tata power will help in developing the charging stations, IT giant TCS will help in creating the digital infrastructure (like mobile apps, payments), while the retail division Croma will offer test drives and TATA Chemicals will augment the battery manufacturing.
Mahindra Electric: Mahindra is another massive Indian business conflomerate, in 2010 Mahindra became the first company to start manufacturing EV cars with its acquisition of REVA.
2 Wheelers Electric Companies in India
Ola Electric: Ola Electric is an electric two-wheeler manufacturer, based in Bangalore with its manufacturing plant is located in Tamil Nadu. The company launched its first electric two-wheeler in 2021.
Hero Electric: Hero Electric launched its first electric scooter in 2007 and currently it is India's largest EV two-wheeler manufacturer. Over the years, Hero Electric focussed on building a dealer network and creating an electric charging point infrastructure.
Okinawa: Okinawa Autotech Pvt. Ltd. was established in the year 2015. It is a 100% electric two-wheeler manufacturing company In India.
Ather: Ather Energy was founded in 2013 by Tarun Mehta and Swapnil Jain. It manufactures scooter Ather 450 and also the Ather 450X. The Ather electric scooters come with features like a touch screen instrument cluster which makes it exciting for two-wheel drivers.
Electric Bicycle Companies in India
BattRE: BattRE was founded in 2017 by Nishchal Chaudhary, a former Airtel executive. The startup aims to provide innovative solutions to tackle problems with carbon footprints, noise pollution, and traffic through e-bicycles.
Electric Vehicles in India are getting power boosters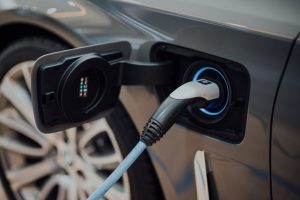 Removing Batteries from Equation: Batteries constitutes approximately a quarter of the EV cost, which made initial investment very costly. In Aug 2020, the government of India has allowed the registration of Electric vehicles without batteries, which makes buying the vehicle much cheaper initially.
The pay-as-you-go battery swapping model will spread the up-front battery cost over the lifetime of use.
Emerging Business Models: Owning an electric vehicle has become a lot simpler due to leasing/subscription and online business models. First-time buyers don't have to pay the huge upfront cost and can make assessments using digital mediums.
Smart and Intelligent vehicles: Many companies in the EV segment have launched vehicles that are connected to the internet. The digital layer adds benefits to the buyers as well as the manufacturers.
The companies will know about any damage, conditions of spare parts, and driving behavior of the users.
Knowing the service time, nearest charging or battery swapping station, geo-tagging the vehicles – help the consumers – mainly millennials and Gen Z to have better control over their toy.
Local Battery Manufacturing: In order to reduce the reliance on battery imports, huge investments are being made to encourage local manufacturing for batteries. This will further reduce the cost of Electric vehicles in India.
Final Words
As the automobile runs on an electric engine as opposed to a petrol one, the best thing about EV is that it is 100 percent emission-free perse and also minimizes noise pollution.
On the flip side, the electricity is generated through coal power plants, which are one of the major polluting machines. In addition, environmental advocates also point out battery manufacturing, which requires lithium, nickel, and cobalt – which are considered pollutants and precious Earth's resources.
Both the points can be countered if sustainable and renewable practices are adopted.
As a whole, if you are opting for Electric vehicles, you are moving towards a technology that will make this planet a safer place to live. If you truly desire to be part of the green society and are good about every aspect of your life existence, regard the advantages of the electric vehicle.
We have already written about how post-COVID, the dynamics of urban transport would change and electric vehicles would be an important cog in that wheel.