Rapid urbanization has depleted the cities of natural resources. In addition, the greenhouse gases from factories & transportation sector are making the environment even more contaminated & polluted. 
Trees are the only savior, but in the name of town planning, construction, infrastructure projects, strategic and defense projects, trees are randomly uprooted. On top of that, illegal logging activities and forest fires have further taken away our greenery. 
What is the solution? Either we can sit and complain or take some action, Kapil Sharma opted for later and formed Say Trees. 
Say Trees is based out of Bengaluru, India, the company is growing trees and creating forests in urban and rural areas across India. The organization was formed by a passionate tree lover, Kapil Sharma, whose love for the city of Bengaluru and desire to make an impact led to the creation of Say Trees.
We caught up with Kapil Sharma, founder of Say Trees to discover his journey, the challenges on the way, and future plans. The company has planted more than half a million trees and in the process have helped hundreds of farmers, rejuvenated many water bodies, and have made our cities & towns more liveable. 
Here is an edited version of our conversation, for the full discussion please watch the video.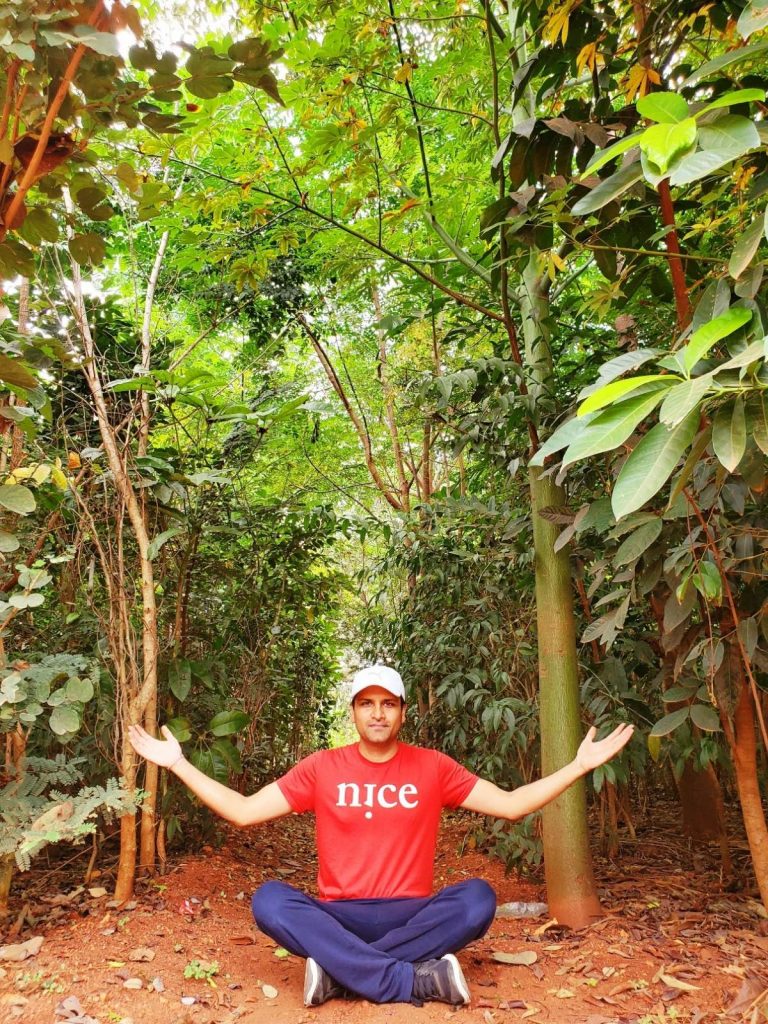 It Started with Love for Bangalore
The only thing I feel is that I'm just trying to do whatever I can, in whatever less time we have available on this planet.
It all started when I was exposed to something so beautiful as the city of Bangalore. Bangalore was once called the Garden City.
I came to Bangalore (now Bengaluru) in 2001. The moment I reached there I felt that there is no other city like Bangalore – trees everywhere, the city was entirely covered with trees.
I come from a small city in northern India where the temperature in summer reaches 46-47 degrees centigrade. In Bangalore, I felt that there are no summer seasons.
The Turning point
After 2005-06, I started seeing that many century-old trees huge trees – having a canopy of 30 to 40 feet were being cut almost every day for various development projects like road widening, metro rail, and other activities.
I started seeing those trees being brought down in front of my eyes. I started feeling what will happen if almost all of the trees are gone. Bangalore will become like any other city where everything is exposed to the sun creating water problems and all of those things.
Before every summer you would see people in Bangalore share their frustrations online, talking about why the city is heated so much and about planting trees, etc.
This made me feel that being a citizen I should do something. I don't want to regret it 10 years from now, I don't want to look back and think that, "Oh, I should have done something."
Change Starts
I started visiting government offices because I was working from Monday to Friday, the only time I used to have was Saturday – when government offices are open. I started meeting people to find out what can I do as an individual.
After meeting the forest officers and other people I realized that there are still many places where trees can be planted. I started visiting parks, lakes, school campuses, hospital campuses, all these spaces which had areas within them to plant saplings.
From 1 sapling in 2007 to huge forests now
It all started with one sapling in 2007, then 100 saplings in 2008. We are now planting more than 1.5-2 lakh saplings. The total count, as of now, is close to five and a half lakhs.
The whole aim is that I want to create as many forests as I can. I always have that in mind when I'm planting trees, how do I make sure that it goes to become a tree. I should just not plant a tree and forget it. Because quality always mattered over quantity.
I'm not against development but I always feel what work can I do. If I cannot stop a 500-acre forest from being destroyed. Nobody can stop me from creating a 500-acre forest. I try to do whatever I feel is possible.
Government Support
I will tell one small incident, around 2005-2006 a lot of trees were being brought down. One weekend I was sitting outside the forest officers' office. The person came out and asked me are you here to take permission to cut down a tree. I said No sir I'm here to take permission to plant trees.
The forest officers were very helpful and I met some amazing forest officers who are trying really hard to save whatever they can and even grow new forests. Help from the government has always been there. They are the ones who can tell you where the land is available for planting trees.
More Regions, More Areas, More Forests
I started planting around lakes first because I wanted to plant in locations where I can protect the sapling from animals and humans.
We have planted in school campuses, railway campuses, army campuses, hospitals.
What started in Bangalore spread to other places. People started liking the results. People started seeing what was happening. And, you know, I always believe that the reward for good work is more work.
I started getting requests from different cities. And when we launched our farmer project, I even got requests from Uttar Pradesh. We have now planted saplings in Chennai, Hyderabad, Mumbai. We have done plantations in rural areas in Tamil Nadu, Karnataka, Andhra Pradesh, Maharashtra, Odisha, and even in the Delhi NCR.
Alone we can do so little; together we can do so much
I was doing it alone till 2014, with the help of other nature lovers. So it was their passion as well. They used to spend some time on weekends planting and taking care of the saplings.
If I just keep planting saplings that is not enough. We need more and more people to understand the importance of trees. Then I added one team member in SayTrees as a full-time resource, because I felt that our efforts have to be exponential. And it is not possible if I just do it on weekends. Today we have grown to 25 full-time members with SayTrees.
So in different cities, I have people working for SayTrees. And we are trying to create forests wherever possible. I have always treated SayTrees like a startup – where I'm very passionate, but I'm very aggressive also – and the benefit or the profit for me is as many trees as they can be and in terms of the number of acres of forest we have created.
Business Model
Our work is funded, mostly by corporates who are ready to donate to such causes and individuals who are willing to donate, whatever they can in their personal capacity.
We have people donating 11 rupees to us. We have corporates donating many lakhs rupees to us because they like the cause.
Why will Corporate Help
As I said in the beginning, the reward for good work is more work. The only thing we have been doing at SayTrees is just showing the results of our work. The moment we started publishing our results showing our trees to the people – more and more corporates started reaching out to us.
We show pictures of our forests, we show videos of our forests. My first preference is I will like that they come in, physically, and see our work.
Challenges and Obstacles
I have encountered many such instances where people used to ask me why are you doing it
This is the place to park my car. You cannot plant a tree here. I don't want this species of the tree outside my house. In many such instances, we have planted the sapling and after a few minutes people take them out.
I always feel that there is no use in arguing with such people who don't understand the logic. I always look for a place where I feel that they can be safe, without any issues. The land has become the most precious thing for everybody and giving away land is very dear to anyone, even if it is not their land.
I have felt demotivated many times. And I also used to feel that why am I doing this. I don't even know if I'll be able to take advantage of or take the benefit of these trees when they are grown.
I have had sleepless nights. Because, once you're passionate about something, it becomes very dear to you. And if something is so dear to you and if something wrong happens to it, you feel very bad.
Many times, many big tree plantation drives have been canceled. I do feel demotivated. But after a few days, I'll have a new opportunity come my way, which attracts me again and I again start working on it. I forget those 1000 saplings then focus more on 10,000 saplings.
Miyawaki Forest
It's a Japanese technique, which gives you a forest, which grows 10 times fast. There are claims that you will get 100 years old like forests in just 10 years. The forest is a hundred times denser.
I know Miyawaki technique since 2010. It was brought to India, and it was made famous by Shubhendu Sharma.
I took a decision to try it in 2016 and by 2017 I saw the results. Results were so amazing that since 2017 we have created more than 20 Miywaki Forests. The latest forests which we have created are of 38,000 saplings in one location. It is something very good for cities, which are converting into concrete jungles.
Can we grow Miyawaki Forests?
I will not say it is complex, but it is something that one needs to experience and learn from. Well, the only suggestion I give people when they reach out to me asking what they can do in their forest – why don't you join us for one of the tree plantations. And you ask my team members who are present on the ground. Then take back whatever you learn and try to implement it in your ground.
Soil preparation is the most important in the Miyawaki technique. The next is the placement of saplings. It is not rocket science.
Current lockdown and Post-Covid
I see that people are appreciating the environment more in this recent time where people are not able to do anything you are stuck. I feel that it's like a reset button that has happened to all of us.
But usually we humans have a habit of forgetting things. I also feel if everybody improves their habit by a certain limit – it can bring a big impact. Even a small change in the lifestyle of every individual will actually have a big impact.
Any suggestions for Me and U
First of all, everybody has to appreciate the environment. And the second most important thing is, utilize the resources judiciously. Whether it is electricity, water, fuel, or plastic. Let us not waste resources.
It can be as simple as keeping the tap off while you're brushing your teeth, I teach this to my daughter.
As people like to save their money, our natural resources are as important.
Future Plans
Even though I'm in the US for the last four or five years, I'm still managing SayTrees from here. And I have seen that SayTrees has grown many folds. Working from the US is also giving me opportunities to talk to other organizations here and see how they can, you know, help us in executing projects back in India. We have recently got many projects, supported and funded by organizations from the US.
I still give four to five hours to SayTrees every day. I'm still connected with each and every person there. I still talk to government officials and organizations there.
I am trying to create a forest in the US and Africa as well. But again, all of these projects depend on funding.
Why SayTrees – an interesting name?
SayTrees was created from Say Cheese 🙂
The whole intention is for people to come and enjoy planting trees. When people are happy that's when we get the best results out.
Namesake Kapil Sharma
There was an incident when somebody thought I am the other Kapil Sharma.
You can watch and listen to the whole conversation with Kapil Sharma SayTrees here.