Many of you would know about the place where Gautam Buddha, founder of Buddhism is said to have attained parinirvana, Kushinagar – the reclining Buddha temple in the city is a major Buddhist pilgrimage site and a significant tourist hub.
But, not many of us would know, Kushinagar district is in eastern Uttar Pradesh has also abundant cultivation of bananas.
While we all love to eat bananas and fruit farming is great for producers all over the world, but not many growers would use the banana stem, in the way in which Kushinagar does.
Typically, the banana stem is discarded after the fruit has been plucked. The local community in Kushinagar extracts fiber from the Banana tree, which is further used to make threads, handicrafts, carry-bags, and organic compost.
For this reason, Kushinagar is not just a place for pilgrimage but also for its ecofriendly & indigenous products.
We all know India is a diversified land where language, dialects, food, dress, tradition, and many other aspects change every few kilometers.
One Indian state that apparently exemplifies this amazing cultural diversity is Uttar Pradesh (UP).
The northern Indian state with over 200 million people is the most populated state in India and occupies more than 7% of the total area of the country.
The country's most populous state is divided into 75 districts and each district is known for at least one unique product. Many of these products are identified with the place or a region from last many decades if not centuries. The traditions have been passed from one generation to another.
Lucknow's Chikankari, Varanasi Silk Sarees, Badohi Carpets, Azamgarh Clay Pottery – the list is long.
To promote Uttar Pradesh's vibrant culture and its indigenous, and heritage products, the government launched a unique initiative ODOP.
ODOP stands for One District One Product.
Uttar Pradesh One District One Product (ODOP) Programme
The One District One Product (ODOP) program was inaugurated in January 2018 with a budget outlay of $30 million (Rs 250 crores). This project was envisioned by the Uttar Pradesh state government to encourage more visibility and sale of indigenous and specialized products of the state. In this project, one particular product is selected from every district of Uttar Pradesh.
The selected product under ODOP is traditionally famous for their production and manufacturing from that particular district (e.g Lucknow is famous for zari-zardozi and Chikankari, Prayagraj for its Moonj handicrafts, and Varanasi for its Silk Saree).
It is worthy to mention that many of these products have been accorded Geographical Indication tag (GI), which means they are certified as being specific to that region in Uttar Pradesh.
The biggest reasons for launching this program were to promote many dying community traditions, incentivize local craftsmen, provide financial assistance to the local industry.
Under the ODOP project, artisans, production units, and associations that are related to the selected products are supported by loans, establishing enablement centers, providing marketing assistance that can help in popularizing the product. The program also envisages providing quality training to the youth and in turn generate employment in the state.
The icing on the cake is that many of the ODOP products are environment-friendly, biodegradable, and also enable the creation of wealth from waste.
ODOP Mart
Odopmart is an online platform for these small craftsmen, businesses, and artisans that are involved in the local products to promote their locally made products to a wider audience. The digital marketplace includes logistics and a web platform for the discovery of ancient crafts.
It also gives the customers an opportunity to shop a range of exquisite products in one single place.
The government has even tied up with e-commerce websites like Amazon & Flipkart to provide wider accessibility for One District One Product.
Odopmart is a brilliant example where technology is being leveraged to support local communities and encourage indigenously developed environment-friendly art.
Why Uttar Pradesh One District One Product (ODOP) initiative is interesting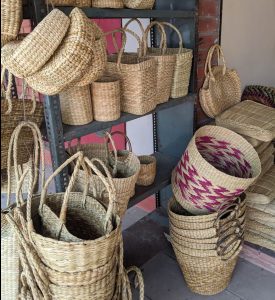 The reason for Uttar Pradesh's cultural diversity is because the land is inhabited for the past many centuries.
Pieces of evidence from Indus Valley Civilisation and Harappa Culture to the Vedic period and extending into the Iron Age have been found in Uttar Pradesh.
The fertile land of Gangetic plains provided all the necessary resources for the people to flourish which made the region extremely significant for all the major rulers and Indian empires of the ancient periods — Mauryan Empire, Harsha Empire, Gupta Empire, Mughal Empire, among others — and each of these empires left a lasting impact on culture, crafts, and traditions of Uttar Pradesh.
The state capital, Lucknow is renowned globally for its traditional Chikankari embroidery, which is intricate work done using white cotton thread on clothes. Though there are indications that Chikankari might have started as early as the 3rd century BC in Uttar Pradesh, the evidence suggests that it was largely popularized during the Mughal era.
Similarly, Zardozi which uses metals to create intricate designs on fabrics originated in Persia and was brought to India in the 12th century. Lucknow became a major hub of this intricate craft where the original zardozi embroidery was done using silver and gold threads on dresses and saris. The artisans then passed their skills among their families and local communities.
Now, six out of seventy-five districts in Uttar Pradesh identify with Zari and Zardozi's work — Bareilly, Chandauli, Kasganj, Lalitpur, Shahjahanpur, Unnao, and Lucknow. In the last few years, zardozi embroidery has also been used in accessories like bags, bangles, footwear, and even showpieces.
Though Zardozi work is also done in other parts of the country like Hyderabad, Delhi, Kashmir, and Kolkata, work done in Lucknow is accorded Geographical Indication tag (GI).
Another amazing example of making products using local resources is found in at least three Uttar Pradesh districts. A grass, locally known as Moonj, is used to make various types of decorative and household products such as foot mats, carry bags, stools, chairs, tables, etc.
Moonj grass grows near the banks of the river, the grass is cut in the winter and the outer layer of the grass is peeled and left to dry for days. The dried grass is then dyed in bright color and binding and knotting are done with tinsel or cloth to create shapes. This art is been practiced by many local women for the last 60 to 70 years.
Moonj products are identity products for the districts of Prayagraj, Sultanpur, and Amethi. Prayagraj, which was earlier known as Allahabad is one of India's oldest cities, situated on the banks of river Ganga, thus providing fertile ground for the grass to flourish in the region.
Carpet-making is a craft that is said to have been introduced to India from Persia, but now districts of Sitapur, Mirzapur, Jaunpur, and Bhadohi have taken over. Each of these districts offers distinctive and artistic designs on the carpets. Bhadohi district specifically is one of the largest centers of Carpet Industries in India and is widely regarded as 'Carpet City' with its carpets carrying the 'Geographical Indication' tag. Interestingly apart from Sitapur, the other three districts are situated around Varanasi.
Ceramic pottery is another environment-friendly product made in the Uttar Pradesh district of Bulandshar, the clay pottery dates back to the reign of King Feroz Shah Tuqhlaq.
Sambal district has found a unique replacement for ivory products, the local artisans use the remains of dead animals to craft intricate showpieces.
Chitrakoot district is famous for wooden toys, due to the abundance of wood. Ghazipur, the eastern district of Uttar Pradesh is famous for handicrafts made with Jute.
One of the unique indigenous crafts found in Uttar Pradesh is wheat-stalk handicraft products and the place that is the hub of this interesting craft is Bahraich. Wheat is extensively grown in this region, which provides the craftspeople the resources to make intricate designs on a cloth.
Asafoetida, Desi ghee, Glassware, Perfumes, Bedsheets, Jaggery, Sports goods, Leather Goods, Musical Instruments are some of the other prominent products that are applicable to the state of Uttar Pradesh.
Tourism and Economic Prosperity
The One District One Product (ODOP) program is also significant from the tourism perspective considering Uttar Pradesh is India's top tourist destination.
The presence of world heritage sites like the Taj Mahal, Agra Fort, places of pilgrimage like Varanasi, Ayodhya, Mathura, Prayagraj, Kushinagar, Shravasti, and other historical cities like Lucknow, Jhansi – make Uttar Pradesh a go-to destination for millions of travelers from India and abroad. According to the Indian Tourist Statistics, in 2019, Uttar Pradesh attracted more than 50 million tourists – making it the number one Indian state in terms of domestic tourists. The state also had about 5 million foreign visitors.
Considering the millions of visitors coming to the state – a robust indigenous industry is not only lucrative for the local communities but also helps the State achieve economic prosperity and publicity.
Wrapping Up
The One District One Product in Uttar Pradesh is part of a wider initiative by the Indian government to make each district of the country an export hub by identifying products that have strong potential in domestic and global markets.
The government is working with each Indian state and Union Territory to identify such products and implement the scheme in a phased manner.
The steady progress of ODOP is apparent, as per reports, in 2020-21, e-commerce platform Flipkart sold more than 20 million products from UP ODOP on its platform. In addition, of UP's $16 billion (Rs. 1.21 lakh crore) exports in FY21, almost 80% or $12.8 billion (Rs 96,000 crore) were of ODOP products.
Apart from Uttar Pradesh, products from all the districts of Haryana, are also part of the ODOP initiative.
This One District One Product program is going to provide a huge impetus to the traditional industries across more than 500 districts in India in the coming few years.