John Kerry landed in New Delhi on April 6 and over the next 2 days, engagement with the following people was ticked.
Narendra Modi, Prime Minister of India
Dr. Subrahmanyam Jaishankar, External Affairs Minister of India
Nirmala Sitharaman, Minister of Finance
Piyush Goyal, Minister of Railways; Commerce & Industry
Prakash Javadekar, Minister of Environment, Forest & Climate Change
Dharmendra Pradhan, Minister of Petroleum & Natural Gas
Raj Kumar Singh, Minister of State (IC) Power and New & Renewable Energy
Along the way, he met members of the US-India Business Council, Amitabh Kanth (CEO of Niti Ayog), Pramod Kumar Mishra (Principal Secretary to the PM), and women representatives who are working on energy & climate.
Meeting the prime minister and half a dozen senior-most cabinet ministers in a short time is no mean task. Considering the pandemic and the covid protocols, taking the physical travel and having in-person meetings is even more striking.
Compared to his visit in 2013 & 2016, as Secretary of State, he had meetings with only a handful of cabinet ministers along with the prime minister.
John Kerry is US Special Presidential Envoy for Climate, who was on a 3 countries tour from April 1st – 9th. After spending a couple of days in Abu Dhabi, New Delhi was his second stop, he ended the trip in Dhaka. 
All these meetings in India were to discuss climate change ahead of President Biden's leader's summit on climate (April 22-23) and the 26th Conference of the Parties (COP26) at Glasgow later this year.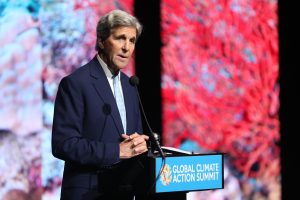 John Kerry served as Secretary of State under the Obama administration and represented the USA during the signing of the Paris Agreement on climate change in 2015. On January 20th, 2021, when Joe Biden took over the US presidency, Kerry was appointed as the first person to hold a new position, U.S. Special Presidential Envoy for Climate. On January 21, the US rejoined the Paris Climate Agreement, which was abandoned by the previous Trump Administration in 2017. 
By appointing a senior person like Kerry to work on climate change and subsequent steps taken by the new administration, prima facie it looks the US administration is making the right noises. They have:
Proposed to make $2.65 trillion investments to build new infrastructure which is focused on climate-related projects like coal-free electric generation and overhauling the transportation sector.
Discussed Climate Change with India, Japan, and Australia at the QUAD summit in March 2021. Read it here.
Announced a leader summit of 40 major economies of the world between April 22-23 2021. Read it here.
The proposed $2 trillion infrastructure package includes $174 billion for the electric vehicle market, $35 billion for research and development, and $100 billion to develop clean energy. Even sectors like roads, construction, housing, telecommunications will be developed considering climate risks.
The actions taken within the first 100 days in office indicate a strong focus by the new government to re-establish the USA leadership position on climate change. It can only do this when it has other global powers on its side.
Where does India stand on the US Climate Mission?
India's role is crucial. India is a huge nation and third largest emitter (of green houses gases), we (US) are second largest and China is first. We have a special responsibility, between the three of us, we have over 50% of the world's emissions. Even though India is half than ours, we have to do it together. No one nation can solve the problem.

More importantly India is a great nation of innovation, entrepreneurial activity, research & development. Hence we believe a partnership between the United States and India in an effort to accelerate the discovery of new technologies that we need to develop for the climate crisis and finance that will be needed.

We look forward to filling out this partnership and making things happen and that hopefully could be an example to others in the world.
– John Kerry in an interview with India Today on US-India climate partnership
India is yet to publicly commit to a pathway toward net-zero emissions, but its ambitious goals towards renewable energy have earned a fair amount of good press. India has set a target of 450GW of renewable energy capacity by 2030 and 175GW by 2022, where the majority would come from solar.
Additionally, India is a founding member of the International Solar Alliance, a group of countries whose primary focus is on solar power utilization. The alliance has committed to increasing the adoption of solar power, making it affordable, and improving its accessibility.
The US should not only look at this from the investment point of view but also expand the areas of cooperation like clean technology and finance.
Not sure if it was just a coincidence that during the course of Kerry's visit on April 7th India announced the PLI scheme for solar panels. The scheme worth Rs 4,500 cr (US$600mn) is designed to boost local manufacturing and reduce imports of solar panel modules from countries like China.
Over the last few years, the US-India partnership has shown tremendous elevation – an increase in trade & investment, cooperation on defense and strategic matters, and growing convergence of interest on regional & global issues.
The US-India climate partnership in techno-financial areas can go a long way in addressing the issue of the climate crisis. The two countries can gain a lot by allowing cooperation in areas like energy storage, carbon capture, green hydrogen, and energy transition. 
The fight against climate change cannot happen in silos, hence collaboration and cooperation among the countries will be key. The US-India climate partnership can also set an example to other countries of the world especially in the south east Asia, where countries like Vietnam, Indonesia, and Malaysia are extremely vulnerable.
As part of the entourage John Kerry, the US climate diplomacy team included  Melanie Nakagawa (Senior Director for Climate & Energy), Daniel Feldman (Chief of Staff), Leonardo Martinez-Diaz (Senior Advisor), Dr. Varun Sivaram (senior adviser).
Interestingly Dr. Varun Sivaram has worked as a CTO for ReNew Power for 2 years before moving back to the US in 2020 to work at Columbia University as a research scholar before joining Kerry's team.
Gurgaon-based ReNew power is one of India's biggest renewable power producers, along with Adani Solar. In India's ambitious target of 450 gigawatts by 2030, ReNew power is expected to play a key role. ReNew Power is India's first major company to take the SPAC route to raise $1.2 billion, which will give it a valuation of $8 billion.