Roads, highways, railways, pipelines are infrastructure projects that help people and commodities move from one place to another. Like veins in the human body are required to make the blood flow, rail and roads are veins of the country, helping the economic activity of the place.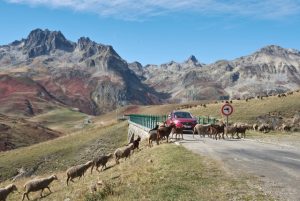 That's where the comparison ends, veins in the human body don't obstruct other body organs.
The man-made paths do. Many times intercrossing with wildlife, and that's when collisions occur.
Transport infrastructure crisscrosses through the wildlife & biodiversity ecosystem and when an animal living in this ecosystem needs to cross the man-made division, they have to risk their lives.
Vehicles or trains hitting an animal while moving from one place to another happens more often than most of us would imagine.
Many times the collision results in serious injuries to the animals like bone fractures or other injuries – which leave them vulnerable to a slow and painful death.
In addition, collisions not only injure the animals but also cause extensive damage to the vehicles. Sometimes to avoid collision with animals, vehicle drivers had to make sudden breaks or quick diversions resulting in major accidents as well.
Alarming statistics on roadkills – Animal collisions with Vehicles
According to some estimates, in the United States, millions of wild animals are killed by vehicles each year. As per National Geographic, "In the United States, there are 21 threatened and endangered species whose very survival is threatened by road mortalities, including Key deer in Florida, bighorn sheep in California, and red-bellied turtles in Alabama."
According to data from NRMA Insurance, in Australia approximately 90 percent of vehicles to animal hits involve kangaroos. In 2019, 9404 of the 10,969 incidents in New South Wales state of Australia involved kangaroos.
According to the State of India's Environment (SoE) in 2018, 83 leopards lost their lives in rail or road accidents, a lion died in a road accident, while three lions died in rail accidents. The same year 11 spotted deer died in road mishaps.
Additionally, wildlife collisions cost millions of dollars annually in the form of traffic roadblocks, road maintenance, spot tidiness, vehicle repairs, and veterinary services.
A solution in form of Animal Bridges and Wildlife Crossings
Researchers have converged on a solution that is acceptable to both environmentalists and infrastructure developers – Animal Bridges
The technical name for animal bridges is wildlife crossings, which are structures that allow the connections between habitats that get divided by man-made fragmentation. They provide a safe passage for the animals under the roads or over the highways or railway lines.
For example, if a road or a railway line is constructed through a forest, an animal bridge is also developed so that animals can move without too much interruption.
A simple example of wildlife crossings is when a bridge is created over the road or railway line.
Wildlife crossings started in European countries in the 1950s when the first animal bridge was built in France as an infrastructure solution to ensure safe passage to wild animals.
Over the years, these dedicated bridges for animals became hugely popular in Germany, Netherlands Canada, and the USA.
Netherland currently has more than 50 different animal passages.
This is a wildlife bridge in the Netherlands. Wildlife bridges are designed to help animals cross busy highways in safety. They don't just protect wildlife from being hit by cars – they also connect fragmented habitats and help populations intermingle and breed. pic.twitter.com/3KJudqIYCD

— Harry Nussdorf (@HarryNussdorf) October 20, 2020
Canada – Banff National Park
Banff National Park in Canada has more than 40 wildlife crossings. A study conducted has indicated an over 80% reduction in animal-to-vehicle collisions after constructing the bridges.
Australia's Crab Bridge
Australia's Christmas Island has built a few underpasses and overpass that helps millions of crabs during their mass migration. Roughly 50 million red crabs make this annual migration to go to the seaside from their forest homes in November and December.
Volunteers and workers place barriers along the sides of the roads, to direct the little crabs towards the overpass.
India's Wildlife Crossing
With the rising awareness of wildlife conservation, India is the latest to adopt this innovative solution aimed to reduce wildlife-vehicle collisions. The under-construction Delhi Mumbai expressway will see India's first animal overpass. The approx 1300 km greenfield project passes through a couple of wildlife sanctuaries — Ranthambore and Mukundra Hills — both of which are in Rajasthan.
At present, it takes 24 hours to travel from Delhi to Mumbai via National Highway 8, the new expressway will reduce the travel time to 16–18 hours. The passages will be on the lines of animal bridges seen in the Netherlands and will be part of a forest corridor with trees so that animals find it natural.
While the country is building overpass for the first time, but in 2018 the country had constructed nine underpasses beneath a stretch of National Highway 44 — India's longest highway from Srinagar to Kanyakumari. The highway passes through the country's most important wildlife corridors, between Kanha and Pench tiger reserves in Madhya Pradesh and Maharashtra.
Benefits of Animal Crossings
The wildlife animal crossing offers loads of advantages, primarily to help avoid collisions of animals and vehicles.
These bridges not only help in reducing collisions but additionally, aids wildlife species to find resources like food, shelter, mates that are specifically found on the other side. In absence of these wildlife crossings, animals will be left without sufficient food, reduced reproductivity, or possible extinction.
All in all, we hope that countries and societies do not forget that we live with many other important creatures and we should ensure that our selfish interests do not contravene their lives.