A lot is written about the next-generation food revolution happening in America, Europe, China, and Singapore, but one country that is silently and steadily rising on the chart is India.
A slew of Indian startups is making meat-eating which is cruelty-free and more eco-friendly.
The land of chicken tikka, tandoori chicken, butter chicken, and kebabs are slowly getting the taste of the same dishes being made with Plant-based meat.
Plant-based meats or smart proteins are next-generation food innovation that perfectly replicates the taste, smell, and sizzle of animal meat but is made entirely from plant ingredients.
In the last few years, the smart proteins market has grown exponentially, led by companies from the US, UK, Canada, China, and Singapore, but India is rising fast.
New startups along with established players have started introducing plant-based food options that replicate the non-vegetarian food in their product offerings.
Interestingly many of the plant-based food companies in India are founded by people from the same family. Check this list of plant-based and vegan food companies in India.
Ahimsa Food
One of the early entrants in the list of plant-based food companies in India is Ahimnsa Foods, which started in 2008. Founded by Yasmin Ahmad Jadwani, the company offers its product under the brand name "Veggie Champ".
Their product offering includes Shami Kebab, Meat, Chicken, Drumsticks, and Fillet (Mock Fish) among others, all of them made with plant-based ingredients.
Headquarters: Delhi
Good Dot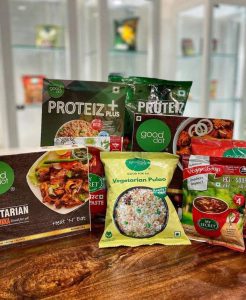 Good Dot is founded by brothers Abhishek Sinha and Abhinav Sinha along with their friend Shruti Sonali, the company has steadily established itself as a leading plant-based meat brand in India.
They sell Vegetarian Biryani, Keema, Indian curries, etc. with a shelf life of about a year.
Founded in 2016, the Udaipur-based company is also one of the first from India to start exporting its products to international markets like Canada, Dubai, Singapore, etc.
Good Dot also runs a food chain of eateries serving plant-based delicacies and goes by the name of GoodDo. The vegan chain is operational in Udaipur and Mumbai, with plans to go international as well.
We got a chance to speak to Abhinav Sinha, who is running GoodDo, a chain of plant-based restaurants, about his journey and what prompted them to start this business.
Here is the video link to the conversation –
Headquarters: Udaipur, Rajasthan
Goodmylk
Founded in 2016 by mother-son duo Veena S and Abhay Rangan, GoodMylk offers plant-based dairy alternatives.
GoodMylk makes plant-based milk from cashew and oats, and their offering also includes curd, vegan mayo, butter, and Indian cottage cheese.
Headquarters: Bengaluru, Karnataka
Evo Foods
Founded in 2019 by Kartik Dixit and Shraddha Bhansali, Evo Foods has formulated a unique plant-based liquid egg in India. The Mumbai-based company uses food science to extract proteins from legumes and other plant sources to create an egg replica that is environment-friendly and healthy.
Headquarters: Mumbai, Maharashtra
BVeg Foods
Founded in 2019 by husband-wife duo Prateek Ghai and Akanksha Ghai, BVeg Foods wants to become a co-manufacturer and distributor of plant-based meats in India and abroad.
Headquarters: New Delhi
Imagine Meats
This mock meat company is founded by Indian film industry celebrity couple Riteish and Genelia Deshmukh. Imagine Meats offers plant-based meat products like many Indian variants of Biryanis, kebabs, nuggets, and sausages among others.
Headquarters: Mumbai, Maharashtra
Vezlay
Founded in 2012, Vezlay Foods offers ready-to-eat food products made of soya, which have textures similar to their non-veg counterparts.
The Delhi-based company makes Soya Seekh Kabab, Shami Kabab, Soya Chop, Soya Leg Pieces, and Soya Noodles among others.
Headquarters: New Delhi
Blue Tribe Foods
Founded in 2020 by Sandeep Singh along with his wife Nikki Arora, makes meat-free products using pea protein. The company's offering includes Nuggets, Keema, and Sausage made with plant-based ingredients.
Headquarters: Mumbai, Maharashtra
Wakao Foods
Founded in 2020 by Sairaj Dhond, Goa-based Wakao Foods makes plant-based meat products from Jackfruit.
Jackfruit is widely considered a superfood that can be consumed in a variety of ways including as a fruit.
India, the world's biggest producer of jackfruit is using it for making vegetarian recipes, tangy pickles, and as an add-on in rice dishes for thousands of years.
Lately, Jackfruit has caught the world's attention as a vegan substitute for animal meat. Apart from Wakao Foods, Singapore-based Karana Foods' flagship product, a pulled pork substitute is made entirely from jackfruit.
Wakao Foods appeared in India's first season of Shark Tank India. Interestingly, three female Sharks – Namita Thapar of Emcure Pharma, Ghazal Alagh of Mamaearth, and Vineeta Singh of Sugar Cosmetics – invested Rs. 7.5 million for 21% equity.
Headquarters: Goa
Plantmade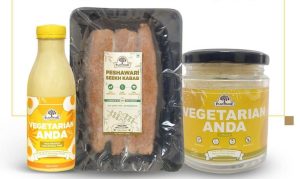 Plantmade is a food-tech startup from Delhi, which offers a variety of plant-based food options. The company has created various plant-based products which resemble meat, egg, and other animal-based food items – Peshawri seekh kebab, vegetarian egg, turmeric milk, and vegan masala chai to name a few.
We got an opportunity to interact with the man who is driving this plant-based meat company, Prakarshi Pulkit. He shared his perspective on plant-based meat startups coming up in India, his journey, and his plans for the future. You can read our conversation here or watch the complete conversation on the Change Started YouTube channel.
Headquarters: Delhi
Tempe Wala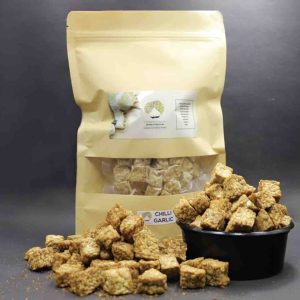 Tempeh is one of the favorite vegetarian food of Indonesia which was discovered around 2000 years ago. Tempe is made using whole soybeans and it's fermented in a loaf-sized shape. The unique food has caught the attention of many people across the globe, with many Tempeh food startups entering the space.
Tempe Wala brings Tempe to the Indian market. Founded by Vaibhav in 2019, who first started a vegan restaurant, Vegan Heat in Bengaluru, and then introduced Tempeh to the menu. To perfect the craft of making Tempeh, he traveled to Indonesia to learn from the locals.
The company offers soybean Tempe, chickpea Tempe, and flavored Tempe bites along with many other soy products like butter, milk, curd, etc.
"I feel everyone should include soybean-made food as a staple in their diet." – Vaibhav in Conversation with Change Started
Headquarters: Bengaluru
Greenest
Founded in 2017, Delhi-based Greenest offers different kinds of plant-based shami kebabs and plant-based keema.
Headquarters: Delhi
Shaka Harry
Shaka Harry is a plant-based food company that offers meat alternate products. The brand is owned by Bengaluru-based Liberate Foods and its co-founders include Anand Nagarajan, Sandeep Devgan, Hemalatha Srinivasan, Ruth Renita and Anoop Haridasan.
Their product range offers plant-based snack alternatives like a chicken patty, mutton samosa, chicken momo, chicken nuggets, and vegan meat options like mutton keema, and keema paratha.
Wrapping up
Plant-based food companies in India are still at an early stage of adoption, but it won't be long before these companies catch up with their global counterparts.
The plant-based meat market size is expected to reach $13.8 billion by 2027. In 2020, about $3 billion went into alternative protein companies globally compared to $824 million that was invested in this sector in 2019. "