In recent times, especially during the lockdown period, did you adopt a pet?
Amidst, the pandemic, social isolation, availability of spare time, emotional distress, and need for entertainment, many of us adopted a pet. As per ASPCA, 23 million American households acquired a pet during the COVID-19 crisis. In the United Kingdom, more than 3 million households have got a pet since the start of the coronavirus pandemic. In recent times, India has become among the world's fastest-growing pet care markets.
However, as soon as economic activities resumed, people started abandoning their adopted animals. The commitment to maintenance, financial incapacities, abatement of initial excitement, and misinformation, among many other reasons, led to pet owners ditching their cats and dogs on the streets, parks, or giving back to animal shelters.
Leaving pets and animals out in the open is not a recent phenomenon, many stray animals on the streets are found across the world.
India, in particular, is one of the major laggards, as per the first-ever state of pet homelessness index by pet-care firm Mars, India stood last in the list of 9 counties, with an index score of 2.4. India has the highest relinquishment level compared to countries like the US, China, and Germany. Over 70 million cats and dogs in India are living on the streets. If you add cows, the numbers would most likely reach 100 million.
Large populations of homeless animals are not only a big concern for animal welfare but also for public safety and health as well. Dog bites, rabies, cat scratch fever, and road accidents caused due to stray animals, are all risks faced by people in India.
Fortunately, we have organizations, animal shelters, and animal lovers that are going beyond their means to ensure the protection of animals. One such amazing venture is Peepal Farm, started by a husband and wife duo of Robin and Shivani.
The couple left their comfortable life in the United States, to come back to India to start Peepal Farm, where the stray animals can be healed, heard, and helped.
The animals are provided treatment for any illness, given medical assistance for any injuries, sterilized, and also trained for anyone who wants to adopt them.
To run an animal welfare center is not an easy task, you not only need a compassionate staff but it needs to be financially sustainable.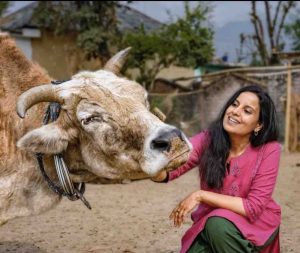 To ensure that Peepal Farm remains an economically viable enterprise, they sell organically grown herbs, vegan food & beverages, and environment-friendly products including the ones made with upcycled materials.
On top of that, the products are created and made by rural women, who are getting empowered and independent by being part of this organization.
Peepal Farm is located in a small village in the northern Indian state of Himachal Pradesh, known for its scenic and mountainous landscapes.
We sat for a wonderful conversation with the co-founder of Peepal Farm, Shivani Bhalla, who is heading the Peepal Farm Products division. Shivani shared the Peepal Farm journey, motivation for starting sustainable products, and future plans.
Below are the edited excerpts of our conversation, for the full discussion you can watch the video on YouTube.
Tell us about your journey?
Before Peepal Farm, Robin and I were living a comfortable life in the United States for more than a decade. However, we were not very happy and satisfied with our lives.
We come back to India and decided to do something for stray animals. We started with an animal sterilization program in Delhi. Due to capacity constraints, this sterilization program was limited to dogs. After some time we realized that if we have to include bigger animals, we would need more space, which was not possible in Delhi.
Finally, we happened to land in a small village, Dhanotu, in Himachal Pradesh. Here we constructed a health facility where animals can be treated and more importantly they would be loved and cared for.
Robin is more focused on media and animal welfare, and I have found my calling by working with women to develop products.
People Farm Product is a different division of People Farm, where we make handmade and vegan products with the help of local women. The idea was to spread the message of compassion through our products.
All the revenue that gets generated by selling the product, goes to animal welfare. So it's like two different projects but supporting the same cause.
Eventually, we have found our calling and are happy doing this at Peepal Farm.
What was the reason to take the cause of animal welfare?
Robin feels suffering and pain are the common denominators for all beings whether it is animals or humans. We chose Animals as we felt they needed a voice.
At Peepal Farm, we are not only treating animals, we are also sharing their stories. The objective was to make people aware of animals' plight and life in general.
What made you start the product division?
In the beginning, it was just a piece of land and we have to build everything right from scratch. We have to invest a lot of resources to bring it to shape.
I was personally involved in setting up the house, kitchen, garden, etc. As we were growing plenty of herbs, even after the personal consumption, there was enough left. Then we decided to make these as products of Peepal Farm and introduce them in the local market. We are very close to Mclodganj, which is a tourist hub, which helped us reach more people, including international buyers.
Therefore products division was something that evolved organically and it started receiving good feedback. This also encouraged people to start visiting the farm.
Once a person spends time on the Peepal farm, they understand better about animals, especially animals like cows. The boundaries between a pet and stray animals start to blur and they start to become one.
As we got more demand, we introduced more products to our product range and I brought more local women into the fold to make these products.
The products are not only vegan & cruelty-free, but they spread the message of compassion to anyone who buys them. In the process of making our products, I am also empowering the women of our village.
When did you start the product business and what are the product categories you are into?
From 2014 to 2016, we were building Peepal Farm and there was no time left for anything else. In 2016, we introduced the herbs which we grow on our farm and gradually we expanded our product range. Currently, we have four product categories,
Vegan Kitchen Products – We make them in our kitchen, this includes food items like snacks, peanut butter, and chocolate spread.
Products procured from Local Farmers – We acquire from the local farmers, for example, if we get good quality organic rice, we would introduce that into our product range.
Inhouse Organic Produce – We grow a few crops at the Peepal Farm, like herbs, mustard seeds, etc. This product category would depend on the season and the quantity of harvest we manage.
Reclaimed – We transform old clothes into something useful, like animal toys, tote bags, pouches, gift bags, etc. We also make products with pine needles, like baskets and jewelry, etc. Here each of our products is handmade and unique.
How do you manage the challenges?
There were days when you question your choices and your journey, but it is good in a way. I do like to take the pause and question my choices as a regular practice. This helps me to understand the work which I am doing is meaningful and also allows me to make improvements.
We have faced challenges in our journey, but we have been encouraged more when we see women becoming independent, and animals getting healed.
To run an animal rescue center, you need financial support and through our products, we are able to achieve that, which really encourages me.
What made you bring women into your fold?
Initially, I was the only one making the products, as the response grew, I hired a few women. When I saw these women becoming financially independent, I thought it would be wonderful if I am able to help animals and also empower women who need financial help.
Additionally, they became more confident by interacting with people who used to visit our farm. They would even interact with people who come from outside India and get exposed to new ideas, which normally they would not have been able to.
Peepal Farm is therefore not just for animal welfare, but also for the welfare of the environment and local communities.
How are you reaching consumers through your product?
When covid happened as things were under lockdown, we decided to go online, we first established a website, second, we listed our products on Amazon, and third, we increased our presence on social media.
Through online, we were able to reach more audiences who were looking for healthy, vegan, and organic products. Also when a lot of people saw our products on Amazon, they got to know about Peepal Farm.
What are your thoughts on Food and Sustainable Agriculture?
People need to be conscious of the origins of our food and the choices we make with respect to our food. As we see, a lot of our food is GMO (genetically modified). Many farmers in our village buy seeds from local stores, where these seeds are chemically treated and are typically meant to be used for one season.
At Peepal Farm, we are trying to change that by doing a lot of organic farming. Our seeds can be used for the next season, which farmers and people can buy.
What are the next plans?
At Peepal Farm, we are focused on building a hospital for animals, which will be a huge undertaking for all of us. This will take about 2 years to finish.
The next step is to reach out to more people and sensitize them through social media. We will share stories about our animals, facts on the dairy industry, aspects related to dog adoption, etc.
On the products side, besides the product expansion, I want to share our vegan product recipes on our YouTube channel. Where more women can learn from my recipes and can start their own businesses from their homes and possibly employ other women.
The idea behind the name Peepal Farm?
Like Peepal Tree which can grow anywhere, does not need much external help, spreads its deep root, and provides shade. We want to do the same at Peepal Farm, we want to be sustainable and help others.
Your personal connection with the environment and nature?
I am born and brought up in Delhi, and therefore don't have many memories of spending time in nature, apart from my trip to my grandparent's home.
However, after spending the last few years in this village amidst waterfalls and mountains, I feel nature heals. If I am having a bad day or feeling depressed, just a walk in nature would help me recover from those feelings.
You can watch the full interview on our YouTube channel.