Planning for beach holidays?
We are sure you would like to visit those beaches that are environment-friendly, clean, and equipped with amenities of international standards for visitors.
For precisely this reason, Foundation for Environment Education in Denmark came up with an interesting certification called Blue Flag to recognize eco-friendly beaches across the globe. The Blue Flag certification is a highly acknowledged and widely accepted eco-label in which a beach has to meet 33 criteria fixed by the Denmark-based foundation.
Currently, there are 10 Blue Flag beaches in India that promote sustainable tourism.
RADHANAGAR BEACH
State/UT: Andaman & Nicobar Islands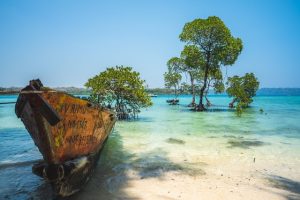 Located around 12 km from Havelock Island Harbor on the Andaman & Nicobar Islands, Radhanagar Beach is the most famous attraction of the region. The turquoise blue sea, white sand, and surrounded by coconut trees, make it a dream destination for any traveler looking for a vacation.
The adventure seekers can do scuba diving, snorkeling, and even an easy 2 km trek to nearby Elephant Beach.
The Radhanagar Beach can be considered as the best beach in India, not just because it got certification from a Denmark-based foundation. Along with making the list of Blue Flag beaches in India, Radhanagar Beach is consistently found among the top beaches of the world. Time Magazine called this the best beach in Asia and the seventh-best in the world in 2004. Radhanagar Beach was among the top 50 beaches in the world by Forbes magazine in 2017, top 25 of the most beautiful beaches around the world by Travel and Leisure in 2021, ranked second on the list of best beaches in Asia by TripAdvisor in 2015.
SHIVRAJPUR BEACH
State/UT: Gujarat
Located almost 13 km from Dwarka and 10 hours drive (450 km) from Ahemdabad, Shivrajpur Beach provides an ideal place to relax with your friends and family. You can go for a boat ride, spot dolphins, or even do scuba diving and snorkeling. Shivrajpur Beach got its Blue Flag certification in 2020.
Facilities like showers, changing rooms, toilets, children's play are also part of the beach.
EDEN BEACH
State/UT: Puducherry
Eden Beach is located in the union territory of Pudducherry and got the Blue Flag tag in 2019. Eden beach is dotted with an array of coconut tree plantations, umbrella huts, amphitheater, children's play area, fitness equipment, and seating arrangements.
A designated area of the beach is also declared as a 'No Plastic Zone' where tourists are strictly restricted in their use of plastics. Dustbins have been kept at regular intervals including one giant fish-shaped cage to create awareness about plastic pollution.
The beach has incorporated a greywater treatment plant, solid waste management plant, clean drinking water, washroom, changing room, bathing room, toilets for tourists, including for persons with disabilities, and parking facilities.
RUSHIKONDA BEACH
State/UT: Andhra Pradesh
Located almost 8 km from Visakhapatnam, the Rushikonda Beach is one of the few Blue Flag beaches in India which has the sea on one side and a mountain on the other side. Rushikonda means 'Hill of the Sages', the small mountains around the beach provide a great spot to watch sunsets.
The beach is also recognized for its golden sands and surrounding greenery, the beach attracts a number of travelers and nature lovers. You can indulge in some adventure and water sports like swimming, water skiing, and surfing.
GOLDEN BEACH
State/UT: Odisha
The Golden Beach which has a length of 870m is located in Puri, Odisha. Also known as Puri Beach, it was accorded the Blue Flag eco-label in 2020. It's called Golden Beach because of a stretch of fine golden sand. The clean, choppy waters and cleanliness at the beach are impressive.
The beach is 10 minutes drive from the Jagannath Temple, provides all the public amenities services like toilets, walking track, changing and shower room, solar lighting system, sitting arrangements, and safe swimming zone.
One special attraction of this beach which you will not find on any other beach is the beautiful sculptures and sand art by highly regarded sand artist Sudarshan Pattnaik. Sudarshan Pattnaik's sand sculptures are not only impressive but they carry an inspirational message. Many of his sand art promotes pressing national and global issues. If you want to know more about Sudarshan Pattnaik's achievements and his work on promoting environmental awareness, you can read here.
KAPPAD BEACH
State/UT: Kerala
Located about 16 km away from Kozhikode city, Kappad Beach is a must-visit place amongst the Blue Flag beaches in India. Apart from the beauty of the beach, you can experience its historical significance, which not many beaches can boast of. It's believed that in 1498, Portuguese explorer Vasco da Gama first stepped on to Kerala on this shore.
A great way to reach Kappad beach is along the backwaters as you can experience a relaxing boat ride, spot colorful birds, and pass through a network of lagoons and canals.
Though the beach might not be the best place for swimming because of the surrounding rocks, you can swim in the backwaters, enjoy a peaceful time watching the waters and snacking from the nearby shacks.
KOVALAM BEACH
State/UT: Tamil Nadu
Located about 40 km from Chennai, the Kovalam beach in Chennai made it to the list of Blue Flag Beaches in India in 2021. Also known as Covelong beach, because it is situated in a small fishing village of the same name, tourists can indulge in surfing, windsurfing, parasailing, boating, and fishing.
Amenities at the beach include toilets, showers, changing rooms, and even eco-friendly bamboo huts to relax.
Not to be confused with Kovalam beach near Trivandrum, which is again a popular beach but not part of the Blue Flag list.
GHOGHLA BEACH
State/UT: Diu
Located 15 km from the main town of Diu, Ghoghla Beach is the largest beach in the Union Territory and is well-known for its golden sand, splendid view, churches, and other surrounding structures. Adrenaline seekers can experience parasailing, surfing, banana boat rides., etc.
Facilities at Ghoghla beach include bio-toilets, changing rooms, an open gymnasium, a children's park area, and gardens.
KASARKOD BEACH
State/UT: Karnataka
Located almost 465 km from Bengaluru and 120 km from Udupi, Kasarkod Beach is one of the longest beaches in the country, measuring five kilometers, and covered in white sand. Considering that the beach is far away from the major cities, it is largely quiet and peaceful. The beach has about 750 meters of safe swimming zone, which can be enjoyed by a group of friends or family.
Kasargod beach is disabled-friendly and has solid waste management and greywater treatments plants, bamboo benches, toilets, changing rooms, bathing facilities, and solar lighting.
PADUBIDRI BEACH
State/UT: Karnataka
Located almost 23 km from the Udupi district of Karnataka, the Padubidri beach is known for its pristine blue water and palm trees lining the shore. It is a perfect destination for someone looking for a peaceful time at the seaside.
Like Kasargod beach, Padubidri beach also has solid waste management and greywater treatments plants, bamboo benches, toilets, changing rooms, bathing facilities, and solar lighting.
Wrapping Up
India is dotted with many beaches across its 7500 km of coastline, but the lack of amenities and cleanliness in most of them make it a very unpleasant experience.
Nonetheless, in the last few years, there is an increasing level of public awareness towards cleanliness and sanitation. Thanks also to the Swachh Bharat (Clean India) initiative, cities, towns, and public places in India are wearing a much cleaner look. The beaches are also part of this overall change.
Indian central and state governments are working together to develop beaches across the country. Money is spent in this attempt to provide the beach-goers with clean & hygienic bathing water, environment-friendly amenities & a safe bathing zone.
India for the first time send 13 entries for Denmark-based certification in 2019 and was successful in getting eight Blue Flag beaches in India when the list was released in 2020, which were added by two more in 2021.
What is Blue Flag certification? Blue Flag beaches are considered to be among the safest and cleanest beaches in the world with environment-friendly practices. This is a widely accepted eco-label that is driven by the international, non-profit organization The Foundation for Environment Education (FEE) situated in Denmark. The Blue Flag Programme which started certification of Blue Flag beaches in 1987, promotes sustainable development in freshwater and marine water areas.
The reason we were provided the aspects of amenities is that each of the beaches is assessed on 33 criteria fixed by the Foundation, some of them include –
Management and conservation of the environment
Quality of bathing water
Safety and Security
Sanitation
Cleanliness
Drinking water
Lifeguards
Chairs and benches
Play equipment for children
The Blue Flag Beaches in India are also among the best beaches in the country that can be considered for your next travel destination. Share it with your friends if they want to tag along.