I still remember one of the vacations I had as a kid was a trip to the holy land of Haridwar located in the Indian state of Uttarakhand. One of the highlights of that trip was my first cable car ride.
A popular destination for any visitor to Haridwar is the Mansa Devi Temple, situated on top of the Bilwa Parvat in the Sivalik Hills. Either a tourist could take a fairly steep walk to get there or take a comfortable cable car ride. We opted for the latter, the 5 minutes ride (don't exactly remember the time) – was remarkable. Suspended in the air and getting to view the sights below was splendid and filled with excitement.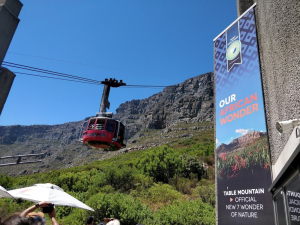 If you have visited any mountainous tourist destinations, chances are high that you would have taken a ride on one of these cable cars and would resonate with the exhilarating feeling of being hanging in the air.
The majority of these cable cars are attached to electric-powered steel cables that can move the car from one point to another at an average speed of 10 to 20km/h.
Cable Cars As a Public Transport
The common purpose of most of these cable car rides is to transport their occupants in mountainous terrain.
However, in the last few years, these aerial cars are also being used as an alternative to the conventional public transport system i.e. buses, trains, etc. in places that are not so hilly.
Many Latin American cities were the early adopters of cable cars, Medellin in Columbia became the first place in the world to use cable cars as a public transport system.
The trend of using cable cars as public transport system quickly spread to other cities of the world like London, Yeosu, and Hong Kong.
World Bank did research where they looked at 25 projects in 14 cities – the findings were that urban cable cars have an average route length of 2 – 7 km and a typical operating capacity of 1,000-2,000 passengers per hour per direction.
Advantage of having Cable Cars as Public Transport
The cable cars system not only provides accessibility but will offer many other benefits as well –
Electricity powered system is much more energy-efficient compared to other modes of transport which are on diesel and petrol.
Reduce the road congestion, there is no honking and is pollution-free
The initial setup cost is substantially lower than railways and metro.
Easier to set up in places that are densely populated.
Cheaper and affordable
Based on the number of inhabitants/commuters and demand, the size of the car can be decided.
Cable cars can never be a replacement for conventional modes of transport, but they can definitely offer a complementary energy-efficient solution.
Cable Cars in Varanasi, India
Varanasi will become the first city in India to implement cable cars as a public transport system.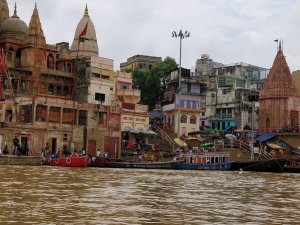 Varanasi is a significant religious center of India believed to be in existence for several thousand years on the banks of the holy river Ganga. Apart from the religious significance, the city is a buzzing hub of economic activities, with over 1.5 million population, the majority of whom are in the manufacturing, trade, and weaving industry.
Tourism is another major industry, about 6 million domestic tourists and about a million foreign tourists visit the temple town every year.
With such a massive congregation of humans in one place, there is a big need for a modern and effective mode of transport. The ropeway service in Varanasi has been selected over the metro rail services, keeping in view the ground realities of the temple town.
As per the initial plan, 4 stations will come up between Cantonment & Godowlia areas in the city. More than 200 cable cars with a capacity of 10 persons each will run at 90 seconds intervals. The project will be implemented in a public-private partnership and is estimated to cost Rs. 400 Cr (~$50 mn).
Imagine if one could travel around the banks of the river on a cable car – soaking in the atmosphere, the tranquility, saints, and priests meditating, kids diving and playing in the holy waters.
Cable Cars in Varanasi would indeed be an experience worth cherishing.