Stress from studies, competition, social media, job prospects, and climate change, among so many other things.
It is not easy being young in the current times.
The last one i.e. climate change has added another dimension to the anxiety list of youngsters and students. Millions of children across the globe are under the constant threat of extreme weather events, including heatwaves, floods, cyclones, disease, drought, and air pollution – making them extremely concerned about the consequences of these events.
A survey conducted with about 10,000 young people in 10 countries revealed that 60 percent of them are "extremely worried about climate change" and 75 percent feel "the future is frightening".
Having said that, there are many youngsters who want to be part of the solution and want to address the environmental problem head-on. However, they are constrained by various factors.
This brings us to the question, of how can children become a participant in providing solutions to climate change. It is important that society recognize this and provide opportunities to those youngsters who want to promote environmental awareness as a student.
There are plenty of environmental activities for students that they can do in their free time and on school holidays.
If you are a student, read this: When doing any of the below activities, it is important that you talk to your parents and guardians and let them know the reasons for your adventure. In addition, it is also good to notify your teachers and school authorities. Informing parents and teachers not only gives them confidence but you can also seek their help and guidance.
If you are a teacher, parent, or guardian, read this: When youngsters are educated about our environment, they not only enhance their domain knowledge but they develop skills that will help them address environmental issues of the present and the future. In addition, these environmental activities for students help in their personal growth and development of various life skills. We have written a detailed article about the importance of environmental education and climate change conversations that you can have with your children at home, which you can read it here and here.
Here is a list of environmental activities for students which will help them learn and evolve, at the same time it is entertaining.
Volunteer
As a student, one of the most meaningful ways to promote sustainability is by becoming a volunteer for environmental causes. Various social media platforms like Facebook, Meetup, Twitter, Instagram, etc have forums and individuals who need volunteers to perform these environmental initiatives.
Based on your interest, location, and skills, you can become part of them. A few of the common volunteering activities for students are beach cleanups, plantation drives, litter cleanups on roads and public spaces, promoting environmental messages, etc.
Advantage of this activity: Through these activities, you can share your knowledge and also learn from experts and fellow volunteers. Considering the activity is performed in a group, there will be a tangible impact as well at the end of the session.
Science Projects
If you are a student of STEM (Science, technology, engineering, and mathematics), it is valuable if you integrate your acquired knowledge with practical experience while at the same time benefiting the environment.
You can do it individually or form small groups to develop projects which require STEM knowledge and are also in line with the green sector. For instance, you can power an appliance using solar or wind, a device for sustainable mobility, a product to aid waste management, a solution to address biodiversity challenges, etc.
For any clarifications on these projects, you can take help from your teachers, experts from the field, and even from YouTube.
Advantages of this activity: Practical projects help in putting theoretical learning into action, which enhances your fundamentals. Moreover, you do these projects of your own free will, therefore it is fun, engaging, and without any pressure. You can even showcase these projects in your CV and improve your career prospects.
Use Social Media
Leveraging the power of social media is one of the easiest environmental activities for students. Students can promote and share content that informs their social circle about climate action and other sustainable initiatives by the government or private sector.
In addition, you can follow profiles of environmental experts and media organizations that write insightful environment-related stories that can not only help you increase your knowledge on the subject but by sharing the content you can help others.
Caution!!: Manage your screen time and follow reputable organizations for content.
Advantage of this activity: By consistently reading and sharing meaningful content, you can enhance your environmental knowledge and create your own sphere of influence.
Create Digital Content
You can also use mobile apps and software products that help in creating content pieces related to the environment and sustainability – like images, infographics, social media posts, videos, pdf files, etc. While creating these content pieces, care should be taken to include the source of the information.
You can share the content on your own social media profile or can even sell it to organizations that may need it.
Advantage of this activity: Given the proliferation of digital communication channels, an insightful digital content piece has the ability to become viral and also bring some fame to the creator.
Design Posters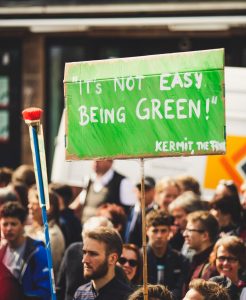 Designing posters and banners can be another method to promote a sustainable cause as a student. The posters can be displayed in public places to spread the environmental message.
It does not matter if the poster is made using colorful pictures or text, but it will be relevant if the message is able to catch people's attention. As someone said "a picture can speak a thousand words", similarly a well-designed poster can create a lot stronger impact than a lecture.
Messages like "Go Green", "Act Now", "No Nature, No Future", "There is No Planet B", "It is not easy being Green", "People, not Profit", "Eco, not Ego", etc. are not only succinct but also very powerful.
You can also use quotes from famous people, authors, and environmentalists, but make sure to give the due credit.
Advantage of this activity: Activities like these get your creative brain active and provide you an opportunity to demonstrate your artistic abilities.
Write Blogs
For students who like to write, blogging is a great way to demonstrate your writing skills and share valuable information. You can leverage free blogging platforms like Medium, Blogger, LinkedIn, etc. to create short or long-form content pieces.
The blogs can be written in English or any other language in which you are comfortable and competent.
Advantages of this activity: Writing blogs offer many benefits – your understanding of the subject is augmented as you research the topic in detail, and in addition, you improve your vocabulary, grammar, and written communication skills.
Conduct Surveys
Conducting a survey is another interesting environmental activity for students who are comfortable talking to strangers and unfamiliar groups.
The surveys can be conducted digitally using tools like Google Forms or physically. (Green tip! If you are using papers for the survey, take used papers where one side is blank.)
These surveys can be used for your school or college projects or you can even share them with organizations that might be interested to create a story on the subject.
Advantage of this activity: Conducting surveys will help you to – improve your communication skills, learn the craft of creating the right questions, and validate your assumptions about environmental topics.
Help Younger Students
You can deliver environmental education to younger students in your own school, community, or neighborhood. Through simple techniques, you can teach youngsters about aspects in which you have command and reasonable knowledge. Your experience can also help them overcome challenges that you faced earlier while learning about a similar topic.
Advantages of this activity: The task of teaching helps you to convey concepts in simple terms which helps you strengthen your own knowledge.
Adopt Sustainable Lifestyle
Practicing eco-friendly habits is one of the most significant environmental activities for students. In whatever stage of life, you are in, adopting sustainable lifestyle measures is extremely pertinent. It does not matter if the impact is large or small, you can practice sustainability in whatever capacity it is possible.
Advantages of this activity: Simple tasks like avoiding food wastage, saving water and energy, buying products that are local and only when necessary, eating a plant-based diet, etc. can go a long way in helping our planet become greener and better.
Here are some sustainability ideas which you can explore.
Ideas about Saving Paper:
Ideas about preventing Food Wastage:
Ideas about Saving Water: