Documentary Name: Cowspiracy: The Sustainability Secret
Director: Kip Andersen, Keegan Kuhn
Run Time: 1h 31m
Year of Release: 2014
Our Rating: ⭐⭐⭐⭐ (4.5 stars)
Cowspiracy is the first documentary of the director Kip Andersen, where he examines one of the main reasons for climate change. These reasons are not the typical ones we discuss at the coffee tables – fossil fuels, transportation, or coal-burning factories.
However, as per the Cowspiracy, it is livestock and agriculture farming. "Animal agriculture causes 18% of greenhouse gas emissions, more than transportation."
The film starts with the trivial things humans indulge in to be environment-friendly. When we take quick showers to save water, do recycling to conserve resources, ride bicycles to reduce carbon emissions, or turn off the lights to save energy, we are only touching the tip of the iceberg.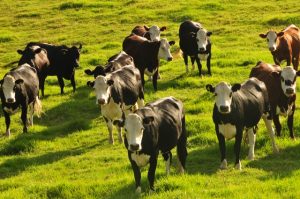 The film explores the impact of animal agriculture on the environment and investigates why the world's leading environmental organizations are not addressing this issue. Kip Andersen highlights the hypocrisies of ecological conservation organizations; he exposes these organizations' silence on the environmental damages caused due to animal farming.
The movie has insightful graphs, creative illustrations, research, and statistics about the adverse effects of animal agriculture, such as deforestation, water pollution, greenhouse gas emissions, and the consumption of resources such as water and land.
The documentary's name is Cowspiracy, a portmanteau of cows and conspiracies, so at one level, there is a significant role that animal agriculture plays in climate change, and at the other level, how it is ignored or downplayed by environmental organizations.
Perspectives from various experts and activists, including environmentalists, scientists, and animal welfare advocates, are also presented in the film. They also reveal the animal agriculture industry's influence on government policies and regulations and the media's portrayal of the issue.
The film reveals some interesting facets of animal farming that have never been shown before. Whether it is about the land needed for the animal, the food they eat, the water they drink, or the manure they produce – everything causes environmental degradation.
"A farm with 2,500 dairy cows produces the same amount of waste as a city of 411,000 people."
"Cows produce 150 billion gallons of methane per day."
"Growing feed crops for livestock consumes 56% of the water in the US."
"Livestock covers 45% of the earth's total land."
The Cowspiracy documentary is executive produced by Hollywood actor Leonardo DiCaprio, Jennifer Davisson, and Appian Way Productions and was exclusively released on Netflix. The film helped increase awareness about animal agriculture's impact on the environment and the need for greater transparency and accountability from both industry and government.
Apart from Cowspiracy: The Sustainability Secret, the director Kip Andersen is also known for his other documentary films, such as What the Health and Seaspiracy.