While discarding the plastic container we used for our favorite laundry detergent or hand cleaner, many of us think it goes away somewhere appropriate. However, the sad part is – less than 10 percent of plastic waste is recycled globally, and the rest is dumped in the natural environment.
As per estimates, every year, about 11 million tonnes of plastic make their way through our rivers and join about 200 million tonnes of plastic lying in our oceans.
That's a massive quantity of plastic waste in our oceans, impacting our marine ecosystem and food chain and even playing a part in ocean warming.
Plastic pollution is often attributed to single-use plastic water bottles, though many other culprits exist. Single-use plastic bottles that we use for our shampoos, soaps, detergents, hand sanitizers, etc., have a significant role to play in pollution.
These Fast Moving Consumer Goods (FMCG) are part of our daily necessities, and buying them in their pre-packaged containers is the only available option.
Not anymore.
Refillable is a zero-waste refill service that delivers a variety of products into containers of your choice. Mumbai-based startup eliminates the single-use plastic containers needed in products like shampoos, soaps, detergents, and hand sanitizers.
For example, you can fill your shampoo in your containers or a Refillable provided bottle, use it, and when it is over, you can order a shampoo refill in the same container. Refillable allows you to pay only for the product, not the plastic container.
When the Indian government banned single-use plastic for the first time in 2018, Mumbai-based trio Purav Desai, Rahul Batra, and Lokesh Sambhwani saw this as a business opportunity to explore. Fresh out of college, they started Cupable, a company that enabled the reuse of cups for alcoholic beverages at social events. Unfortunately pandemic forced them to scale down Cupable and look for another opportunity.
With the massive problem of single-use plastic containers plaguing the FMCG industry and their success with Cupable, three of them decided to start a Refillable store in Mumbai. The company has gradually expanded to other Indian cities to cover more.
The Refillable store brings a range of FMCG brands into its product portfolio. It is delivered through trucks retrofitted with vending machines or by delivery agents on Electric Bikes.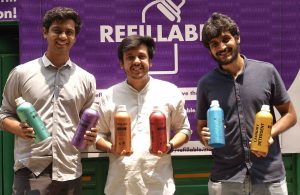 We sat for a conversation with the co-founder of Refillable, Lokesh Sambhwani, to understand the journey of the company, its operations, and an innovative plan to start Packaging as a Service in the coming years.
Below are the edited excerpts of our conversation; you can watch the video on YouTube for the full discussion.
Tell us about the journey that led you to start Refillable Store
My two co-founders and I were very socially inclined in our college days. We contributed to many social causes, like building wells and installing solar panels in villages, skilling children from farming communities, etc.
In 2018, at the time we graduated from our college, the Indian government announced a ban on single-use of plastic for the first time. It was an interesting problem for the three of us to get into.
We spent six months analyzing and studying the market landscape. As single-use plastic was banned, the food & beverage sector was left without any alternative. How can food and beverage be delivered if plastic containers are not available?
Companies started using products made with biodegradable and compostable materials, but we realized that India does not have an infrastructure to support that level of waste. Therefore we ruled out these options.
We finally decided to replicate the milkman model, where a person will come to your home to deliver milk in a glass bottle which can be returned the next day. Based on this concept, our first startup Cupable was launched in January 2019.
We collaborated with an alcoholic beverage company that faced the problem of delivering alcohol at social events. Putting alcohol in paper cups spoils the customer experience.
In the first event with them, we provided reusable plastic cups and observed that 75 percent of people reused them. However, we got the feedback that people who consumed one type of beverage in a cup will not reuse the same cup for another; for example, a cup used for beer will not be reused for gin or whiskey.
In another event, we added a washing aspect at the site, where we collected the cups, washed them, and made them available to be used again, which further increased the reuse.
Over time, we introduced efficiencies to the process, and by the end of the first year, we had worked with over 150 brands at over 200 events and had revenues of more than Rs 40 million. This validated our belief in the reuse model and the demand for its services.
Unfortunately, in 2020, due to lockdowns and covid, we decided to scale down the Cupable business and look at other sectors.
We saw an opportunity in the FMCG industry where a similar concept would work. We initially partnered with a few local FMCG manufacturers, packaged their products in aluminum bottles, and did a pilot with a small group of consumers.
Customers were to use the product and return the bottles for a refill once it was empty. We saw a good response for this model, where more than 65 percent of consumers returned the bottle for a refill.
However, a logistic challenge involved collecting the bottles, cleaning, refilling, and delivering them again. Then we thought to do the refills at the customer's doorstep, and that's how our first Refillable truck was introduced on May 2021.
Therefore our entire journey to this stage is over four years in the making and is filled with many learnings.
Can you explain how Refillable works for consumers?
The Refillable Store is a new way of consumption where consumers can get the same product without plastic packaging.
Customers can place the order on our website, and we will come to refill the product in the packaging of their choice. The deliveries are made to the customer's doorstep through our Refillable trucks. The trucks are retrofitted with a vending machine that refills a product in consumers' bottles or containers.
We started with cleaning detergents and gradually added many other products to our portfolio, including groceries and essentials. As our offering is mobile, we can set up our service anywhere, like at a local grocery store, supermarket, etc.
We are trying to create a complete ecosystem that becomes convenient for the customers.
Is the service delivered only by Trucks?
Our Refillable trucks cover high-density areas like big housing societies, vegetable markets, etc.
For smaller deliveries, we have bikes, where we follow the swap-and-go model, where customers will hand over an empty bottle, and we will give them a new bottle.
What were the inspiring factors that made you establish this concept?
Our biggest inspiration was the success at Cuppable. If we could achieve it with the alcohol beverage industry, we can certainly replicate it in the FMCG space, as the thesis remains the same.
Since 2018, the government has been actively looking at alternatives to plastic packaging. New regulations and policies are introduced to make brands reuse their plastic packaging.
Major global FMCG brands like Unilever, Godrej, Nivea, and Reckitt Benckiser, among others, have committed to becoming plastic-neutral. If not with Indian brands, there is a global trend toward curtailing and reusing plastic packaging.
In addition, other companies in other countries are doing similar work. We needed to customize the solution to work in India and create a supporting infrastructure.
How do you solve the problem of customer-specific choices concerning the brands that they use?
We have either tied up or signed non-disclosure agreements with most of the big FMCG brands and will slowly do a pilot with each of them.
In addition, we have already collaborated with most organic brands like Better Home, Herbal Strategi, Beco, and BARE Necessities, among others.
For price-sensitive customers, we are working with a brand named Rossari, which has been in the FMCG business for the last 30 years.
Therefore we have an entire gamut of brands and types of products that are price-competitive and free of plastic packaging. By offering the product without the packaging, we can reduce that cost.
How do you convince businesses to get on board?
We have strategically reached out to all the organic brands, as the chances of them responding positively to our model are more. This aligns with its chemical-free, non-toxic, and environmentally friendly company positioning.
How many product categories do you currently have?
Primarily we are into delivering cleaning detergents like laundry, handwashing, dishwasher, toilet, etc. In addition, we are also exploring the delivery of groceries like pulses, rice, spices, etc.
How are the operations managed?
In Mumbai, we manage the entire operations, while in other cities, we partner with businesses and companies with the right network.
In Bengaluru, we partnered with Hasiru Dala, a company that has worked in waste management for over a decade. They help waste pickers earn a better livelihood. The partnership will help our service reach more than 200,000 to 300,000 households daily, which they currently serve for waste collection.
Similarly, in Pune, we partnered with SWaCH, serving 800,000 households daily. In Surat as well, we have made collaboration with Ecolution Surat.
Are your vehicles electric or conventional?
The bikes we use are electric, and the trucks are CNG because there is currently a limitation with the load capacity of electric trucks.
How is the growth in numbers?
Our earlier experience with Cuppable was in the B2B space, but Refillable Store was in B2C, which was an entirely new segment for us.
We reached about 500 customers in the first six months and now serve about 2500 households in the second year, spread over multiple cities. Our target is to reach 10000 customers by the end of this year.
The monthly growth is about 20-25 percent which is entirely organic.
How have you managed your finances?
In June 2022, we raised a seed round of $250,000 from US-based investors. We have also received government grants which helped us stay afloat.
We would need additional investments to build a refill infrastructure that will help us scale. Therefore, we are ready to partner with anyone willing to see the merit in our actions.
What are your plans for the future?
The mission of Refillable is to make sustainability affordable, accessible, and convenient. To succeed in the Indian market, we must win all three aspects.
From the short-term perspective, we have plans to get into 10 Indian cities.
In the long term, we are looking at packaging as a service model where the packaging will not be owned by one brand but will serve the entire segment. We envisage this model for the whole of the packaging market. Each packet will be designed to be reused, and longevity will be accounted for.
Moreover, the Indian government has announced guidelines on Extended Producers Responsibility (EPR) whereby the reuse of rigid plastic packaging material has been mandated. This makes all the big FMCG players start exploring options to reuse their plastic.
Looking at this, the relevant legislation, and the right design, we should be able to achieve this in the next few years and play a small/big role in this segment.
What was the idea behind the name Refillable?
The thought process was to make people understand what we are trying to do most directly. Whether it was for Cuppable or Refillable, we wanted our brand to create curiosity with the name itself.
What is your connection with the Environment?
To begin with, I was not a very environmentally conscious person. You reach where you are over time through actions and consequences.
Therefore I am still trying to understand how evolution works, including the scientific interconnectedness of our systems. I am learning more about the impact refills can have on climate change and the effect of chemicals from the plastic waste in our water bodies playing a part in melting icecaps. I am excited to learn about our impact today, which can help us create a better world tomorrow.
You can watch the whole conversation on Change Started YouTube Channel –