"Take only memories; leave only footprints."
This is a famous 19th-century travel quote credited to Chief Seattle, a highly respected leader and an ecologist.
When we travel to a place for a vacation or a trip, while we benefit the economy and come back with happy memories, we also impact the ecology and the environment. The pollution from our transport, the waste from our food and drinks, and the emissions released from our accommodation are some examples of the carbon footprint we leave behind.
In the era of weekend getaways and revenge tourism, the travel industry has a huge role in driving climate change. In a study conducted in 2018, it was estimated that the carbon footprint of global tourism might account for about 8% of all carbon emissions. While transport-related greenhouse gas emissions from tourism are the major contributors, the impact of our stay, food, and other fun travel elements also has a critical role in environmental degradation.
The rapid increase in foreign and international tourists is only exacerbating the problem. Therefore, industry and tourists must seriously work towards decarbonizing the sector.
The visited place will be attractive only when we conserve and protect its ecology.
---
We sat for a conversation with Prerna Prasad, founder of Delhi-based startup Ecoplore, to understand more about the relevance of sustainability in the tourism sector. Ecoplore promotes sustainable tourism in India by aggregating hotel properties and adopting environment-friendly practices.
After working with India's leading media houses, Prerna's strong penchant for the environment motivated her to start Ecoplore in 2016. She made innumerable solo trips to most parts of India to understand the tourism business and measures that can help travelers become more responsible towards the environment.
The company has mandated specific eco-friendly criteria for a hotel property to be listed on its platform. Ecoplore has a range of accommodations on its website, including hotels, homestays, campsites, and villas in different parts of India.
Below are the edited excerpts of our conversation; for the full discussion, you can watch the video on YouTube.
What is Sustainable Tourism?
United Nations has used three words – people, planet, and profit to define sustainable tourism. Besides, in my last five years of journey in this sector, I realize that these three words perfectly encapsulate the essence of sustainable tourism.
People – Tourism is sustainable when it benefits local people. This can happen when people benefit financially; they increase their knowledge by interacting with tourists and do not face exploitation.
Planet – Tourism needs to keep the Planet at its core to be sustainable. All activities have to adopt measures that keep the earth in consideration and have minimal carbon emissions.
Profit – Any person or business involved in tourism must be self-sustainable and earn profit.
How can we become responsible tourists?
The foremost step is to decide to become a responsible tourist consciously. After taking that decision, there is a range of things which you can do.
The first aspect of sustainable tourism is the choice of transport options.
Wherever possible, you should opt for public transport, choose trains over airplanes, and public buses over private cars. When electric vehicles become more prevalent for local transportation, we can use that.
The second is your place of stay, one of the most essential aspects of sustainable tourism.
A variety of options are available for your stay, from luxury hotels to affordable guest houses. To give a perspective, we got an assessment done by a European agency on the carbon emissions hotel room generates. The hotels promoted by Ecoplore emit about 9kg per room per night, compared to an average Indian hotel that emits 75 kilograms per room per night and a luxury hotel that emits 1000kg per room per night. That is the level of impact your selection of hotels can make in promoting sustainable tourism.
A hotel can claim that it is an eco-hotel and put some labels and ratings to market its claims; therefore, for a user, it is difficult to finalize.
We have identified two mandatory criteria for the hotel to be listed in Ecoplopre. The first is to ensure that at least 30 percent of the hotel campus should have tree coverage. The second is that the hotel should be a heritage building or construction based on local architecture using materials like mud, wood, bamboo, or stone. Then in addition, we also look into other aspects like rainwater harvesting, solar panels, composting, and waste management, among others.
The third aspect of being a responsible tourist is eating local food.
Suppose you are going to Ladakh and eating pizza or going to Kodaikanal and eating Dal Makhani; these food choices are not commensurate with your destination's local food. Eating locally grown and locally sourced food reduces the emissions associated with transportation and logistics.
The fourth aspect, which is also very important for sustainable tourism, is the activities you indulge in, like sightseeing, excursions, or fun things.
The concept of a weekend getaway, which is typically two days and a 1-night stay, is completely non-sustainable as the frequency of your travel will generate huge quantities of emissions. Though there are reasons for people making short travel, if people want to become responsible travelers, they should endeavor for slow travel, where you stay at a place for a longer duration.
Tell us about your journey before you started Ecoplore
I started my professional career with CNN IBN as a journalist, then worked with India Today and some international media organizations for around eight years. At the same time, I was also involved with social activism and working with a political party. This was till 2015, and these activities utterly disillusioned me.
I decided to work on the environment because I felt that if we didn't have fresh air and pure water, anything we did would become worthless. One fine day, I resigned from my last job and decided to take the entrepreneurial plunge, but I was not sure what I would do.
What inspired you to start Ecoplore?
After my resignation, while sitting at home deliberating on my next step in life, I decided to vacation to Malaysia. As I always opt for eco-friendly stays, I had to do extensive research to finalize 4 to 5 sustainable properties for my stay in Malaysia. When I visited those eco-hotels, the experience was mind-blowing.
One of the beach properties was made with recycled drainage pipes; another had giant insects; these experiences were unique and exciting.
The experience encouraged me to create a platform to aggregate all the eco-hotels and help travelers with their sustainable holidays.
What was your initial process for setting up this platform?
As the first step, I researched whether any Indian or International platform is doing something similar. I studied sustainable tourism, traveled to many places, and stayed at eco-hotels.
I wanted to assign standard criteria across all properties and help the users select their hotels. For this purpose, I visited hotels in different parts of the country. After one and a half years of research, I figured out those criteria.
The first hotel we onboarded was the one I stayed at in 2010, which is still one of the best-selling properties. The hotel has local ownership, is profitable, and has adopted many sustainable measures.
Can you elaborate on the criteria for Ecoplore Hotels?
In the Ecoplore platform, we have included all kinds of properties – luxury hotels, boutique properties, homestays, budget hotels, and campsites.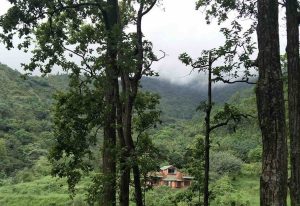 The common factor that applies to all these properties is two mandatory criteria – the first is 30 percent green cover on the campus, and the second is property made with local architecture or a heritage building. Then based on the location, we can also look at other optional measures like rainwater harvesting, solar panels, composting, waste management, etc.
In addition, most of our properties have their garden where they grow vegetables, spices, herbs, fruits, etc. Growing our food is an essential element that resonates with our philosophy of sustainable tourism.
The next thing we look for is the activities available at the hotel location, as most of our properties are located near the mountain, rivers, and waterfalls, which helps in providing a range of paid and complimentary activities. Based on the location, activities include birding, trekking, village walks, etc.
Another aspect of our properties is that owners have their homes nearby. This makes the experience for the guests very personal and ensures quality service delivery.
Finally, we ensure we visit and verify all our properties before we onboard them to our platform. The visit from our side means that safety, hygiene, comfort, and fun elements are checked and ascertained.
Do you certify your properties with any national or global accreditations?
Though some organizations provide certifications, including for green buildings, we refrain from certifying our properties as I believe users should be able to approve of the property and not be influenced by certifications.
Many certification organizations in India or internationally charge businesses for granting certifications while we visit the properties to do our independent assessment without any charges or complimentary stays.
Moreover, many hotel properties are doing substantial work towards sustainable tourism but don't have the resources to invest in getting certifications.
Compared to conventional hotels, how do you highlight the features of your hotels?
The points which we highlight for the customers
The experience of living in a local house that is comfortable and equipped with modern amenities.
Getting to eat local food
Being close to nature
How have customers reacted to your hotels?
I can see a shift in the mindset where tourists have started to explore offbeat locations. Pre-covid many explanations were needed for customers regarding their stays in Ecoplore hotels. Now people realize the importance of nature and are willing to try alternative accommodations.
Can you share business numbers?
We have about 200 properties listed on Ecoplore, which we have physically visited and verified. In addition, there are 1000 properties that we have shortlisted, for which verification is under process.
In the first quarter post covid, we sent 135 customers with a conversation rate of 30 percent.
The total revenue we generated last financial year was Rs 11 lakhs. The revenue in the first quarter of this year is six lakhs. This shows that business is growing and we are on the right path.
Are you looking to raise funds?
Our major challenge is managing inventory manually, as we don't have real-time access to hotel inventory. That is why we are looking to raise funds to help us integrate with live inventory and bring efficiencies.
What are your plans?
Our target market is India, as we plan to cover most of the properties by the end of this year, provided we have the funds in place.
We also plan to expand abroad with collaborations with local partners and eco-hotels. By next year we should be able to aggregate international hotels from Europe and South Asia into our platform.
What was the idea behind the name Ecoplore?
Ecoplore is a combination of two words – eco and explore. 'Eco' comes from eco-friendly, and 'plore' is from exploring. Traveling should be more about environmentally friendly exploration.
Your connection with nature and the environment?
I connect best with nature, even more than my family and friends. I dream of buying an original forest of 100 acres, which I can protect, conserve and nourish until I am alive.
---
You can watch the complete conversation with Prerna Prasad, founder of Ecoplore, on the Change Started YouTube channel.
---