India is the largest two-wheeler market in the world, with three Indian companies—Hero Motors, Bajaj Auto, and TVS Motors — dominating the world motorcycle market, rather we should say gasoline-powered motorcycle market.
However, with increasing air pollution, growing awareness towards the environment, rising petrol prices, government incentives, the traditional two-wheelers are making way for electric two-wheelers.
India's success in two-wheelers is largely driven by the young and rural population, whose first choice private vehicle is essentially a motorcycle or a scooter. With the growing adoption of electric vehicles, we will surely witness India's dominance in the electric two-wheeler segment.
There is a slew of big names & startups joining the bandwagon and interestingly many of the startups are incubated out of big Indian colleges & universities. One of them is Chennai-based Raptee Energy, the first startup incubated at Anna University.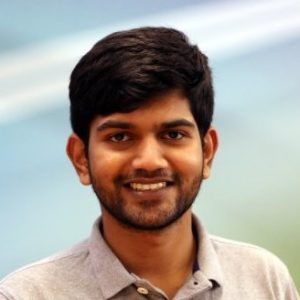 We got a chance to speak with the co-founder & CEO of Raptee Energy, Dinesh Arjun. With a master's in Industrial engineering from prestigious Purdue University and a rich experience in sales, Dinesh has set out to revolutionize the Indian commute system.
The plan is to build an electric motorcycle, that is not only developed in India but the Indian sensibilities are kept at the forefront.
The other big focus area of Raptee Energy is to develop an electric motorcycle that is comparable with any best-in-class petrol-powered motorcycle. Many critical components like vehicle control units, battery management systems, chassis are developed in-house by its engineering team.
Raptee Energy plans to launch two stylish-looking motorcycles – Mark 1 (comparable to a 500-750cc motorcycle in performance) and Mark 2 (comparable to a 150-250cc motorcycle). Dinesh is optimistic about the launch of Mark 1 by later this year (2021).
Here is an edited version/excerpts of our conversation with Dinesh Arjun, where he gives interesting insights on Raptee Energy, the thought process behind developing the motorcycle, his journey, and views on the electric two-wheeler space. For the full discussion please watch the video.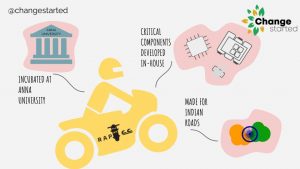 Tell us about your journey
I did my undergrad in production engineering at Madras Institute of Technology. I have been very entrepreneurial throughout my life. During my undergrad, I started two ventures, one in automobile retail, another in automobile manufacturing and both were decently profitable companies.
In the automobile manufacturing company, I used to go & speak with other companies, trying to figure out any product opportunities. If they had, we used to get the components, would go to other players, get it done, and then send it back.
Then I worked with the large OEM player in the front end.
I did my master's in Industrial engineering at Purdue University and subsequently got an opportunity to work for Tesla in the design field.
When did the thought of Raptee Energy come to mind?
All this while I was moonlighting Raptee, which we started mid-2018 and got officially incorporated in mid-2019. I took the leap of faith, came back to India, and got into this full-time from September 2019 along with Keerthivasan Ravi, my co-founder, and also my junior in undergrad.
When we started Raptee Energy, we were curious if we can make any difference in this ultra-competitive space, dominated by big players with a lot of money.
We were clear from the start that we did not want to be vehicle integrators – get components and assemble them. We realized that the biggest problem with the Indian electric two-wheeler space is that, no two-wheeler is developed keeping the Indian use case in mind.
We either see a very powerful electric motorcycle from the west starting at US$ 10,000 to US$ 40,000. At the other end of the spectrum, we see low-powered, low-cost scooters from South East Asia and China. These bikes will not essentially replace your petrol-powered bikes rather it is an upgraded version to your bicycle.
Today if we look at electric two-wheelers, 97% of the market is dominated by China. They categorize it into two parts – high powered and low powered, interestingly the low powered is 180 to 350 watts and the high powered is 350 to 600 watts. If you consider 600 watts, it is 0.5 bhp and if you compare it with a bike like Honda Activa which is 7-8 bhp, it is not a fair comparison.
This has put a stigma in people's minds that electric vehicles inherently are slow, unreliable, and not long-lasting. In China, essentially 80% of the market is run on lead-acid battery and these are glorified toys and not vehicle replacements.
That's what we are going to change, it doesn't make sense to go and get their product and use it in the Indian market which is significantly different. Looking at this scenario, you have to reinvent and work on the technology that goes into this, that's essentially what we are trying to build.
Why did you decide to go for an electric two-wheeler space?
To be honest, I am not a motorcycle enthusiast and we are not trying to put superbike or leisure bikes on the roads.
I have been in forefront of two-wheeler retail, partnering with very large OEM since 2012. With my experience in the frontend, I got a fair knowledge of sales, which gave me the confidence to enter into this market.
Moreover, India is the largest two-wheeler market in the world and it is going to remain for the next few decades. There is a segment of people that are coming out of poverty every year in India and they cannot directly go into the four-wheeler space. That is the segment we are trying to address.
We have developed a big tech stack in terms of software and electronic hardware over the years. Many people have suggested we sell that technology to other OEMs, but that is not our objective.
Our goal is to revolutionize commuting, by making the entire experience of commuting on a two-wheeler better, easier and safer.
Over the years, our team has developed some really cool technology, including a patent on collision detection to improve the safety of the bike.
Electric Vehicle is a capital-intensive business, being a startup how do you plan to go about this?
We are looking at a very minimal Capex at least for the next 12-18 months. We do not want to put 100 million vehicles on the road, we are happy to start with 30 vehicles a month.
We are a startup and cannot do everything, therefore we started to focus on components that make the biggest difference, for Raptee Energy currently it is the core technology.
Electric two-wheeler needs many different components. How do you plan to set up the business?
Electric Vehicle sub-component ecosystem does not exist in India, to get the components for a vehicle like mine is not available. We are forced to innovate and that is the best part.
We started with the vehicle control unit which is one of the most complicated pieces of electronic hardware. Then we worked on the battery management system, chassis, and security-related features.
The only thing which we are completely dependent on external vendors is the motor and motor controller, which we are not currently bringing in-house.
What is your take on the Battery vs Engine debate?
Engine constitutes 40-60% of the vehicle cost, while batteries have reached about $100 for Kwh, which is reasonable.
People still think electric bikes need a battery replacement, but this is the component that will outlast the vehicle's life. I am talking about 1000 cycles, which means for my vehicle it will be 150,000 kilometers, which can easily outlast any petrol-powered vehicle.
Moreover, even after usage, the battery can be repurposed in a grid solution or energy storage. That means there is a significant salvage value that you can get after scrapping the battery.
If you compare if this with an engine, once its life is over it is like scrap metal.
A word on your bike looks, it looks very elegant on the website.
The actual bike is going to be far better than the picture on the website.
We have very talented vehicle designers working in-house who have created this wonderful-looking bike.
When is the launch happening?
Optimistically we are looking at November 2021, for the launch of our first product. We are wrapping up our first round of funding and hopefully, we should put things together by end of this year.
What is that first product?
The higher-end one Mark 1, the comparable versions of that bike is 500cc to 750cc. The lower-end comparable version is Mark 2, which is comparable with 150cc to 250cc bikes.
How do you plan to increase awareness of Electric Vehicles and your brand?
On the electric vehicle, it is a matter of time and it is going to happen by word of mouth. Like any technology, there will be early adopters and then through word of mouth, it will be accepted.
I and my family drive an electric vehicle and we are not switching back to fuel ones. It is not just the fuel costs, which are zero, but the safety, comfort, and ease of driving that make electric vehicles perfect.
On the Raptee Energy brand, that is a tricky thing and we are putting in a lot of effort internally. It is going to be difficult and will be our biggest challenge, but we have to nail it.
Raptee Energy is the first incubated startup from Anna University, how is the experience?
We were looking for a partnership and we approached a lot of big incubators, nothing seems to materialize. With Anna university, it was not only we asking to join them, but they were equally interested as well.
Anna University partnership made a lot of sense, the incubation team was on the same wavelength and it is a great journey. They have offered a lot of support and help. They have been constantly calling us to check if we need any assistance.
I can go for hours talking about Anna University and their support.
The incubation cell comes under the Atal Incubation center, the people who work there are not professors but they are people from the industry.
What was the idea behind the name Raptee?
Interestingly we did not put a lot of thought into it, it is derived from the word Raptor, Velociraptor dinosaur.
What are the plans for the company?
We are very focused on what we want to do and what we want to achieve. The market which we have chosen is not small to make too many product launches.
We are focussing on commuter segment motorcycles for the Indian market. If an opportunity comes up somewhere, we are always open to it.
We are seeing many startups in the electric two-wheeler market, what are your thoughts?
Everybody is starting from scratch, whether is Ather, Bajaj, TVS, in a way it is a level playing field.
While I agree that there are many startups, the ones that can bring value are going to survive. Definitely, there is going to be some consolidation in a while, like any industry.
Any thoughts on Tesla coming to the Indian market?
I am a big Tesla fan, but I am also very patriotic. India has amazing companies that are making big moves, the focus should be on homegrown brands.
The only takeaway from the Tesla move is that Electric Vehicles are here to stay.
What is your personal connection with nature & the environment?
There is no other earth to go to, we do not have a choice.
You can watch the full conversation here