With a history of rich cultural heritage and architectural excellence, India is one of the premier travel destinations for travelers worldwide. The country observes an influx of travelers every year, and not to mention India is also a treasure trove of fantastic travel destinations for its citizens.
Travel ushers rejuvenation and liberation and allows you to break the shackles of the daily humdrum of life. However, with the boom of the tourism industry, maintaining the sustainability of the places you visit is essential. This can be easily obtained by practicing a few sustainable approaches whiles traveling.
Did you know that India ranks 4th in carbon footprint caused due to traveling? As much tourism has helped boost the country's economy, the rampant construction of hotels and architecture to enhance the beauty of a popular tourist destination; has severely impacted the environment.
Stick to the end of the article to learn how to take sustainable travel in India and contribute positively to the environment.
Best sustainable practices to follow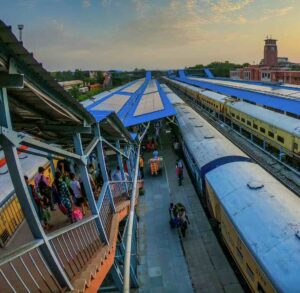 Travel
While intercity traveling, you can choose public transportation instead of flights and private rentals. This will help reduce harmful emissions and control the pollution in the process.
India has a well-developed railway transport system that covers the entire length and breadth of the country. Opting for railway transport will considerably reduce your carbon footprint compared to air transport. In addition, Indian railways are working on their net-zero goals, which further helps in the cause.
For travel within the local area, you can opt for metro, bus, or electric cabs, wherever available. Metro's are available in almost all major Indian cities and towns, then many cities have also started electric buses.
Another idea for sustainable travel in India is to take it slow. So, whether you are traveling to explore nature, architecture, or spirituality, absorb the place entirely before you move to the next destination.
Avoid Plastic
Eradicate the use of plastic bags when you go for local shopping. Plastic bags have always been one of the potent factors for pollution; you can easily replace plastic bags with reusable cloth bags or other biodegradable materials.
Even though India has banned plastic bags, at places, you can still find them being used; moreover, carrying your reusable bags will mean that you consume one less bag, which a shopkeeper might give you.
Carrying reusable bottles is another step that you can take to make travel sustainable.
Eco-friendly Stay
With the rising demand for affordable tourist accommodations, India's popular tourist destinations include many eco-resorts and homestays. These accommodations follow sustainable practices, including efficient waste management and energy-efficient resource use. Therefore, the next time you explore India, do not forget to look for some sustainable accommodation places in the area.
We have spoken to Prerna Prasad, founder of Ecoplore, a platform that promotes sustainable tourism in India by aggregating hotel properties that have adopted environment-friendly practices. She pointed out that the "hotels promoted by Ecoplore emit about 9kg per room per night, compared to an average Indian hotel that emits 75kg per room per night and a luxury hotel that emits 1000kg per room per night."
Travel light
It might seem a futile measure to follow, but traveling lightly has to show to be highly effective in reducing global carbon footprint efficiently. We can quickly check the weather of the destination where we are traveling and pack our luggage accordingly.
You can also make small packets of toiletries like shampoo, soaps, and toothpaste instead of using the sachets provided by hotels.
Support the Local Community
Souvenirs and crafts purchased from local markets are affordable, and by following this rule, you will directly impact the place's economic growth. However, ensure you never buy products that involve killing wildlife. Purchasing such products will only further promote poaching and risk the lives of endangered and rare fauna.
Furthermore, buy local products and items that are made with sustainable materials.
Eat Local
Finally, when traveling, always eat the local food and cuisine. Consuming local food means that food is cooked using ingredients available in the vicinity, which further helps to reduce the carbon footprint. Moreover, India offers a range of local flavors due to its diversity and culture. Each Indian region has its favorite dish, savory, and dessert. Eating local delicacies also help in knowing the culture in detail.
If you are a foodie ready to experiment, you can even explore the local market for affordable lip-smacking Indian street food. Here is a quick visual guide to India's popular vegan food.
Wrapping Up
The government of India has also been slowly including the approach of sustainable tourism to protect the biodiversity-rich destinations of the country. According to a recent report published by an esteemed news portal, a survey concludes 91% of travelers are planning to travel sustainably in the coming years.
Traveling sustainably helps minimize the negative impacts on the environment without compromising your travel luxury. Creating awareness and generating benefits for tourists and the place's local community is essential. Hopefully, the article provided some effective practices for traveling sustainably. These are practical and practicable but can help drastically reduce the carbon footprint.
Be a responsible traveler and explore the beautiful country without harming the environment.