If you are a city dweller who is bogged down in the current lockdown and is craving a fresh whiff of air. Loitering in the same rooms every day has become a big ordeal. Helplessly sitting at home and unable to visit your favorite open-air coffee shop for the fear of the pandemic.
Here is the solution – You can have your own little slice of nature, by effectively using the balcony in your apartment or your small little terrace.
But doing a makeover might involve a considerable amount of money which many won't prefer. So, why not use some creative garden ideas that we have listed below and do a complete transformation of the tiny little place of your home to a visual retreat where you can spend some good time and relax? Sip your cup of a hot cuppa or simply read a book.
Here are some lovely garden ideas for the balcony or terrace to make it the coolest place in the house.
The best part of these garden ideas is that they will be done with minimal expense and will repurpose your old waste products lying in your house
Put Your Green Thumb to Work – Reuse and Repurpose plastic bottles to create garden planters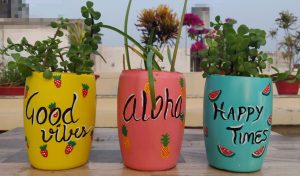 You can turn your balcony or terrace into an enchanting garden landscape by using the right mix of greens and colors. You can use a variety of potted plants and planter boxes on the floor as well as in hanging pots, and utilize the available space to turn your balcony/terrace into a green outdoor oasis.
You can create your own planters by utilizing the old bottles and boxes that are discarded and scraped. Add bright colors to them and write some interesting quotes or words which will surely bring a smile to your face whenever u see them. Nice quotes and their reiteration bring in lots of positivity too.
Be careful to place the garden plants that need sunshine on the outer periphery. Try to use an interesting mix of flowering plants, greens, and succulents to create layers and add interest.
I prefer having lots of perennials with colorful leaves like croton, wildfires, bougainvillea, etc., and a small amount of seasonals because maintaining the seasonals requires lots of inputs both in terms of money, time and involvement. Perennials are comparatively less consuming and are easy to maintain.
After all your hard work in doing up your garden, don't forget to water them regularly and to take care of them well. A brown, dry garden is something you don't want.
Create a Reading Nook
A comfy chair and a small side table (or ledge if you don't have enough space for a table), can turn your balcony/terrace into your favorite spot in the house. You can enjoy the views, curl up with your cuppa, read, write, meditate, or do your own thing. Don't forget a warm throw to keep you comfortable if you doze off while reading.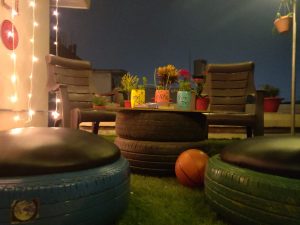 I utilized the old tires, painted them for 2 low seaters, and stacked 2 tires on top of each other topping an unused tile that was lying in the house leftover from construction time to create a tabletop.
The best part is that all these materials are weather resistant and need minimal maintenance.
Go for a message wall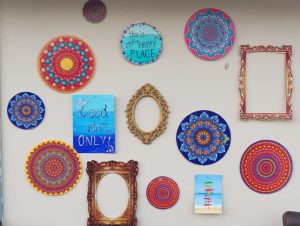 If your space has a wall on 1 side, another great garden idea is splashing some colors. Make it your happy place by adding your handmade creations, lovely quotes, or anything you like.
You can also involve the kids of the house to decorate this wall with their own creations and art pieces.
The idea is to bring life to your garden area and playing with some colors can add an extra bit of magic.
Space for a Siesta
If the area permits on your balcony/terrace, a hammock would just make your garden awesome. Enjoy your afternoon snooze in the fresh breeze! It's also a lovely idea to hang up a swing seat where you can sit to enjoy the view.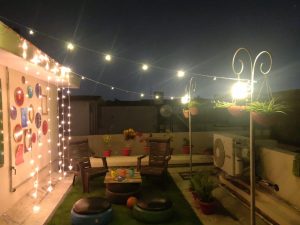 Light it up
Add some fairy lights to the place. The fairy lights have a magical effect. They transform the place at minimal expense. You can use your creativity here by simply using some old bottles or old lamps to make it look different and more charming.
The article is contributed by Aakanksha Gupta from Fiesta Event Management. You can call reach her at @9451960165 for many more fantastic garden ideas for small spaces