Diwali or Deepawali meaning a series of lighted lamps is one of the most celebrated festivals in India. Diwali's significance varies throughout India and is associated with a variety of traditions, symbolism, and deities.
The festival is spread across five days, each day having significance. People welcome the festival with enthusiastic gestures and like most festivals, the preparations start many days if not months prior to the actual date.
Lights, crackers, shopping, delicious food, ritual, and ceremonies fill the surrounding of every household with a dash of minimalism, sustainability, and care for the environment.
Diwali Cleanliness and Prosperity goes together
The most important aspect of Diwali preparation is house cleaning. Diwali usually comes either in October or November, which means monsoons would have got over, but things would be a little moist, mushy and insect-laden. The occasion of the festival gives enough reasons for people to clean.
In addition, Diwali is also an opportunity for people to look at their storage space, leave their love affair with unused items and make space.
Many houses in India take out their old and unused items like electronic waste, plastic bottles, old newspapers, cardboard boxes out of their store and sell them for recycling or local Kabariwala.
Moreover, it is believed Lakshmi, the goddess of wealth, is said to endow her blessings to houses that are absolutely clean.
Upcycle and Decorations
To add to the charm, people decorate their houses with lamps, flowers, pots – which are often created reusing old and unused stuff like plastic bottles, cardboard boxes, color papers, etc.
Dhanteras – Gold and Broomstick
Dhanteras is the first day of the festival that marks the beginning of Diwali in India. According to Hindu beliefs, this day is considered to make new purchases like gold, silver, idols, utensils, cars, electronic items, etc.
Believe it or not, buying a broomstick is also auspicious on this day. It is a symbolic gesture of starting the year with a cleaner lifestyle and a clean house. If you clean your house on this day, prosperity walks in, and hence buying a broomstick becomes very important.
Respecting Tulasi Plants (synonym Ocimum sanctum, commonly known as basil)
Tulasi plant is a very sacred plant in Hindu belief and has a huge significance in Indian homes. Hindus regard it as an earthly manifestation of the goddess Tulsi; she is regarded as the avatar of goddess Lakshmi
Generally kept at the entrance of the house or the central courtyard, the plant is said to have great medical and spiritual healing properties.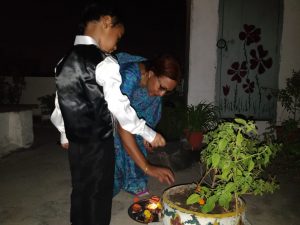 On the third day of the festival, which is the main Diwali, where Lord Ganesh and Lakshmi are worshipped. After completing the rituals, praying before the Tulasi plant is extremely important on Diwali day. Lighting a lamp in front of the plant evokes positive energies and removes negativities.
Additionally, consuming leaves of the plant is considered to have innumerable health benefits. The leaves can be taken alongside sweet offerings.
Prayer for the Mountain and Cow
The fourth day of the festival is called Govardhan Puja and the day has two special significances related to bio-diversity.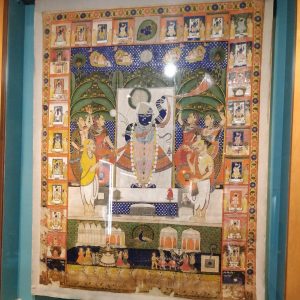 First, it commemorates the incident where Lord Krishna lifted the Govardhan Hill to provide shelter from heavy rains that fell upon the villagers of his town.
Second, the day also celebrates cows, which is also related to Lord Krishna who used to call himself Gopal or the one who raises calves.
Cows and bulls graze grass on the mountain and provide milk to the people. Hence it is a reason for people to celebrate nature, for providing all the necessary things required for sustaining life.
Devotees worship Govardhan hill, which is symbolically made using cow-dung and decorated with flowers. People also offer to pay respect to the cows for being a source of food and helping in agriculture.
Diwali is an occasion to celebrate Mother Nature
In spite of any symbolism the festival is an important occasion that marks the victory of light over darkness, knowledge over ignorance, and good over evil.
Climate change and environmental destruction are some of the worst evils, modern societies are facing today, let us all strive for a safe environment, decluttered lifestyle, and respect for mother nature.