India and Denmark have decided to establish the Green Strategic Partnership to collaborate for environment-friendly solutions to developmental challenges. This was done as part of the virtual bilateral summit between Indian Prime Minister Narendra Modi and Denmark premier Mette Frederiksen on 28th September 2020.
India has strategic partnerships with around 30 countries like Russia, the USA, the UK, China, France, UAE, etc. The general terms include "Global Strategic Partnership", "Comprehensive Strategic Partnership", etc,
The "Green Strategic partnership" is itself unique and one of its kind.
As part of this green strategic partnership, the two nations will focus on expanding economic ties, green growth, and cooperation on climate change.
This will be done through close collaboration with relevant ministries, institutions, and stakeholders. Though the modalities are still to be figured, the Green Strategic partnership entails huge benefits to the two countries.
The statement read:
"The Green Strategic Partnership is a mutually beneficial arrangement to advance political cooperation, expand economic relations and green growth, create jobs and strengthen cooperation on addressing global challenges and opportunities; with focus on an ambitious implementation of the Paris Agreement and the UN Sustainable Development Goals."
India and Denmark Green Partnership
Many Danish companies have expertise in renewable energy, environment, circular economy, water & waste management, and air pollution.
Considering India's ambitions to become a global manufacturing hub, expertise from Denmark companies will be critical for Indian to develop and adopt sustainable manufacturing practices.
Denmark's cooperation with India includes in the areas related to water efficiency and water loss, with India's Jal Shakti ministry and the Danish Environmental Protection Agency. The two Prime Ministers expressed their desire to enhance this further in the areas of water management, water supply & distribution, wastewater treatment, sewerage systems, and re-use of treated wastewater through the Indo-Danish Water Technology Alliance.
Another aspect where Denmark can help is to control stubble burning and limit air pollution. India, especially the Delhi, Punjab, and Haryana region suffers from huge pollution during the winter months, due to crop stubble burning. Danish companies like Babcock & Wilcox have niche technology in these areas and they can help in reducing air pollution.
The two countries also decided to partner their towns, Udaipur has been twinned with Aarhus. Denmark's second-biggest city Aarhus is home to the world's biggest wind-turbine maker.
Denmark is a role model of Green Economy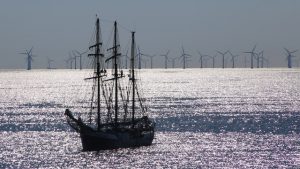 Denmark with a population of 6 million is a leading player among the Nordic countries – Norway, Sweden, Finland, and Iceland. In 2009, Denmark capital Copenhagen hosted the COP15 Global Climate Conference. It was then, the city set an ambitious goal that would serve as a motivation for other cities in Denmark as well as an inspiration to other cities around the world.
Copenhagen went further by declaring it will become the world's first carbon-neutral city by 2025, meaning the city's carbon emissions are balanced out by funding an equivalent amount of carbon savings elsewhere.
The country is slowly moving towards eliminating fossil fuels and developing a strong infrastructure of renewable energy sources. In Copenhagen, to reduce the emissions from its district heating system, the city is producing heat from municipal waste. Moving towards energy-efficient buildings, and electric transport.
Almost half of Denmark's power & electricity demand is met with wind energy.
The Growing Friendship between India and Denmark
The historical linkage between India and Denmark is more than 400 years old. There were towns in India like Tranquebar (in Tamil Nadu), and Serampore (in West Bengal) that were part of the Danish colony from 1620 to 1845, after which it was ceded to the British.
In the last few years, the friendship between the two countries has increased manifold.
Indian Prime Minister Narendra Modi met then Danish Prime Minister Lars Rasmussen at the India-Nordic Summit in Stockholm in April 2018 for the first time.
In January 2019, Danish PM Lars visited India for "Vibrant Gujarat Global Summit 2019", where Denmark participated as a partner country.
Denmark is a strong supporter of India's permanent membership in the UN Security Council and the Indo-Pacific initiative.
Bilateral trade between India and Denmark has grown to $ 3.68 billion in 2019 compared to $ 3.58 billion in 2018, which is an increase of 3%. The main products that India exports are apparel, clothing, fabrics, etc. Denmark exports wind turbines, machinery, enzymes, etc.
There are more than 140 Danish companies in India, many of them working in the green sector. India also has a big presence in Denmark, mainly in the IT sector.
Conclusion
Political cooperation helps in the easing of the regulatory conditions to support public and private investments in green energy & technology.
India and European Union (EU) earlier in the year (in July 2020) held a virtual summit that got the two regions to reaffirm their commitment to climate change and environmental degradation.
Considering that Denmark is the most energy-efficient nation in the European Union, this partnership suggests that India and the EU are moving in the right direction