The modern industrial world has been characterized by linear economies, where you
extract resources from nature,
use these to make goods,
sell them to consumers who dispose of when they don't need them and
buy new ones when it is available.
The linear economy caused great industrial expansion and economic prosperity but has degraded our natural ecosystems, left the environment polluted, and has put biodiversity at risk.
In the throw-away culture, many consumers do not put too much attention to understanding where things came from and where they go.
Take for example the fashion industry, "In the last 15 years the industry has doubled production, while the time clothing is worn before it is thrown away has fallen by around 40%. When it is thrown away, 73% will be burned or buried in landfill. What does get collected for recycling – around 12% – will likely end up being shredded and used to stuff mattresses, or made into insulation or cleaning cloths. Less than 1% of what is collected will be used to make new clothing." – World Economic Forum (Feb 2019)
Similar is the case for electronic waste (e-waste), "A record 53.6 million metric tonnes (Mt) of e-waste – discarded products with a battery or plug such as computers and mobile phones – is reported generated worldwide in 2019, up 9.2 Mt​ in five years. Toxic and hazardous substances such as mercury, brominated flame-retardants (BFR) or chloroflurocarbons (CFCs) are found in many types of electronic equipment and pose severe risk to human health and the environment if not handled in an environmentally sound manner." – Global E-waste Monitor 2020
How can we change this linear approach? The answer lies to a great extent in our ability to develop a circular economy. A circular system reuses products as far as possible and then recycles or upcycles them to extract the maximum value of the resources. Switching to the circular economy can play an instrumental role in mitigating the impacts of climate change and reducing global CO2 emissions.
You can read about the difference between linear economy and circular economy here.
Here are some of the circular economy companies in India transforming waste into valuable products.
Binbag Recycling
Binbag leverages technology to collect and recycle e-waste in formal channels. They operate two plants in Andhra Pradesh and Assam to recycle ACs, computers, laptops, etc.
Founded in: 2014
Founded by: Achitra Borgohain
HQ: Bengaluru, Karnataka
Namo eWaste Management
Name eWaste is into the extraction of metals from e-waste and separating the hazardous content present from the waste. The extracted metals and plastic is sent to respective foundries for molding into different items. For example, the aluminum extracted from refrigerators is molded into secondary aluminum which is used in the automobile industry.
Founded in: 2014
Founded by: Akshay Jain
HQ: Faridabad, Haryana
Attero Recycling
Attero specializes in end-to-end e-waste recycling and metal extraction and is one of the oldest e-waste circular economy companies in India. The company has a pan-India network connecting stakeholders across the value chain including manufacturers, consumers, waste pickers, and aggregators.
Founded in: 2008
Founded by: Rajat Vishnoi
HQ: Noida, Uttar Pradesh
Recykal
Recykal is an end-to-end waste management company that connects waste generators, processors, recyclers, and brand owners through technology.
Founded in: 2017
Founded by: Abhay Deshpande, Vikram Prabakar and Nitin Padmawar
HQ: Hyderabad, Telangana
Saahas
Saahas was started in 2001 by Wilma Rodrigues to promote waste management practices. Saahas operates two different entities – Saahas and Saahas Zero Waste.
Saahas Zero Waste works with bulk waste generators such as businesses, residential complexes, educational institutions, hotels, etc. The discarded waste is further molded into different products like roofing sheets, clipboards, stationary, upcycled textile products, etc.
You can read more about Saahas, their business model, about recycling and waste management from this link.
Founded in: 2001
Founded by: Wilma Rodrigues
HQ: Bangalore, Karnataka
Twirl.Store
Kolkata-based Twirl.store allows people to sell their old clothes which are refurbished and given a new look by the Twirl team. The upcycled clothes can be purchased back by the consumer or can be donated or sold separately.
We have earlier spoken to Sujata Chatterjee, the founder of Twirl.store, you can read her story here.
Founded in: 2017
Founded by: Sujata Chatterjee
HQ: Kolkata, West Bengal
Clothes Box Foundation
Clothes Box Foundation (CBF), is a not-for-profit organization that bestows clothes to less fortunate individuals. Clothes Box Foundation takes clothes discarded by consumers and then the clothes that are in good condition are sorted, segregated, and then dry-cleaned before they are distributed.
Founded in: 2014
Founded by: Sajan Veerr Abrol
HQ: Gurgaon, Haryana
Wrapping up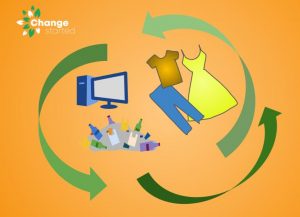 Instead of letting discarded materials choke up ecosystems, these circular economy companies upcycle and transforms waste into something useful. Repurposing e-waste, plastic, metal, or clothes into something which has value. — that defines a circular economy.
The circular economy, which promotes the elimination of waste and the continued safe use of natural resources, offers an alternative that can yield up to $4.5 trillion in economic benefits by 2030. – World Economic Forum.
According to a 2016 estimate given by the World Bank study, India's annual waste generated is likely to touch 387.8 million tonnes in 2030 and 543.3 million tonnes by 2050 – making India one of the highest waste-generating nations.
If the circular economy companies in India are able to circumvent the waste problem, the environmental gains are huge — applying circular strategies to electronics, plastics, clothes, and food could eliminate huge amounts of greenhouse emissions heating the country.