If you are looking to eat less meat or want to supplement your diet with an extra dose of proteins, Tempeh is an option you can try.
The latest trend in the plant-based diet is Tempeh.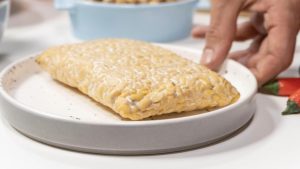 Tempeh originated on the island of Java in Indonesia several centuries ago. The traditional Indonesian food is made from fermented soybeans that have been formed into a block. However, tempeh can also be made from other beans, like black beans, black-eyed peas, and chickpeas.
Apart from protein, Tempeh also contains vitamins, calcium, iron, and other minerals, offering a host of different health benefits. It is no surprise that Tempeh is popularly referred to as a "super-food".
If you are thinking this food is similar to Tofu, you are wrong. Unlike Tofu, Tempeh is nutty, harder and it tastes completely different as it is made from whole soybeans.
Because it is a great meat substitute, tempeh is increasingly getting popular with vegetarians and environment-conscious people who are reducing their meat intake through a plant-based diet. Tempeh is gaining a lot of attention in the United States, Europe, and Asia.
Making Tempeh at home is not easy: Cleaning, boiling, dehulling, soaking, inoculating with a starter culture that contains Rhizopus, and finally fermenting in a packet – the whole process can take more than a day.
The growing popularity, health benefits, and arduous making process make plant-based tempeh a great product for businesses to offer to their customers. A slew of startups with young founders has joined the bandwagon. Interestingly most of the founders have traveled to Indonesia to learn the craft before starting out in their respective countries.
Plant-based tempeh startups
BOStempeh
BOStempeh started as a small business in 2017 to introduce Tempeh into American's protein diet. Founded by Indonesian-born Meylia, the company claims to bring authentic Tempeh to the American market.
Founded in: 2017
Founders: Meylia Kurnianto
HQ: Massachusetts, USA
Plant Power
England-based Plant Power apart from selling a variety of tempeh products also plant mangrove trees in Mozambique. Founded in 2019, the founder of the company Lawrence went to Indonesia and "fell in love with tempeh on his travels".
Founded in: 2019
Founders: Lawrence Hill
HQ: England
Tiba Tempeh
For Tiba Tempeh, it happened when Alexandra was on holiday on the Gili Islands, Indonesia, where she was served with a tempeh-made local dish called Sambal Goreng. The taste was so irresistible that she not only learned the skill to make this food but also decided to bring plant-based tempeh to her country, the United Kingdom.
Founded in: 2019
Founders: Alexandra Vellasco Longton
HQ: London, UK
Tempe Wala
Tempe Wala is offering vegan and plant-based tempeh in the Indian market. After a few unsuccessful attempts in making Tempeh, founder Vaibhav went to Indonesia to learn the art and opened Tempe Wala in the software city of India.
Vaibhav first started a vegan restaurant, Vegan Heat in Bengaluru, and then introduced Tempeh to the menu. The company offers soybean Tempe, chickpea Tempe, flavored Tempe bites along with many other soy products like butter, milk, curd, etc.
"I feel everyone should include soybean-made food as a staple in their diet." – Vaibhav in Conversation with Change Started
Founded in: 2019
Founders: Vaibhav
HQ: Bengaluru, India
You can listen to our full conversation with Vaibhav, where we spoke to him about his journey and his plans.
Angie's Tempeh
Before starting the company, co-founder Angeline Leong traveled to Bogor, Indonesia to learn the process of making tempeh. Singapore-based Angie's Tempeh makes tempeh from soybeans, chickpeas, and adzuki beans.
Founded in: 2020
Founders: Andrew Goh and Angeline Leong
HQ: Singapore
Wrapping Up
If you are looking for some delectable Tempeh recipes, you can try this link.
For making the tempeh at home, you can check this.