India has successfully constructed a road using steel waste. The steel slag road project is completed in India's western state of Gujarat.
The road has been built by ArcelorMittal Nippon Steel India, supported by CSIR (Council of Scientific and Industrial Research) and the Central Road Research Institute (CRRI). Also involved in the project were the Indian Ministry of Steel and government think tank Niti Aayog.
As per the details shared, this unique steel road project has been built with 100% processed steel slag and is done in the city of Surat at the Hazira Industrial Area. The experimented project has six lanes and is executed over a 1.2-kilometer (0.74 miles) stretch. In addition, the thickness of the road has been reduced by 30%.
Significance of Surat Steel Road Project
The selection of India's first steel road project is noteworthy, it is done in the city of Surat, which is often referred to as the Diamond city of India. This Gujarat city is a major center of diamonds and is among the top 10 richest Indian cities based on their GDP.
Surat steel road project is executed in an industrial zone of the city that is located very close to a major port and is heavily used by large trucks. The movement of trucks that are loaded with tons of weight, deteriorates the condition of the road and leaves them in bad shape.
The road construction using steel waste in Surat has proven to be stronger compared to the roads that are made from natural aggregates. can now be replicated in other parts of India, especially highways which need strong roads.
Benefits of using Steel Waste for Road Construction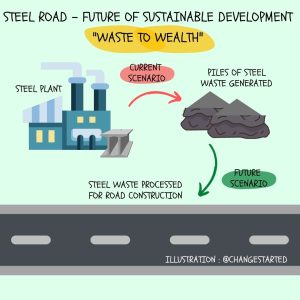 Steel slag is a by-product of steel manufacturing. It is a major concern for the steel industry, as every year 19 million tonnes of steel waste are produced by different steel plants across the country. In most cases, the generated steel waste is deposited near the steel plant and gets accumulated in landfills, which is extremely hazardous to the environment and people living in the vicinity.
This unique experiment of road construction has also proved that roads made with steel waste are stronger and more durable. The Surat steel road project is a great case study from the "waste to wealth" perspective, where unused resources are being leveraged to make a sustainable solution.
From a long-term perspective, steel slag waste offers great potential to replace natural construction material, which will not only bring the cost down but is also environmentally beneficial.
India's first steel road project can be a game-changer for sustainable development initiatives.