Green technologies are set to unleash an unprecedented wave of disruption, propelling the Indian economy towards a sustainable future. In the last few years, there has been an enhanced use of the green technology ecosystem in India—spread across the wind and solar power generation, biofuel production, and electric vehicle manufacturing.
Green innovation is not only driving sustainability but is also boosting the Indian economy and encouraging consumers to use green technology products.
The progress in green technology has also accentuated India's ranking on Global Innovation Index. India has moved from 81st in 2015-16 to 46th in 2021. A lot of this has to do with the number of green patents filed by India in the last few years.
Data from India's ministry of commerce and industry shows that more than 91,500 patents were granted between 2016-17 and 2020-21 of which a majority of them are green patents. In another separate data published by the ministry, between 2016-17 and 2021-22 (up to January), 61,186 patents relating to green technologies have been granted.
If we look deeper into the figures – 90% of the 61,186 patents related to green technologies – waste management and alternative energy production – 38,837 or 63% of them are related to waste management and more than 16,000 or 26% are for alternative energy production.
The rest of the green technology patents are for energy conservation (2,555), transportation technologies (2,481), nuclear power generation (1,079), agriculture-and-forestry (161), and others (69).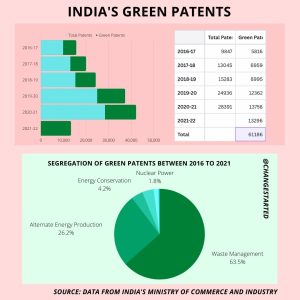 Policy Measures are making Green Innovation in India a reality
A lot of green innovation in India is also happening because of the Central government's schemes and incentive programs.
At COP26, India unexpectedly announced a net-zero target by 2070 along with some interim targets that include renewable energy targets and emission reduction targets by 2030. The implementation of these interim announcements will require significant investments that will extend beyond the power sector.
In February 2022, when the finance minister of India presented the Indian budget, she laid down four priority areas that will aim to steer the Indian economy for the next 25 years. Among them was "Productivity Enhancement & Investment, Sunrise Opportunities, Energy Transition, and Climate Action."
One of the major announcements made in Budget 2022 is about the allocation of Rs 24,000 crore (US$ 3.2 bn) incentives to boost India's solar energy needs.
Not surprisingly, the world is beginning to recognize India as an attractive destination for renewable energy investments. The substantial investments in India's green energy system are not only in financial terms but also in terms of knowledge sharing. A number of counties have initiated discussions or have already started to work with India on green partnerships.
In 2020, India and Denmark decided to establish the Green Strategic Partnership to collaborate on environment-friendly solutions to developmental challenges. Danish companies will bring their expertise in renewable energy, water & waste management, and air pollution to the Indian shores.
Similarly, India along with the USA, Japan, and Australia have agreed to establish a Climate Working Group (CWG) to promote cooperation on climate action and capacity building for the implementation of the Paris Agreement on Climate Change. In addition, these four countries (known as QUAD) will also promote technology transfer and responsible trade practices in emerging technologies, particularly green technologies.
Finally, on the waste management side, India has made remarkable progress ever since Swachh Bharat (Clean India) mission is launched in 2014. Most Indian cities today are Open Defecation Free (ODF) and many of them process their solid waste. The Swachh Bharat mission has slowly turned into a National Movement where citizens have become active participants in cleanliness activities across the country. Not surprisingly, we are seeing a fair share of green innovation in India percolating in the waste management sector as well.
Wrapping Up
In spite of this remarkable progress, India still has a lot of catching up to do in comparison to countries like China, the USA, Japan, and Korea. According to the World Intellectual Property Organization (WIPO), the number of patents granted in China, the USA, Japan, and Korea stood at 5.30 lakh, 3.52 lakh, 1.79 lakh, and 1.35 lakh respectively for 2020.
Economic growth in the 21st century can only be sustained if policymakers effectively leverage the linkages between technological innovation and green growth.