Indonesia is home to the world's third-largest tropical rainforest, after Brazil and the Democratic Republic of Congo, harboring unique biodiversity.
The Southeast Asian nation is also the top global producer of palm oil – which means the forests are burned illegally and palm trees are cultivated as agricultural produce.
On the positive side, this provides foreign exchange to the government and millions of jobs, but on the flip side –
Due to the burning and destruction of the rainforests, a large amount of CO2 emissions are released into the atmosphere.
It impacts the lives of the local communities, threatens animals, birds, and other vegetation. Animals like orangutans have become endangered in the jungles of Indonesia.
Deforestation removes the great ability of trees to absorb existing carbon dioxide and regulating temperature.
According to Global Forest Watch, an organization that monitors deforestation using satellites put Indonesia in the top three countries for rainforest loss in 2019. The country is the fifth-largest emitter in the world, mainly through its forestry sector.
How can this be prevented, on one side there are Jobs and another side there is Climate Change.
Indonesia needs Money to protect the forests
Here is a high-level timeline of events in Indonesia's journey to protect the forests.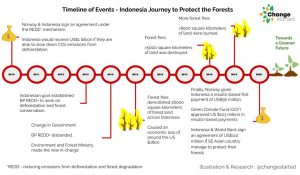 In 2010, the Norway government signed an agreement with Indonesia under the REDD+ (reducing emissions from deforestation and forest degradation) mechanism. Indonesia would receive financial support of US$1 billion if they are able to slow down CO2 emissions from deforestation.
As part of the agreement, Indonesia had to make changes in legislation and create frameworks to stop deforestation. Norwegian International Climate and Forest Initiative, which was leading the partnership, would pay the money based on the actual results.
Norway has similar agreements with South American countries Brazil, Guyana, Peru, and African country Liberia.
In 2013, the Indonesian government established BP REDD+ to work on deforestation, forest degradation, conservation, and sustainable management of forests.
In Oct 2014, there was a change of leadership, and Indonesia's new President Joko Widodo dissolved BP REDD+ and made Environment and Forest Ministry the new in-charge.
In Aug 2015 forest fires demolished 26000 square kilometers of forest land across Indonesia and caused an economic loss of around the US $16bn. As per a study, half a million people were impacted because of pollution and even affected people in Malaysia and Singapore.
In 2018, once again Indonesia witnessed forest fires, and more than 5000 square kilometers of land was destroyed.
In 2019, more fires, and this time more than 8500 square kilometers of land were burned.
Then there were delays in framing the rules, defining the modalities, negotiation, and re-negotiations. Indonesia was trying to get a better deal for each ton of carbon dioxide emissions saved.
"We've been discussing this MRV protocol [with Norway] since last year because it will affect the calculation of carbon emissions that we've reduced," – Indonesian environment ministry
In May 2020, Finally, Norway decided to give Indonesia a results-based first payment of US$56 million for its rainforests conservation and efforts in restricting carbon dioxide emissions.
We are not done yet.
In August 2020, the Green Climate Fund (GCF) approved the US $103 million in results-based payments for Indonesia's 20.3 tonnes of emissions reductions from 2014 to 2016.
In Nov 2020, the Indonesian government signed a Forest Carbon Partnership Facility with the World Bank, making Indonesia eligible to receive US$110 million if they manage to protect their forests.
Can money solve the problem?
The objective of all these agreements and money businesses is to reduce carbon emissions because a significant chunk of Indonesia's overall greenhouse gases come from forest fires.
These incentivization schemes will support the government and people to protect the forests and keep up with its climate commitments.
On the flip side, measuring the performance & impact is not an easy task. Calculating the emission reduction over a period of time vis a vis forest conservation is open to interpretation, errors, and manipulations.
Civil society groups including those from Indonesia have questioned and noted that "countries have been allowed to cherry-pick data to make the results on paper look better than the reality on the ground."
Then there is a challenge of disbursing the funds to the real beneficiaries – the local stakeholders, which most of the time is ineffective and does not address deforestation.
Having said that, the foreign funds help in bringing the expertise for training people in forest management techniques, creating awareness, and driving the government towards its effective implementation.
In 2016, the Indonesian government established an agency to restore about 20,000 square kilometers of carbon-rich peatland that were damaged by the fires in 2015.
President Joko Widodo mentioned "I have tasked this agency with creating and implementing an action plan so that we can convince the world that we are very serious about overcoming the damage caused to forests and peatlands,"
Indonesia is one of the biologically richest countries in the world. Let us hope that all this money is effectively utilized by Indonesia to protect the forests, which is not only important for the country but it's extremely significant for the planet.
We recently wrote regarding the climate change vulnerabilities in Indonesia's neighboring nation Vietnam and its plan to launch a Carbon pricing scheme.
The Indonesian government is also working towards introducing carbon trading as an additional mechanism to address climate change.
Vietnam Carbon Pricing Law to keep the vulnerabilities at bay