There is a common challenge for most cities and municipalities of the world to efficiently track, monitor and manage waste containers across the city or town.  Sometimes the garbage truck comes when the container is not even half full or could arrive when it is overflowing with garbage. Former scenario leads to waste of time and resources, while the latter would result in unhygienic living condition coupled with possibilities of becoming a media for spreading contagious diseases. In developing and underdeveloped countries we have even seen animals, insects and scavengers feed on the garbage, thereby transforming it into breeding ground for diseases for the neighborhood.
With increased focus and attention on creating cities which run on technology rather than people, there is a need for a solution which would help in building an efficient garbage collection and disposal system.
When this need was identified, the idea of smart waste bins came to life through which it'll be easier to monitor the garbage inside the container and use ultrasonic fill sensors and send their data via public network. It is then integrated with a data-based management platform, web dashboard or even on the mobile app. The detailed data analytics in real-time will send alerts to the the local team on the ground to make better decisions on the waste collection, send need base notification to the garbage trucks and also assist on the waste containers placements based on historical trends of waste build-up.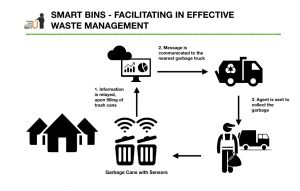 This solution has a potential to be used by many business complexes, government buildings, large scale events, apartments and residential societies which have their in-house waste disposal system.
With Indian government's focus on smart cities and cleanliness drive (Swachh Bharat), there are a few companies which have recently forayed into the arena.
Iotracx, founded in 2016 at IIIT Bangalore, claims to be first company to deploy LPWAN based bin level sensors for public garbage bins in India.
Two companies in the IoT space founded in 2017, Indian company SenRa and Belgian company SmartEnd, have collaborated and come out with a CleanBin solution which use sensors and data management platform to make efficient waste management.
Low Power Wide Area Network (LPWAN) technology is an excellent technology lever for this purpose. LPWAN is a term used for enabling Internet of Things (IoT). It is Low power (LP) which means that it operates on small, inexpensive batteries for years and Wide area network (WAN), it has an operating range that is typically more than 2-5 kms in different environment settings.

While other wireless communication technologies available like Bluetooth and BLE (and to some extent Wi-Fi and ZigBee) are not suited for long-range performance, LPWAN provides the longest range with a low data rates. The technology used in a LoRaWAN network is designed to connect low-cost, battery-operated sensors over long distances in harsh environments that were previously too challenging or cost-prohibitive to connect. With its unique penetration capability, the technology can connect the sensors to far away places and can even to the bins which are placed underground or in basements.