Indian government launched a flagship initiative called Startup India in 2016 to enable a robust startup ecosystem in the country. In 2020, to encourage and promote the founders of these startups, the National Startup Awards was launched.
The inaugural edition invited applications across 12 sectors, which were further sub-classified into a total of 35 sub-categories and 3 special categories. National Startup Award 2021 saw startups across 15 sectors, 49 sub-sectors, and 6 special categories.
Interestingly, 2021 saw the inclusion of the Environment Sector, which was not part of the Awards in 2020.
A total of 2177 applications were received in 2021, compared to 1641 applications for the 2020 edition. More than 40 of the startups got recognized in a virtual event that was held on January 15th, 2021. The event had Indian Prime Minister Narendra Modi, and senior government ministers and bureaucrats in attendance.
Apart from financial incentives, the Government will provide mentoring, industry and academia partnerships, international market access, among other benefits. For the year 2021, the Department for Promotion of Industry and Internal Trade, the government body behind the initiative, rewarded the winners with a cash prize of Rs 0.5 million (~$6700).
The reason for including the environment sector in this year's award category highlights that environment is one of the central elements in the sustainable development of the country. Climate change and climate-induced disasters have emerged as significant risks for many Indian cities and people across the spectrum.
Given the rising climate impacts, India needs to become climate resiliant and economically sustainable and for that, it would need to look beyond fin-tech, ed-tech, health-tech, etc. While those are essential, India would also need climate-tech and other environmental companies for a sustainable future.
Even the Indian prime minister reiterated the message that he delivered during the COP26, about the concept of LIFE which stands for Lifestyle for Environment, and P3 Movement – People for Environment.
Indian environment companies that are working on bringing efficiencies in waste management, increasing the scope and coverage of clean energy, and environment-friendly alternatives will be key in India's fight against climate change.
The startups that got awarded in National Startup Award 2021, in the environment sector, and those fighting climate change are as below.
Dot Box Conception (Lootel)
Category: Environment | Sub Category: Sanitation and Septic Tank Management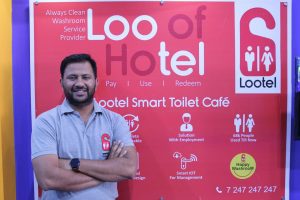 Lootel, which is a portmanteau of two words, Loo and Hotel, is an IoT-enabled café that also provides clean and hygienic restroom services on a commercial basis in India. Users can pay for restroom usage and redeem the restroom coupon at Lootel café on food and beverages.
Lootel smart restroom cafe provides operational and management sustainability to the restroom as restroom users become the customers of the food at the cafe.
You can read more about this Indore-based company and a very personal and interesting story of Yashwant Suthar, co-founder of the Lootel Cafe on what made him and his wife create this company.
Lohum Cleantech
Category: Environment | Sub Category: Waste to Value
Lohum takes used cells and re-purposes them into new battery packs, making batteries reusable and battery materials last for a long period of time.
The Delhi-based Lohum's repurposed lithium-ion is used in three-wheelers, two-wheelers, and also for stationary storage like for solar and residential purposes.
Revy Environmental Solutions
Category: Environment | Sub Category: Industrial Biotechnology
Revy is a waste treatment company that has developed bio-culture using IP-protected combinations of bacteria/other microorganisms to treat hard effluents like petroleum, chemicals, dye, etc., and convert them into re-usable products such as bio-methane and bio-Energy.
The Gujarat-based company is providing in-situ solutions in waste management to several industries using its optimized Wastewater treatment technology.
Innocule Materials and Additives
Category: Environment | Sub Category: Sustainable Mining
Innocule offers specialty chemicals and additives for the mineral industry, that maximize output and minimize cost at several operational points during production.
One of their proprietary polymeric formulations improves the quality of iron ore and helps manufacturing plants enhance their production by up to 100% during the monsoons. They have other products such as a filtration chemical for minerals, a specialty chemical for non-coking coal in coke making, and one formulation for dust suppression.
The product is successfully used by many steel and metal manufacturing plants across India by the likes of Tata Steel, JSW, Jindal Steel, NALCO among others.
ZunRoof
Category: Energy I Sub Category: Clean Energy
ZunRoof provides solar energy solutions that are technology-enabled. The company is using technologies like IoT to tap into India's lucrative rooftop solar installations market.
The Gurgaon-based startup operates in three segments that include – ZunRoof (residential rooftops catering to urban areas), ZunSolar (solar products for rural areas), and ZunPulse (smart home solutions).
In the first 9 months of 2021, India added 1.3 GW of rooftop solar, a 202 percent increase compared to the same period in 2020 (January to September).
ZunRoof also made the Change Started Year-End list of 11 Indian Green Startups Working for the Climate.
Uipl Innovations
Category: Food Processing I Sub Category: Procurement and Storage
Uipl makes 100% bio-degradable food wrapping paper to handle Indian food items like roti, parantha, idli, etc.
The Delhi-based startup makes these grease-proof, non-sticky food wrapping paper with wood pulp.
Wrapping Up
The government initiative to mainstream startups related to the environment sector, will not only motivate the existing companies but would also encourage new players to emerge in this sector.
India has over 60,000 startups and by the end of the year 2021, the country was home to 80 unicorns, half of them achieved their coveted status in 2021 itself. In the coming few years, it won't be a surprise if many Indian environment companies also achieve billion-dollar valuation, and at the same time help build a sustainable and resiliant future.
Change Started curated a list of 11 Indian startups from across sectors that are working for sustainability and the environment and have the potential to become big in the coming months.
Year in Review – 11 Indian Green Startups Working for the Climate