As the impact of climate change has increased drastically in the last few years. Extreme weather events like rainfalls, floods, droughts, and forest fires, among others, cause massive damage to our lives.
People are worried and as an action to mitigate the impact, they have started to become more conscious about their lifestyle and consumption choices. The transition towards sustainable mobility, veganism, renewable energy, slow fashion, and circular economy among others is part of this response.
Old businesses have started to tailor their products to respond to this new demand, and new startups are emerging with environment-friendly offerings. Many of these environmental startups are becoming unicorns and big businesses in their own right.
Much of the action is happening in the mobility segment, as many electric vehicle companies across the globe are valued at multi-billion dollars. Numerous plant-based food startups have also managed to impress consumers and investors, Impossible Food, Beyond Meat, NotCo, and Oatly has become household name. Electric two-wheelers startups like Bird in the USA and Qingju in China have achieved unicorn status in the recent past.
Indian Environmental Startups
India is not far behind and seeing plenty of action in the sustainability sector. Many Indian green startups are providing their own unique solutions to tackle climate change. India got its first electric vehicle startup to achieve unicorn status in 2019 when Ola Electric became one.
As we bid farewell to 2021, we have curated a list of 11 Indian environmental startups across sectors, we assessed their impact & success, and their ability to make it big in the coming few months.
If we consider only funding as the criteria for selecting these environmental startups from India, then probably the entire list will be only EV companies. Hence we have picked only a few EV startups, but there are many more which have incredible potential.
This list represents 11 Indian green startups in alphabetical order, that are working for sustainability and the environment.
Ather Energy
Founders: Tarun Mehta and Swapnil Jain
In 2013, two gentlemen straight out of college decided to make a dent in the Indian automobile market. In the last eight years, Ather Energy has come a long way, from launching India's first smart electric scooter Ather S340 in June 2018 to building a huge manufacturing facility in 2021.
In the Indian two-wheeler market which is dominated by names like Bajaj, Hero Honda, TVS, Yamaha, and now Ola Electric, the company has created its own name in the market. Ather is a serious contender to become India's next unicorn in the Electric Vehicles segment.
The company has planned to set up its second production unit in 2022, which will take its capacity to 4 lakh vehicles per year from 1.20 lakh units at present.
Banyan Nation
Founders: Mani Vajipeyajula and Rajkiran Madangopal
Banyan Nation is a waste management company that collects plastic waste from industries and recycles them for further use in the industry.
Hyderabad-based Banyan Nation leverages tech-based solutions to collect plastic from informal recyclers and businesses. The company then uses a novel method to produce virgin-like recycled plastic that is created in an eco-friendly manner. Banyan Nation works with FMCG companies to sell its recycled plastic which is made into shampoo and lotion bottles.
In 2021, the startup has been recognized as a Technology Pioneer by World Economic Forum.
BluSmart
Founders: Anmol Jaggi and Punit Goyal
BlueSmart started its operations in 2019 as a 50-EV experiment. The company is an app-based all-electric ride-hailing B2C platform with about 600 EVs plying in the Delhi-NCR region.
The company is competing with the industry behemoths Ola and Uber, which makes it tough for this young startup, but its dedicated EV fleet is attracting all customers looking for sustainable mobility.
In September 2021, BlueSmart tied up with Jio-BP—a joint venture between RIL and BP, to set up charging stations across the country. In the same month, UK-based mobility investment firm BP Ventures made its first investment in India of $13 million. This was part of a $25 million Series A round that also saw investment from a clutch of investors. Then in October 2021, BluSmart signed an MoU with Tata Motors to add 3,000 EVs to its fleet.
In the next few years, the company plans to expand to the country's top six cities.
Bombay Hemp Company (BOHECO)
Founders: Avnish Pandya, Chirag Tekchandaney, Delzaad Deolaliwala, Jahan Peston Jamas, Sumit Shah, Yash P Kotak, and Sanvar Oberoi
Hemp has been cultivated in India from ancient times for its medicinal, food, and other utilities, however, it lost its significance over the years due to a variety of reasons. In 2013, seven students of Mumbai-based HR College of Commerce and Economics founded Bombay Hemp Company, to revive the uses of hemp.
Considering Hemp cultivation is not legal in many parts of the country, the company works with government agencies for research, awareness, and standardization. Besides, the company uses this sustainable crop to make textiles, building materials, and medicines for health and wellness.
In 2018, Ratan Tata invested in this Indian green startup with $1 million in a seed funding round. In November 2021, the company further raised another $2 million from investors to augment its growth.
Buyofuel
Founder: Kishan Karunakaran
Buyofuel is engaged in creating an ecosystem for the biofuel market and it is India's first online marketplace for biofuels.
The company launched its tech-enabled product in 2020 that connects the suppliers of raw materials with biofuel manufacturers. The manufacturers get the necessary resources for making the biofuel and are able to get the marketplace where they can sell the green fuel to large-scale consumers.
India has set the target of 20% ethanol blending in petrol by 2025 and the country is expected to become the third-largest market for ethanol in the world after the US and Brazil by 2026.
In November 2021, Buyofuel raised about $200k in a seed round led by Inflection Point Ventures, one of India's largest growing angel investment platforms.
"We network with all biofuel manufacturers in such a way that people should be able to order biofuels right from their homes. We are still not B2C but we are B2B, we help large business consumers including large transporters avail biofuel through a mobile or a laptop close to them." Kishan Karunakaran, the CEO of Buyofuel about the company
Good Dot & GoodDo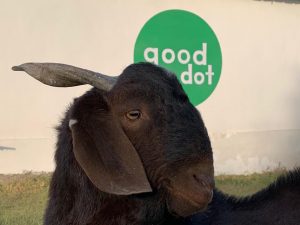 Founders: Abhishek Sinha, Deepak Parihar, Abhinav Sinha, and Shruti Sonali
The company is the leading plant-based meat brand in India. They sell Vegetarian Biryani, Keema, Indian curries, etc. with a shelf life of about a year.
Founded in 2016, the Udaipur-based company is also one of the first from India to start exporting its products to international markets like Canada, Dubai, Singapore, etc.
Good Dot also runs a food chain of eateries serving plant-based delicacies and goes by the name of GoodDo. The vegan chain is operational in Udaipur and Mumbai, with plans to go international as well.
" We basically use high-tech food processing and manufacturing to convert plant proteins into a form that then resembles animal proteins in animal meat. It still gives the same experience without really hurting an animal; that was the basis for GoodDot. It was in 2016 when we formed that company and got into a plant-based meat segment.

It was just about creating an impact in the society and following our passion of helping animals right." Abhinav Sinha , co-founder, GoodDo, about his journey and what prompted he and his brother to start this business.
Good Mylk
Founders: Veena S and Abhay Rangan
GoodMylk is a Bengaluru-based startup that deals with vegan alternatives to dairy products like oat milk, cashew milk, peanut curd, vegan butter, and vegan mayonnaise. The company is also working with The Switch Fix to make sustainable shampoo bars.
Founded in 2016 in a home kitchen by a mother-son duo, the company raised its first round of capital in 2018. In September 2021, the food tech startup has raised $1 million in a seed round from multiple investors.
Phool
Founder: Ankit Agarwal
Founded in 2017, Phool is an innovative recycling startup that works on India's temple waste problem. The Kanpur-based provides solutions to the flower waste generated in the Temples by making charcoal-free incense, wellness products, and biodegradable packaging materials.
Hindi movie actor and entrepreneur Alia Bhatt have also invested in Phool.
Takachar
Founders: Vidyut Mohan and Kevin Kung
Takachar is a Delhi-based company that has developed a machine that converts agricultural waste biomass into marketable products.
India is one of the world's largest agricultural economies and as a result, it also generates plenty of agricultural waste. The stubble burning in North India is one of the biggest reasons for air pollution. Takachar's innovative and affordable machines will help farmers turn agricultural waste into products like fuel and fertilizer, which will augment their income.
In addition to the Indian market, the company has expanded its offering to Africa as well. In October 2021, Takachar won the inaugural Earth shot Prize, an award set up by Prince William and the Royal Foundation to celebrate initiatives that relate to the environmental impact of climate change.
Yulu
Founders: Amit Gupta, RK Misra, Naveen Dachuri, and Hemant Gupta
Yulu provides single-seater electric two-wheelers for travel within a city. The Bengaluru-based company is currently operating about 10,000 scooters in Bengaluru, Mumbai, and Delhi.
IIT Kanpur BTech graduate Amit Gupta moved out of India's first unicorn, InMobi, and started Yulu in 2017.
India's one of the largest 2-wheeler companies Bajaj Auto is a stakeholder in the Yulu business and also does the assembly of the two-wheelers.
In September 2021, Yulu partnered with Adani Electricity to install over 500 battery-swapping stations in the next few months.
ZunRoof
Founders: Pranesh Chaudhary and Sushant Sachan
ZunRoof is one of India's leading residential solar energy rooftop installers. The Gurgaon-based startup operates in three segments that include – ZunRoof (residential rooftops catering to urban areas), ZunSolar (solar products for rural areas), and ZunPulse (smart home solutions).
The company is using technologies like IoT to tap into India's lucrative rooftop solar installations market. In the first 9 months of 2021, India added 1.3 GW of rooftop solar, a 202 percent increase compared to the same period in 2020 (January to September).
In 2020, ZunRoof raised $3 Mn from the Godrej family fund in Series A funding.
Wrapping Up
When we discuss environmental startups, most of the time electric vehicle companies take precedence over other segments – mainly because of the large funding they receive and the media coverage that follows them.
To make the above list exhaustive, we have included companies from sectors like agriculture, food, energy, waste, and fashion.
We have excluded a couple of prominent Indian EV names like Ola and Bounce, from the list as they were an already established player in the ride-sharing segment which helped them to raise additional funds to start their Electric Vehicle business. Other noteworthy EV omissions on the list are Euler Motors, Oye Rickshaw, eBikeGo, Ultraviolette, Emflux Motors, and Tork Motors, among others.
The plant-based food sector in India is also hotting up, while we have picked only a couple of them in this list, there are about a dozen startups that have solid potential in the coming future. You can read it here.
You can also read about a few Indian green startups that are working in the circular economy space.
Picking this list of Indian green startups was not easy, given the variety of issues these companies are solving with innovative offerings. We hope this list provides you with a glimpse of the solutions that Indian companies are working on.
As many of you would know, 2021 was the year of the unicorn for India's startup ecosystem, as 40-plus startups from India achieved billion-dollar valuations this year. It would be interesting to see which of the Indian startup working in the environmental sector joins the list. Having said that, a bootstrapped startup that is self-sustainable is excellent for the sector as well.
Follow us on our Social Media channels for more such stories, videos, environment-friendly ideas, and much more.