Royal Challengers Bangalore, might not have won a single IPL tournament, but they have been winning hearts from last many years.
Every year, Virat Kohli boys become the proponent of enviornment, sustianbility and waste management. Climate change, pollution and global warming is not a country or a government problem, it impacts each one of us, hence the responsibility to solve the problem should also come from every individual.
Royal Challengers Bangalore becomes the champions of a greener and cleaner tomorrow.
The story is beyond symbolism; RCB, a popular team of Indian Premier League (IPL), has been supporting the green cause from 2010 onwards. Every year, one of their match is called 'Green Match', where the team wears a green colored jersey instead of the routine red and black (The t-shirt which the team time wore was made with recycled plastic). In last edition of IPL, the focus of the Green match was on waste segregation, recycling and keeping the stadium litter free. Through social media accounts and other marketing activities, RCB promoted these causes. The fans were encouraged to upload photos and videos of cleaning surroundings on their recently launched mobile app in return for some rewards.
Imagine a stadium left with no trace of litter. Fans clean up after themselves and dispose trash in the right dustbin before leaving. Together we can make this a reality. Let's make a #CleanSweep for a clean, green, sustainable environment. #BattingForThePlanet #PlayBold pic.twitter.com/ucUfZL86wp

— Royal Challengers Bangalore (@RCBTweets) April 7, 2019
RCB has been pioneers in the social initiatives among all IPL teams. They started this inititaive from the 3rd edition of the IPL in 2010 and have continued to bring awareness on issues concerning the environment and sustianbility development. Some of the social causes they have advocated are to –
Encourage the fans to do carpooling to reach the stadium.
Facilitate provision of bus transport for their fans, in collaboration with the city transport system.
Segregate waste at the stadium – placing different garbage bins.
Exchange saplings  between captains and also promoting plants as gifts
Auction of player's jersey – the proceeds go to fund tree plantation
Propagate greenery through campaigns in Bengaluru
Pledge for a greener tomorrow and encourage fans to take pledge on social media platforms
These initiatives have a special importance and wide acceptability because they come from people who have huge following among large section of people. 10 years old kid or 70 years adult, the admiration for the famous personalities cuts across age and gender.
Players and supporting staff from the team like Virat (player since inception – 2008), ABD, A Finch, Y Chahal, M Ali, W Sundar, N Saini, Umesh, D Vettori, Negi and others are global celebrities and household names. When they share their thoughts, there are millions who have their eyes and ears to it.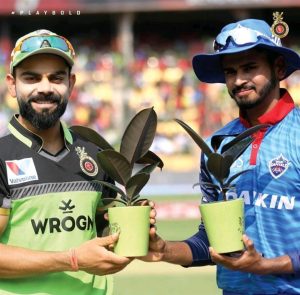 Last year, keeping up with tradition of the Green Match, the captain of RCB, Virat Kohli exchanged plant sapling with captain of DC, Shreyas Iyer.
Answering the call of the players social media messages, fans also did not disappoint, they posted pictures of making their own little contribution.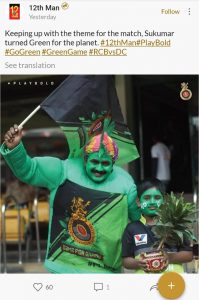 #BattingForThePlanet @SaahasZeroWaste team making all @RCBTweets matches at Chinnswamy stadium #zerowaste pic.twitter.com/VJnQwmfCNc

— DivyaTiwari_for_CircularEconomy (@DivyatiwariC) April 7, 2019
Being at the forefront of these causes has given RCB many of the firsts. In 2012, RCB became the first cricket team in the world to become Carbon Neutral. In 2013, it became World's first carbon positive cricket team. The home team stadium – Chinnaswamy stadium became the first stadium in the country to be completely powered by solar energy.
Whether they are able to solve the challenge of winning the trophy someday or not, but they are well on track to tackle one of the serious global challenges.