The Indian government has big ambitions regarding the renewable energy sector, especially solar power. The goal is to take the country's solar power generation capacity to 280 GW by 2030.
To achieve this mammoth target, the rooftop solar sector will play a crucial role, heavily dependent on businesses and private consumers.
However, this sector heavily depends on businesses and private consumers to invest in solar and allow rooftop installations. To incentivize private consumers, the Indian government offers financial help to homeowners and housing societies installing an on-grid rooftop solar system in the form of subsidies.
In addition, India plans to ramp up the domestic manufacturing of solar modules and cells to make solar investment cheaper and reduce its import dependency. To realize this plan, the Indian government has announced Rs 18,500-crore (~US$2.31 billion) performance-linked incentive (PLI) scheme for solar cell/module manufacturers.
The good news is that with these government interventions, and the motivation to reduce energy bills and carbon footprint, rooftop solar installation in India has seen promising growth in the last six years. The country has achieved more than 8 gigawatts of rooftop solar installations by December 2022.
Having said that, it is much less than what the Government targeted, and there is a lot of scope in the rooftop solar market in India.
To take forward India's solar ambitions, apart from the significant business conglomerate, Indian startups will also have a huge role. Here is the list of rooftop solar companies in India providing customers with innovative choices to transition to a greener future.
Solar Square
Solar Square is a solar solution provider to homeowners, residential societies, and commercial buildings. The company is into solar design & installation, finance, and after-sales service, for commercial places, residential societies, and private homes.
Founded in 2015 by IIT Mumbai alumni, the startup started as a commercial rooftop solar provider and, in 2020, decided to venture into the residential segment. Solar Square provides modular prefabricated solar designs that considerably reduce the installation time for residential use.
Sunday Grids
Sunday Grids is a digital solar company that solves the problem of users living in rented apartments without access to install on the roof. The Bengaluru-based startup gets solar systems installed on commercial properties (host sites) that partner with them, and the host of the system pays a fixed price for the power.
The payments made by hosts are converted to credits and sold to any residential customers on the Sunday Grids platform. Customers can then use these credits as discounts or vouchers on their power bill while paying through bill payment channels.
From industrial factories to malls, schools, and hospitals, any commercial establishment can become a host and save their energy bills without investing huge capital for solar installations.
Freyr Energy
Freyr Energy offers rooftop solar installations to residential, commercial, and industrial customers. Established in 2014, the Hyderabad-based startup works with over 350 channel partners across India.
The company has introduced a mobile app SunPro+, which helps the Freyr Energy sales team and channel partners to implement and design solar installations. The app allows consumers to record the entire solar journey, from exploration to ownership. The app generates a quote for solar installation, tracks the implementation progress, and monitors the solar system's performance.
Oorjan
Oorjan partners with solar brands in India to provide solar installations. The Mumbai-based company design, finance, and implement rooftop solar installations, and provide lifetime performance monitoring through an IoT system that helps track the solar power system's performance remotely and data analysis.
Oorjan is another rooftop solar company founded by IIT Mumbai alumni in 2014. Since then, the company has acquired 2500+ customers across 18 states and Union Territories.
Power Tree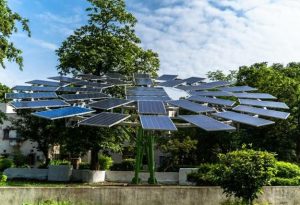 Power Tree is one of India's unique rooftop solar companies that are not into typical solar panels but developed Solar Tree. The Gandhinagar-based company invents, designs, engineers, and manufactures Solar Tree.
The tree's unique design helps generate electricity and saves huge space consumption problems. Solar trees can be installed on industrial premises, government sites, over a parking lot, in parks, and residential societies, among other applications.
Apart from solar trees for commercial and business needs, the company also has rooftop solar trees. These rooftop solar trees are portable and foldable, which makes it easy for the user to carry them from one place to another.
Starting in 2018, the company has multiple design patents for various innovative designs of Solar Tree.
Wrapping Up
Global rooftop installations have risen by 64% in the last five years, from 36 GW in 2017 to 59 GW in 2021, and by 2025, it is expected to reach 94.7 gigawatts (GW). The major markets that have shown the most growth are China, Japan, Germany, the US, and Australia. If India also has to join this league, these rooftop solar companies and startups will have to play a significant role.