Plastic is one of the most significant innovations in the 20th century as it solved a multitude of problems. The applicability and versatility of plastic made it extremely popular across the world. The material was used for making all kinds of products like furniture, electronics, pipes, packaging, cutlery, stationery, toys, etc.
However, the virtues of plastic also had a fair share of flaws. The production of plastic is derived from fossil fuels, which is a major contributor to emissions. In addition, the chemical properties of plastic make it last for hundreds of years, which gives rise to the problem of waste.
One of the major contributors to plastic waste is caused by single-use plastic items like food packets, bottles, polybags, cutlery, etc. After the use of the items, the material is thrown away and in most cases, it ends up leaking into our fragile ecosystems such as the rivers and oceans.
The same oceans have a solution for solving the plastic waste problem. Seaweed is a miracle plant found in the ocean that not only supports ocean biodiversity but can be utilized for a variety of use cases.
The marine plant has emerged as an ingredient that can make biomaterial that can perform many functions of fuel-based plastic. Moreover, the production of seaweed plastic leads to far lower emissions compared to plastic.
Norway-based B'ZEOS is using regeneratively-grown seaweed to make products that are not environmentally damaging. The idea to start something using seaweed came in 2016 when its founder Guy Maurice was served a drink with a plastic straw in a New York bar. After working for more than a decade in sectors like waste management and energy in multiple counties, Guy decided to take the bull by their horns.
B'ZEOS was founded in 2017 to solve the plastic waste challenge. In 2019, the company pivoted from seaweed plastic straws to developing fully home-compostable single-use plastic alternatives.
We sat for an interesting conversation with Guy Maurice, founder, and CEO of B'ZEOS. In this interaction, we discussed the importance of seaweed, bioplastic, and plastic packaging, and the potential future impact.
How can we provide that seaweed is protected and not destroyed like trees?
Human beings think that they are smart and are doing things properly, but unfortunately, we end up destroying things. In the pursuit of business & financial interests, we tend to play with nature which ends up having many long-term consequences.
With regard to seaweed, we need to ensure that we have the right people in the industry, and have relevant regulations. The companies need to be backed up by scientists who are able to put checks and balances.
What are your thoughts on fuel-based plastic packaging?
I think it's a mistake to believe that we're competing against plastic. The seaweed material will not be able to match the quality, price, and multifunctional aspects of plastic. If we look at petrol-based PET, it is probably the best invention, as it is the most recyclable plastic material. Therefore, it is not something we want to target as it doesn't make sense, especially in countries with robust recycling infrastructure.
Seaweed packaging needs to bring something and not just be a replacement for other packaging. We know that seaweed packaging can improve the quality of food due to its own properties, but currently, from an economic perspective, it will not make sense. However, if we compare it with any other plastic for its edible quality, we don't have any competition.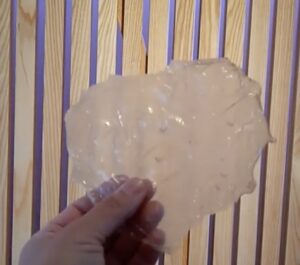 How much time did it take for you to develop seaweed packaging?
We started with seaweed straws and then pivoted to seaweed packaging in the middle of 2019. After that it took us about four years, to achieve the technological readiness of flexible packaging.
How many people were involved in this project
The core team which is there from the beginning, we have about 10 people including the R&D people plus we have many interns helping along the way. We have people in the team with Ph. Ds in Materials Science to build our own know-how. For additional help, we collaborate with different big institutes.
What is your plan for the future?
By the end of this year, we want to pilot and start a small production in partnership with a manufacturer from the money we have received from grants. Then we will hit the market for which we have to spread the word through marketing and PR.
Our ambition is to replace plastic packaging and to achieve that we need to accomplish different milestones. We also plan to form some sort of group with seaweed packaging companies such that we abide by certain rules.
Where are you sourcing your seaweed?
We are mostly sourcing from Norway and also a small part from Africa. We also experiment with samples of seaweed from many places across the globe to analyze the best fit for our packaging.
What was the thought behind the name B'zeos?
It has nothing to do with Amazon's founder Jeff Bezos. The company name Bzeos comes by placing letters together, where each one has its description – To Be, Zero waste, Edible, Ocean-origin, and Sustainable.
What is your personal connection with nature?
I've been living in more than 16 countries, working in different organizations and NGOs. Often the countries where I have worked are selected based on their environmental surroundings.
In Norway, where I am currently living, there is seaweed and sea. Earlier I lived in Morocco, South America, and Canada, and all these places are known for their natural environment. When you are in nature, you can easily get lost in silence and serenity.