In February, Singapore-based plant-based food tech startup Next Gen raised US$10 million. The company which was launched in October 2020 has created a lot of interest in the Southeast Asian market, and this funding is the largest seed round ever raised by a plant-based food tech company.
Singapore is on the cusp of a major revolution in the alternative meat market. There is a slew of startups, companies, restaurants, investors have entered this market.
Even the government has recognized the industry and has become the first country in the world to develop a regulatory framework around the plant-based food tech industry.
The Singapore Food Agency (SFA) approved this week the sale of a lab-grown meat product. This is the first time cultured meat has been cleared for sale anywhere in the world. The product approved by the SFA is cultured chicken, produced by US-based East Just. – Indian Express (Dec 2020)
The American company, Eat Just that makes plant-based egg has a facility in Singapore to manufacture cultured meat. The regulatory approval by the SFA has enabled Eat Just, to sell its cultured chicken in the country.
The biggest motivation for the government is to reduce its dependencies on the external food supply. The tiny country does not have enough land for agriculture or livestock and more than 90% of its food is imported. The lab-grown meat category enhances Singapore's food security and improves its self-reliance.
In 2019, the government announced S$144 million funding to enable R&D in sustainable urban food production.
As a consequence of these steps, in the last few years, more than 20 companies have set shop in the island nation. Below is the list of Singapore plant-based food companies:
Karana Foods
Karana Foods is a plant-based meat brand that originated in Singapore. The company which started in 2018 launched its first product – whole-plant pork made from jackfruit. Karana works with smallholder farms in Sri Lanka, where jackfruit is prominently grown.
Founded: 2018
Founders: Daniel Riegle and Blair Crichton
Shiok Meats
Shiok Meats is a cell-based clean seafood and meat company based in Singapore. The company was founded in 2018 by Dr. Sandhya Sriram, is a stem cell biologist. Shiok claims to be the first cell-based seafood & meat company in Southeast Asia.
Founded: 2018
Founders: Dr. Sandhya Sriram
TurtleTree
TurtleTree is Singapore plant-based food tech company that started in 2019. The biotechnology company is working on cell-based milk and plans to launch its first product – lab-grown lactoferrin (also referred to as pink gold).
Founded: 2019
Founders: Fengru Lin and Max Rye
Phuture Foods
Phuture Foods makes plant-based pork, that comprises more than 20 ingredients, including shiitake mushrooms, chickpeas, soy, peas, and rice. The company is co-founded by Jack Yap who was a former owner of a vegetarian restaurant chain in Malaysia.
Founded: 2019
Founders: Jack Yap and Jin Yin Lim
Next Gen
Next Gen founded by Andre Menezes and Timo Recker, is selling its plant-based "chicken" brand, called Tindle, in Singapore, Hong Kong, and Macau. Timo Recker is the founder of LikeMeat, a plant-based meat producer which was later acquired by the Livekindly Collective. Andre Menezes has worked in the distribution arm of plant-based meat for global brands. Next Gen wants to enter Europe and the United States by 2024.
Founded: 2020
Founders: Andre Menezes and Timo Recker
Float Foods
Float Foods is a Singapore plant-based food tech startup producing eggs alternatively made with legumes. Founded by serial entrepreneur Vinita Choolani plans to launch OnlyEg, a plant-based whole egg substitute.
Founded: 2020
Founders: Vinita Choolani
Wrapping up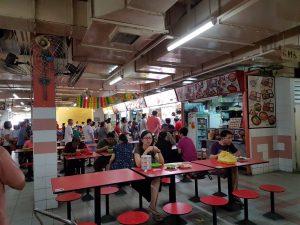 The attributes of non-vegetarian food which we normally associate are taste, smell, texture, colors, etc.  Unfortunately, the same food is also associated with greenhouse gases, excessive land & water usage, etc.
Plant-based meat is a great alternative for meat-eaters as it offers the same taste, texture, colors as real meat. Technology and human ingenuity have created umpteen options for consumers to try and eat.
Young consumers, in particular, are willing to reduce their consumption of meat, eggs, and dairy products as they become more aware of the environmental damages of animal agriculture and the health benefits associated with plant-based products.
Singapore is no different, it started with the wide adoption of American brands like Impossible Foods and Beyond Meat and now Singapore plant-based food tech startups are creating their own space.
These new Singapore-based startups will not only revolutionize the food industry of the island nation but have the potential to create a huge impact on the Asian & global market as well.