Sonia Rykiel, a French fashion designer known for her knitwear designs and innovative fashion techniques famously said "With only one bag, you can change your outfit."
Let us take liberty by adding, if the bag is sustainable & eco-friendly, you can change your personality.
Bags, backpacks, handbags, purses, duffels, wallets are not just the sack to carry your most precious things, but they invariably become fashion statements.
Bags constitute an essential part of our lives, unfortunately, these bags are made with fabrics that are extremely harmful to the environment. Most likely the materials to make most of these bags are – leather, plastic, nylon, or polyesters.
As per estimates, leather bags dominate the global bags industry with around 50% share. In India, polyesters rule the roost, a majority of bags and backpacks in India are made out of polyester. All of us know the environmentally damaging consequence of using polyesters, and plastics in our products.
Here is a startup that is trying to bring an environmentally friendly alternative. Clan Earth, founded by Kolkata-based duo Priyanka Mandal and Broteen Biswas, are making a range of sustainable products in carry space. The company makes eco-friendly bags that are made with natural fabrics and are devoid of any plastics or animal-based fabrics such as leather.
Priyanka Mandal started as a software engineer, but with strong motivation towards social engineering, she gradually transitioned from developing software to designing handicrafts and bags.
In the process, she has not only empowered underprivileged slum communities but has given the consumers a sustainable and eco-friendly carry choice.
What makes this endeavor even more fascinating is the concept of planting trees. For every product that the company sells, they plant 5 trees to reforest deforested areas. This is done in collaboration with a partner organization and in the last year, Clan Earth has planted more than 1500 trees.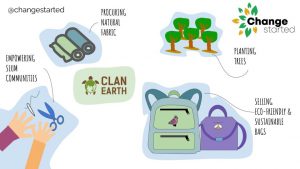 We got an opportunity to speak with Priyanka Mandal, co-founder of Clan Earth. We discussed her journey, experience of working with slum communities, the decision to go with carry products, her zero-waste lifestyle, and the company's future plans.
Here is an edited version/excerpts of our conversation with Priyanka Mandal about the Clan Earth, eco-friendly carry bags, her journey & personal connection with nature, and the company's future plans. For the full discussion please watch the video.
Tell us about your journey?
From college life, I played an active role in volunteering, especially for children in orphanages with an organization called Make a Difference. I really cherished that experience and was always interested to continue, but at that time I was not sure.
I completed my engineering course and began my career as a software developer. After 1 year I became a business analyst and worked for about 4 years in that field.
During that time I was staying in Howrah (Kolkata) and there was a very big slum near my place. I started to volunteer and along with my closest friends began to work for the children in that slum. We were spending time, teaching the children and playing the role of mentors.
As more people joined us, we could reach out to more children and that's when we started doing handicrafts with them. This created an important step to empower them, especially for the ones who are not good at their studies. Handcrafting is a unique way to make children creative and engage them in good habits.
As we were working in slums for more than 3 years, the community started to believe in us. We started to do handicrafts with adults as well and encouraged them to undertake other aspects of business like accounting, selling, operations, etc.
In 2019, Broteen Biswas, who is my partner at Clan Earth and was also part of this volunteering work from the very beginning, decided to take this ahead.
Having spent 6 years in the slum we understood that in spite of everything, people in slums only lack opportunities and funds. We were always against charity and we did not want them to get the idea that you can get things for free.
If we have to empower them, then we have to do serious skilling and create the opportunities. That's when the first seed of Clan Earth was sown.
How did you evolve from Handicrafts to Backpacks?
We decided to take a step back from handicrafts as it was not really working for us. By that time, we have taught a lot of people about sewing – clothes, footwear, etc – but those products are a little complicated, as you have to cater to size, gender, etc.
As both Broteen and I did not have any business background, hence we decided to simplify things and focus on one product. We had to think from the community perspective – what they can easily work with and we can scale.
That's where we decided to bring plastic-free, cruelty-free backpacks. Backpacks are gender-neutral and are not size-dependent.
Then again, in India, there are not many companies that are offering sustainable bags. In the last few years, awareness has increased of eco-friendly & eco-sustainable products, but if you look at carry space there are not many brands.
That's why we call ourselves India's first plastic-free, cruelty-free backpacks. Now as we are working in carry space, we are bringing more products like wallets, pouches, slings, and other sustainable lifestyle products like toothbrushes, bamboo cutlery, etc.
Plastic-free and cruelty-free is also a personal motivation, as both Broteen and I live a very sustainable lifestyle. While he can be called a minimalist, I have been shifting to live a zero-waste lifestyle for more than 3 years.
What was the inflection point?
For us it was not one day, it was a journey. In the second half of 2018, we realized that we have already given a lot of hope to the people working in the slums. They were expecting that we would do something good for them.
But we had to create a process to create an impact in their lives. It was then that we took the decision to do something more concrete. It was also a desire to see them financially enabled, that's what inspired us to start Clan Earth.
How do you identify the people whom you want to nurture?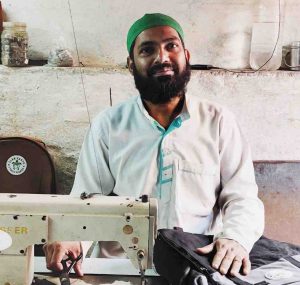 Trust is built on familiarity, as the community was building trust, we were also building trust with them. If we are going to pick 5 people out of 50, these are the people who are going to utilize and try to build a future out of the experience.
Initial years were really tricky, but the efforts we put in community building, having spent about 6 years identifying people helped us.
How do you source the materials and ensure the quality?
Getting the raw material was the most difficult part because all the places where we went were selling polyesters. It was difficult to find alternative material which we wanted i.e. fabrics, inner linings, chains, zippers, straps – all of them were either polyester or nylon.
Hence we had to do a lot of research, calls, and look out for people who would provide the material which we wanted for our sustainable bags.
How is the customer feedback?
We launched our first product in mid-January 2020 on Instagram. Our website was ready in May 2020.
Customer feedback has been amazing from day 1. As we have been building our social media community much before January, hence we started getting orders from Day 1.
The year 2020 has been a very harsh year (because of corona & lockdown) and the entrepreneurship journey has been tricky – both mentally & operations-wise. The thing which has sustained us is the customer feedback.
People have loved the product and other aspects which we have built – like planting trees. People have liked that we package completely plastic-free. They have liked that we have incorporated sustainable aspects in the products and also that we empower artisans & the local community.
We really hope we get the same appreciation in 2021 as well.
What made you include the aspect of planting trees?
When we were planning the product, it was important for us to make it as sustainable as possible.
Further, we thought of doing something beyond this.
Planting trees is very close to our hearts and then the deforestation happening around us, it is a need of the hour that we do something about it.
We wanted our customers to celebrate with us. We want people to make conscious choices and feel good about their choices. Considering both these things we decided to include the aspect of planting trees.
Our planting is mostly done in areas where there is deforestation and also involves the local communities. We collaborated with Eden Reforestation, one of the world's oldest reforestation organizations for planting trees.
How do you go about selling your products?
Social media is one of our main platforms, we have our own website, and then we are also listed in some of the eco-marketplaces.
We are also available at few offline locations and looking to expand to more stores in 2021.
What are your future plans?
In terms of products, we are thinking to expand our sustainable product range and everything in carry space like backpacks, wallets, clutches, purses.
Then we also want to add more products to sustainable living space. We might add clothing and footwear as well in a long horizon.
In 3 to 5 years' time, we also want to experiment with more sustainable fabrics and might add upcycled & recycled products.
Any plans to raise money?
The natural fabrics which we use are not readily available and tend to be expensive, sometimes 3 to 10 times more than polyesters or nylon.
For us to experiment with those natural fabrics and bring sustainable bags to our audience, we would need funds for which we will plan to raise money.
What was the idea behind the name Clan Earth?
It is my co-founder's Broteen's idea.
Initially, we thought of Cult Earth but finalized Clan Earth because it has a positive zing. In old times when you had tribes and clans, a big group of people having similar thinking who could exist together.
It is a clan of earth lovers.
What is your personal connection with the environment and nature?
From my childhood, I have been very close to nature. If there is a vacation choice, I will always opt for trekking, hiking, or even scuba diving.
Nature helps me to calm down as well.
In 2018, I got very fascinated by the zero-waste lifestyle and minimalism movement, it resonated with me. If people in America can live a zero-waste lifestyle, we in India can do it as well. India has always been a land of sustainability.
In 2018 I started living a zero-waste lifestyle by making my own soap. I began composting with my mother, which was very exciting. Now, apart from essentials, I have not shopped for anything in 2020 and probably continue in 2021 as well.
It has been an amazing transition and I am fortunate that I could take this journey into my business as well.
You can watch the full conversation here