Founding father of the United States Benjamin Franklin once said "Either write something worth reading or do something worth writing."
If we may take the liberty to supplement his quote by saying, write with something which will not harm the environment.
Whether you are an author who writes books, a student who takes notes, an employee who scribbles on notepads while taking down boss instructions, or an artist who draws pictures – we need stationery especially pen, pencil, and paper.
Given the linear nature of the stationery industry, most of the stationery is plastic and thrown away. 'Take, make, dispose of' is what is followed – materials that are used to make a product, and after its use is thrown away.
Delhi-based startup bioQ eco-solutions has taken small strides in transforming the stationery industry. The company makes and designs sustainable stationery products and eco-friendly gifting options.
Most of the products are made with recycled paper, but the USP is a plantable stationery product. A pen or pencil is fitted with capsules that hold seeds that can be used to grow plants after primary use is over.
We sat with the founder of eco-friendly stationery brand bioQ, Saurabh Mehta. We had a great conversation about the product that has still not caught people's fancy, but in the coming future, eco-friendly stationery and sustainable gifting will surely become a norm.
Here is an edited version/excerpts of our conversation with Saurabh Mehta about the bioQ, eco-friendly stationery, the adoption challenges, and his future plans. For the full discussion please watch the video.
Why don't you start with your Journey?
I am an electrical engineer and graduated in 2010. Since then I am working mostly in the environment and sustainability, but particularly in off-grid solar. I spent 8 years doing that across India, South Asia, and parts of Africa.
Then had to come back to Delhi and become part of the family business. The moment I joined I could see the large quantities of plastic waste that is created in the Stationary industry like disposable plastic ball pens, wooden pencils. The wooden pencil causes massive deforestation across the world.
We started to find a way around that, in 2018 we founded bioQ to make eco-friendly stationery & gifting products with recycled and other sustainable materials.
What made you pick environment-friendly stationery and not any other product.
It was like a culmination of my background in the environment and then coming to a sector that was not sustainable i.e. Stationery.
Over the period we tried different things and most of them didn't work out. Some of them did and that's where we had a decision to go with stationery.
How is the industry evolving?
This sector has been changing very rapidly. In 2017-18, though conversations were happening in India around sustainable stationery but not to a great extent. People in India felt that eco-friendly stationery was not feasible for the Indian market. Probably it was something for the European or American market.
I was stringent that irrespective of the market there is definitely a problem that exists for India. India produces more than 3 crores (30 million) plastic disposable ball pens (also called use & throw pens) and about 1 crore (10 million) wooden pencils every day.
That's a huge problem on which India is sitting. We don't have to look at the international market when there is such a huge problem and opportunity in India.
Thankfully, in the last 2-3 years, there is a lot of action happening. People are becoming aware and are adopting eco-friendly stationery and products in their lives.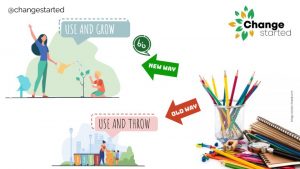 What are bioQ product categories?
Recycled paper Stationery – Pen, pencil, notepad, calendars, folders, and files. We have about 60 products in this category.
Plantable Stationery – An upgraded version of paper stationery. Pens and pencils that have plant seeds at the back. Then we have handmade papers with plant seeds inside – which is used to make other eco-friendly stationery – like paper bags, notepads, calendars, etc.
The recycled paper stationery is still used and thrown – though it is less harmful to the environment, after the use it is "thrown".
The idea behind Plantable stationery was to make it use and "grow".
Plantable stationery is the main product category at bioQ. We have about 20 products in the eco-friendly stationery category.
Then we have products made with Bamboo and cork. With cork as material, we have a cork coaster, cork tray, cork candle. With Bamboo, we are working on the bamboo toothbrush, bamboo pen stand, tongue cleaner, etc.
In total, we have about 100 SKUs.
What's your take on the adoption of eco-friendly stationery brands by consumers?
Things are picking up as people are becoming more conscious, they are asking for eco-friendly options. Having said that there is a lot of education that is required to create awareness. We have done for few products but we can't spend too many resources on educating people.
Adoption is not a huge issue but the associated costs to make it happen are huge. To simplify I would say the cost of the product & materials is not very high but the end-user has to pay the premium. That is mostly because of the associated sales costs.
What is your target market?
At bioQ, the market is not direct consumers as we don't do much of B2C rather more of institutional sales. We target corporates and corporate gifting circles, 70%-80% of sales happen in that segment.
We do a bit of B2C which is mostly online, Amazon, and a few other platforms. Here we have products that are for consumers or gifts to others or for their kids. There we have opportunities and things are moving well.
We have seen the kind of feedback that parents give about the entire concept and how it will help their kids understand the concept of sustainability, recycling, planting trees.
What feedback have consumers given and how do you plan to respond?
I would say consumers are excited. In terms of functionalities, we could be still better, neater, and long-lasting compared to the non-eco-friendly world.
We need to look from a point of view that we are still new in the industry. Not just bioQ but the entire eco-friendly stationery industry. The other industry with which we are compared with, are there from last 50 years. They also evolved, it took them time to reach where they are today – in terms of their cost, quality, distribution channels.
We are very new but we are very sure that in a few years, let's say in 5-10 years, we can also compete with them. We are moving fast and these things will change.
In terms of adoption, as we become stronger and costs become really competitive and comparable, people will pick eco-friendly stationery. We are confident that things will go well and it has reflected on sales.
When we started we were doing 50,000 pencils a month, now it is about 8-10 lakhs (1 million) pen & pencils in a month.
Do you manufacture it yourself or procure it from other manufacturers?
I can say 80% of our products are done in-house, then we do a lot of value addition with other products and give our own designs and packaging.
How are the teams structured?
There are multiple teams doing different products. In-house we have about 28 people who are manufacturing things. Whereas for assembly and packaging we take help from communities, about 70 women who cannot go out of their homes.
Then there is the product design team who are working on different products, designing other eco-friendly stationery options.
How do you source your raw material, which is an important part of the product?
We do not do re-cycling at our facility, we get recycled paper from mills. Then we use newspapers for our products which are fairly easy to obtain.
We use recycled materials but we stay away from doing recycling as that is a humongous task. Similarly, for bamboo and cork, we don't get into material processing. Once we get the materials, we do the designs and product development for everyday use.
What are your future plans and any plans to raise money?
We are looking at furniture space, making structures out of recycled paper or cardboard. We are doing this for the last 2 years with no major commercial success. That is one thing that I am passionate about and confident about.
The kind of impact that we can have by replacing wood with waste paper or waste cardboard will be far more compared to pencils.
We are working on a few more innovations, we are coming up with a pen that will have no plastic. That will be a first in the world as no one has done that. We are confident that we will be able to launch that in 2021.
We are planning to raise money and this year we will start the funding rounds.
What was the idea behind the name bioQ?
For measuring intelligence we talk about IQ, whether it is for kids or adults. In this era of climate change and environmental degradation, a high IQ is not enough, you need bio Q.
What is your personal connection with the environment and nature?
I am a big believer in alternate energy and products. We need to change the designs of the products in such a way that even if we throw the product after using it, there should be minimum harm to the environment.
I use those kinds of products and also promote them at large.
You can watch the full conversation here