The population is increasing at an exponential rate and so is the rate of urbanization and levels of consumption. Evidently, if we stretch our natural resources beyond a point, problems of water shortages, pollution, deforestation, and global warming are bound to come.
The problems facing our planet seem so big that we feel incapable enough to make any impact.
Even though we are part of the problem, we are also part of the solution. It is the need of the hour that we start considering solutions and one thing which all of us can do is to make changes in our daily lifestyle to make it simpler, greener, cleaner, and sustainable.
Adopting a sustainable lifestyle will greatly help to reduce the negative impact we have on the environment. To embrace a sustainable lifestyle, we can look at all the small things that are used every day to make a big impact.
Take the simple use case of plastics, with billions of pounds of plastic entering the world's oceans each year, it is time that we look for all the alternatives that are able to prevent plastic pollution. From one-time use items like cotton earbuds to medium-term usage items like toothbrushes, environment-friendly alternatives are available.
Beco is one such sustainable lifestyle brand based out of India, that is creating everyday alternatives for everyday lifestyle products. Beco has a range of products for your personal care, kitchen, and home needs.
This company is founded by three young entrepreneurs Aditya Ruia, Akshay Verma, and Anuj Ruia. We spoke to Aditya, regarding Beco's journey and its plan for the future.
Starting in 2019, Beco is one of the leading D2C environment-friendly brands in India. Aditya mentioned that the company aspires to become India's biggest eco FMCG brand that also has a global scale.
Below are the edited excerpts of our conversation, for the full discussion you can watch the video on YouTube.
Tell us about Beco's journey?
Beco was the brainchild of Akshay Verma, Anuj Ruia, and myself. We started Beco in 2019 after I graduated from BITS Pilani, while Akshay was doing his engineering at IIT Madras and Anuj was doing his master's at Purdue.
We realized that while the population in India has doubled in the last 4-to 5 decades, consumerism is increasing at a much more rapid rate and the existing infrastructure is not designed to handle the waste that gets generated.
We decided to build a zero-waste lifestyle consumer brand, with materials that do not generate any waste. That's when Beco was born. Eventually, we started experimenting with many raw materials that allowed us to build products for consumers that provide alternatives to plastics.
Why specifically did you pick this problem?
We felt that many different agencies are working in waste segregation and recycling space. However, there was very little activity happening at the consumer level.
It is often perceived that eco-friendly consumer products are expensive, lack effectiveness, and are not easily accessible. Probably, because of these notional challenges in the industry, no one acted very strongly on the consumer segment.
The opportunity to solve the problem at the consumer level in a manner that others have not tried gave us the kick to enter this D2C space.
What was your first product?
In early 2019, we come up with cotton earbuds which often people use for cleaning ears, but also for other purposes. The idea for this came when we saw a viral picture from National Geographic, that showed Sea Horse entangled in the earbud. This image stayed with us and we decided to bring a change.
That's when we came out with our first product, Bamboo earbuds. After trying it in the market, we realized that Bamboo might not be a suitable from utility perspective as there is a chance that it can prick the consumer.
We later substituted the bamboo with recycled paper, which was tried for the first time in India. The recycled paper earbud was our first product and we got a great response, which gave us the motivation to take this ahead.
How did you manage to mobilize resources?
We were fortunate that we were able to pool in the combined savings that helped us get the ball rolling – I had sold my small venture which I started in college, Anuj was working in the US and he had his own savings.
It is a leap of faith and as we are young, we could take that. Besides, it is more about mental resources than financial resources. Capital is abundant in the market and it is only about your abilities and mental strength. That is one thing that differentiates us from anyone else, we like to think big and act fast.
How many product categories does Beco have?
Beco is into many different product categories, some of our products include – kitchen towels, toilet rolls, facial tissues, serving napkins, reusable kitchen towels, cotton earbuds, compostable garbage bags, bamboo toothbrushes, bamboo-based wet wipes, floor cleaners, laundry detergents, dishwashing liquids, among others.
What is the thought process for picking a product and launching it?
At every step, we are talking to as many customers as possible. This always helps us to gain insights into their customer lifestyle and understand their needs.
Bamboo is one of the integral raw materials for your products, what made you select this material?
Bamboo is a cash crop for most farmers and it can be used for a variety of different uses. Although India is in the top five biggest producers of Bamboo in the world, it was hardly explored. Primarily because earlier regulations treated bamboo as a tree, which required many permissions to cultivate.
In the 2017 Forest act, Bamboo was categorized as a crop. That shifted the needle for the bamboo industry as a whole and we enabled many different use cases which we cater to the consumers.
What other materials do you work with and how do you go about it?
We included many other materials like we use corn starch. In our cleaning products, we have included plant-based ingredients like natural Elaeis which is from Palm kernel oil and coconut glucoside among many others.
What are the plans for the future?
Our intent is to build India's biggest eco FMCG brand and also make it global. The idea is to build it in a way that allows us to scale the products we are building in India to the outside world.
Is consumer awareness an impediment in the journey?
Anything which a customer is not used to, there is always a chance of friction. Therefore creating awareness among customers is an ongoing process.
In the case of eco-friendly products, high prices are sometimes a big issue.
One of the reasons for high costs is the volume, I feel once there is more demand the costs will also come down.
More importantly, I feel the government needs to reduce the GST on some of the materials that are used in these products. The higher GST is making the products more expensive for the consumers. If that is achieved, it will be a game-changer for the industry.
What does your growth look like?
Our digital growth is almost 5x in the last 5 months and we are planning to grow 8x this year. On the demand side, we are shipping almost 30,000 to 40,000 orders a month.
Our next focus is to acquire more customers and increase our product offering so that we can cater to the needs in a much deeper way.
How did you manage to onboard Dia Mirza as a brand ambassador?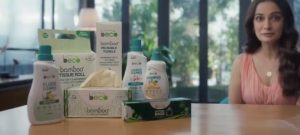 Dia Mirza first became our customer and as she got aligned with Beco's vision, the partnership was natural.
Are you looking for more investments?
We already have a set of partners who have been supporting us from Day 1 and that will continue to be so as long as we are keeping the customers and stakeholders happy.
What was the idea behind the company name Beco?
We like the name because it is short, sweet, and conveyed what we want everyone to do, that is be eco-friendly and take the first step.
What is your personal connection with nature and the environment?
I am always fond of nature and it is true for most of us. The whole idea behind nature and the environment is that it has to be very sustainable as the relationship cannot be one-sided. I realized that what we are doing every day is not only affecting us but will also impact our future generations.
You can watch the full interview on the Change Started YouTube channel.