Young people who drop out of engineering college in pursuit of entrepreneurship, tend to start a social network, or something in technology – FoodTech, RetailTech, AgriTech are popular choices.
Not for Animesh.
Animesh had different plans, he decided to focus on what is before Tech i.e Food, Retail, Agri – He has decided to become a plant-based entrepreneur.
In the 4th year of his engineering, Animesh dropped out of his college, to explore, research and develop plant-based milk products 🥛.
Just to put things in perspective, in 2019 the US plant-based food market reached about $5 billion of which plant-based milk constitutes the maximum (about 40% – $2 billion).
According to many market research companies, the global plant-based market is projected to reach upwards of $20 billion in the next 3-4 years, growing at a CAGR of 10% plus.
India is not far behind, the cow milk alternatives have found many takers. With diabetes & obesity prevalent among large sections of the population, and growing sentiments for veganism, plant-based milk offers a healthier and environmentally-friendly choice.
Soya Milk, which is thus far the most accessible plant-based beverage in the retail stores, but is slowly giving way to Almond milk, Cashwenut, and others.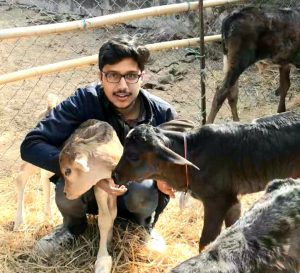 Animesh Gupta, founder of Oats'Up has found his mojo with Oats, some might consider it boring, but most of us agree on the health factor. Plant-based milk choices are largely a prerogative of the consumers from the metro cities, Animesh Oats'Up plant-based milk brand would change that, the product will be launched in the Pink city of India, Jaipur.
We sat with Animesh to hear his story.
Here is an edited version/excerpts of our conversation with Animesh, for the full discussion please watch the video.
Tell us about your company?
Oats'Up is our brand name. Generally, people do not like oats and find it boring. We turn this healthy yet boring food into a super healthy & interesting treat through our oat milk-based beverages.
Oatmilk is something new to the Indian market, but awareness is picking up speed in the country and it offers as a nutritious alternative to our dairy-based milk intake. Going further we will be getting into more milk alternative products and making them interesting and tastier than the usual ones.
Can you elaborate on plant-based foods?
Plant-based foods come under the umbrella of veganism, which has been there from time immemorial. Veganism is about refraining from adopting anything that comes from animals be it in terms of food or clothing i.e without exploiting animals for human benefits.

The plant-based diet is like a subset of veganism wherein we refrain from consuming something that comes out of dairy, meat, egg, honey – anything which is related to the animal.
How is the market for plant-based food?
This is a plant-based food and we can now see many startups already doing amazingly good in this space like Beyond Meat, Impossible Foods, etc. These have been there for nearly 10 years now but it is only recently that the sector has boomed as people are becoming aware.
In the US, the market is full of vegan options and nearly 40-50% of people have already started consuming alternative options be it meat or milk alternatives. Things look excellent now esp as an alternative to meat and dairy. There are options for plant-based fish and eggs now which are very common diet options now.
What are the benefits?
This is all due to excellent innovations involving food science & technology and there are many associated benefits of plant-based food:
good for health and environment,

no artificial additives,

no antibiotics,

good for the heart, and

of course

animal welfare
What is a plant-based milk brand and why did you go for Oats milk?
Plan-based milk is a new thing for an Indian consumer but it has been there for decades. There are around 30-40 kinds of milk on the planet. Different kinds of milk have different kinds of ingredients are made like oat milk, soya milk, almond milk, cashew milk, walnut milk, black seed milk, pistachio milk.
Oat milk has very high-quality nutrition. It is naturally allergen-free. It is also super affordable as compared to something like almond milk. Soya milk has a negative view among the consumer as there is a compromise in terms of taste and texture. Oat milk eliminates these things to a certain extent.
As we scale up we will focus more on R&D and make it super affordable as well. Taste is a primary focus for us followed by affordability.
Kids do not like oats at all. How would you encourage them to start taking oats?
We turn your boring oats into super healthy and interesting through our drinks. Our products are very convenient and versatile: they come in flavors that you could add to the cornflakes, boring oatmeal bowl, smoothies for example. It has no artificial additives and no white sugar as well. We want to position it as a convertible drink that could be used in many ways apart from drinking it directly from the bottle.
Awesome!! Let's explore your journey, how did you go about deciding on the plant-based milk brand Oats'Up?
College for me was an exploration and learning playground. I was exploring, did DJ, stock market, website making, coding, etc. After a while, I started thinking if this is something that I would want to do all my life.
I was not thinking about an idea actively at that time. In 2018 one of the startups raised x million dollars which were into the supply chain business of meat. That got me wondering, that this is not what should be done (meat food) and this is even getting funded, which made me think, conceptualize and research about business in the area of plant-based alternatives.
I had a problem-solving mindset and the research helped me understand things better by meeting people, etc. I never thought I will ever enter this industry. I went on to work on the product and participated in many competitions and won them. Press releases happened but winning the competition is different than running a startup. Later, I somehow had to drop that startup. That also made me totally disinterested in college. So, I finally dropped out!
During that time, I turned vegan and I realized that there is this problem of lack of options for vegans and then I decided to tap this gap in the market.
In Jaipur, we hardly had any vegan options. I started working on the product, contacted people, met them, made MVP, did 400-500 experiments on a single flavor. Even before confirming oat milk, I made around 10-15 different types of milk to identify the best possibilities, keeping in mind the future, if it will work, how are things in the market, etc. Oat milk then stood out and it became my best friend.
This is a capital-intensive business. Did you set up a factory or how is it being done? How are the operations?
Like with the majority of people, experimentations began in my kitchen.
Then, I approached one of the ice creams factories that were not doing well and convinced them to make a trial batch of our product.
We recently started as a cloud kitchen. Initially, I was targeting cafes, restaurants, and gyms but due to COVID-19 things are not the same as they were earlier. So, I had to pivot to online deliveries by trying to generate leads organically.
What is the initial feedback like?
The experience has been amazing. My friends gave me honest feedback.
People loved it. Not only kids but even the elderly who had diabetes loved it since it has no unhealthy white sugar. I got a lot of good feedback for taste and texture. Pricing is something that was always a second priority for us. It is not limited to the premium class but also for middle-class people as well who are health conscious or vegan.
Looking at the future, in terms of product portfolio, what are your plans?
Right now, we have flavored oat milk beverages – chocolate, strawberry, etc. which are 100% natural. Gradually, we will be getting into B2C and innovate with cold coffee and ice cream.
How do you want to take the plant-based milk brand ahead?
Primarily I want to build the brand first, get feedback, and go ahead. I am super conscious of brand and marketing. There are many brands but I want to build something that is interesting.
My brand voice, website, labels, the way I communicate with people, how people perceive us matters the most to me. I am super excited about this. I have received good feedback so far from friends and strangers esp with brand and packaging. We, Indians, are so good with jugaad and it is about getting the right kind of designers and collaboratively create something wonderful. I have no corporate experience but I talk to a lot of people and I learn through such experiences.
How do you see consumer behavior evolving? Are Indians willing to adopt plant-based alternatives?
We are almost always keeping an eye on western countries. People have started getting aware of healthy foods. But it is not a western thing, People in India were vegan earlier also, but now they are more aware due to social media, news, etc. Leading media houses are now covering what's happening in milk like the addition of shampoo, detergent & other things at many places in India.
Firstly, people are getting an environment and health-conscious now. And esp during the COVID times, this awareness has increased. People are also looking into the news about these things.
In the US, plant-based meat retail sales were up 148% more than last year. People are seeing it as an opportunity to accept change in their behavior. There was a significant increase in plant-based food consumption in 2019.
Secondly, acceptability comes with the positioning of your brand. There is a massive difference in consumer perception between the two words: vegan and plant-based. Some of the surveys conducted reveal that the term vegan in your product if you overuse it or use it in the front or with your brand name, alienates people from using your products.
This propels them to think that the product is not meant for them but for vegans only. Using plant-based instead shows that you are natural, healthier, and shows a feeling of goodness. I normally call it plant-based milk if people are unaware of oat milk. Consumer perception matters a lot.
Customer acquisition is something that a lot of thought goes into. Hence, one has to be very cautious about how one brands the products. The kind of terms, sentences, and communication is important. That makes a huge difference.
How do you think plant-based milk will cater to the sweet taste buds of an Indian consumer?
People are fanatic about taste, they would never compromise with taste. The challenge is that what I am doing will be perceived as a commercial thing but if they try to do it at home it will be super affordable for them initially.
It is an evolving product, it will not be right for us to compare it with their current sources of sweet foods. Vegan sweet is also available but it is not as affordable. I am not much of a sweet person but there are a lot of vegan options available like vegan ghee, vegan mayo, vegan butter, vegan cheese, vegan milk.
How can people from other cities buy your products?
We will be starting with Jaipur only since it is just the inception right now. But I have plans, maybe 4-5 months from now, I will be raising funds as I want to scale up. As we raise funds we will be able to get into sustainable packaging with extended shelf life. Maybe then we will be able to ship, put it in retails stores and online on Amazon, etc.
There are going to be many challenges but we will see how things shape up. We will look at accessibility as well but at this time it is too early for us to start working on it. For now, we will be looking at understanding the consumer better in Jaipur right now.
Let us wish Animesh great success and his plant-based milk brand Oats'Up to reach the MilkyWay.
Here is the complete video of the conversation.