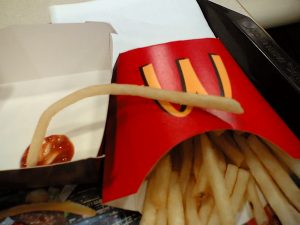 If you have ever been to McDonald's takeaway or dine-out restaurants, there is a likely chance that you would have eaten the famous McDonald's, French Fry. Whether as an accompaniment to the burgers or as an individual snacking item.
The golden yellow color, salty crispiness outside, and the potato tenderness inside make McDonald's french fries a delicious menu option.
Having said that, the source of the french fries is many liters of edible oil – used for making them so flavorsome.
Without going into the ingredients of McDonald's french fry or the controversies surrounding whether the oil is vegetarian or not, palm oil or not, etc etc. This article is more about a recycling project which McDonald's has undertaken related to used oil.
Adding Fuel to the Fire Making Fuel from Fry ~ McDonald's French Fry 🍟
In the latest addition to McDonald's biofuel initiative, restaurants in McDonald's Netherlands have collaborated with oil company Neste and logistics provider HAVI to turn its used french fry oil into low carbon diesel fuel.
Neste corporation not to be confused with FMCG major Nestle is the world's leading provider of renewable diesel refined from waste. While HAVI is a supply-chain and logistics company, whose trucks deliver goods to McDonald's.
Announced on June 24, the partnership between Neste, HAVI, and Mcdonald's envisages creating a circular economy. Where Neste will convert the oil, which is then used in the HAVI trucks that deliver supplies to McDonald's.
All 252 McDonald's restaurants in the Netherlands will participate in the scheme, and Neste and HAVI are seeking to convert other restaurants' cooking oil into renewable fuel.
Speaking on the occasion, the head of the supply chain at McDonald's Netherlands, Jeroen Dekkers, said "McDonald's is committed to sustainability through its Scale for Good program. We are big enough to make a difference. Circularity and reducing waste are one of the pillars of our ongoing sustainability program. The collaboration with Neste and HAVI is an excellent example of how we can make circularity a practical reality. We are connecting the recycling of a valuable waste fraction, which we have been doing for years, to our ambitions to reduce our climate impact. Together with HAVI we developed a roadmap to see what steps we could take to reduce our carbon emissions from the logistics side and to make our logistics more future-proof. In addition to switching to renewable diesel, this entails a look into hybrid and electric vehicles and using logistic city hubs to reduce inner-city movements,"
Is this something new from McDonald's?
No, In 2012, in UAE, McDonald's partnered with local companies to make biofuels using cooking oils.
In 2018 a number of McDonald's restaurants in India started to use cooking oil to make biofuels to run trucks and refrigeration equipment. Here is a video from the company explaining the process of McDonald's french fry oil being converted into biofuel.
How does this work?
The recycling of edible cooking oil into biofuels is not new. This is a chemical process called transesterification. The process allows the carboxylic acid in the oil to be converted into esters using acid and alcohol. This breaks down the carbon chain in the oil and it can be used as diesel fuel. One liter of used cooking oil can make about a little less than a liter (~900 ml) of biofuel.
Is this happening elsewhere?
In the middle of 2019, the Food Safety and Standards Authority of India (FSSAI) launched 'Repurpose Used Cooking Oil' (RUCO). The scheme calls for all food operating businesses (restaurants, hotels) to discard the used cooking oil to an authorized agency. This, in turn, is given to State-run oil marketing companies to sell and distribute biodiesel made from used cooking oil. The implementation of the scheme is still a challenge, but the baby steps have begun.
Impact
The best part of the fuel is that it is a low-emission alternative to fossil diesel and will not need any modifications to current diesel-powered engines.
Renewable diesel fuel is estimated to emit up to 90% fewer greenhouse gases (GHG) into the environment, as compared to diesel from fossil fuels.