If you are a woman and have traveled different places, how many times you would have grimaced at the very thought of using a public toilet.
Especially during road travels, where most of the time, you will not find a decent toilet, unless you go to a hotel.
If you are a man and have traveled with a woman companion, it is kind of your duty to ensure that the lady addresses her nature's call in a secure & private place. You need to keep a watch for any unwanted elements snooping around into your woman companion's private space.
While most of us would only hope that things change for better in our society, few would dare to make a difference.
The story of Yashwant and Neelam Singh is the same, a young couple from Indore. In one of their intercity travels on a bus, when Neelam (wife) did not find a suitable toilet at a supposed toilet stop, she went around searching for a dark corner. Instead of a dark corner, she encountered some hooligans with dark intentions, luckily her husband noticed the incident on time and raised an alarm.
This is not a one-off story, chances of this being faced by women are quite frequent and some might not be lucky as Neelam.
Having said that, irrespective of gender, it is important for all of us to have a clean, hygienic, and comfortable toilet.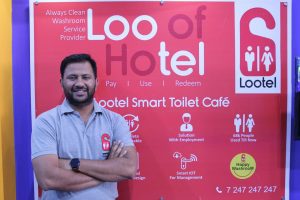 With that thought, Yashwant decided to set up Lootel, a smart technology enabled comfortable & luxurious restroom. It was in 2017 when IIT graduate Yashwant decided to quit his well paying job and became an "accidental entrepreneur"
Here is an edited version/excerpts of our conversation with Yashwant Suthar, where we discussed his interesting story about starting Lootel cafe and restroom, for the full discussion please watch the video.
How did it start? – A life Changing event
I am an industrial designer, and I was working with the automotive OEM company as an automotive designer. I never had any intention to work in any sanitation industry. One day on a bus trip, my wife had to use a toilet and she didn't find any suitable place, she decided to go into a dark corner. One guy started following her, I was able to raise an alarm and it was a near miss. It was one of the worst incidents which happened to me.
By God's grace, nothing happened, but it was a life-changing event
When I questioned my wife, why did you go to that dark street, she gave a very nice reply, "men are dogs they can do it anywhere, but being a woman, I need space"
What problem did you identify?
We are trying to find out the water on the moon. But we do not have water in our public toilet. That's the biggest irony.
Most people start with the idea. I would recommend that first find out the problem and work on that. Along with my job, I started to work on that problem.
Generally, our mentality is that after using the toilet, we will not clean it. So even if we build a 5-star toilet, but if it is not clean, it is equivalent to no toilet. The main problem behind the public toilet is not about building, but more about operations.
As part of the research, we found that in India, you will find 2 things – Toilet and Tea Shop – both are not up to the mark. So we decided to go ahead with both.
So what is the concept?
The name is LooTel – A combination of 2 words Loo of the Hotel. It is a cafe on the front and a Toilet at the back.
We opened our first public toilet in January 2017.
The cafe supports the toilet, we charge Rs. 10 for the use of the toilet, which you can use as a discount for buying an item from the cafe. This way it is having financial sustainability, if we don't have that, no product or service can work.
Is it Franchise based or ownership-based and in how many locations Lootel Cafe is present
It is both and completely bootstrapped.
We have 4 cafes till now, 3 are in Indore (Madhya Pradesh) and 1 is in Rameshwaram (Tamil Nadu).
How do you manage the Logistics?
We work with municipal councils, we apply for a tender, which is a normal process. Depending on the location, different models can be applied.
In spite of a few bureaucratic challenges like delays, changes in officers, but overall there is government support as they are encouraging startups, these days.
What was your family's take on this startup?
Being a married guy with kids, there is a lot of responsibilities. Before going to mother and father, one has to go to their life partner, she was okay when I told her about this. My father gave a nice comment "jab sulabh hi chalana tha toh IIT se kyon padha" (When you had to run a toilet, why did you go to study in IIT).
What is the role of Technology in your concept and how is it helping?
From Day 1 we invested in technology, but it had evolved continuously over the last 3 years due to various issues. Currently, we are developing IoT (Internet of Things) in our toilet, which is amazing. This was tested in December 2019 and was supposed to launch in May 2020, but due to Corona, there will be a delay.
The technology gives complete real-time access to public toilet health and helps greatly.
There is an emergency button, which can raise the alarm in the outlet and also alert the central control room
The data is helping to generate insights and come out with solutions
Feedback system
Fire Alarm
Odor sensors
Water consumption
The central dashboard is giving the live data, whether the toilet is being used or vacant, all the information is captured.
Having technology is my long-term objective, I believe in data.
How are the response and the footfalls?
Depends on the area, sometimes 200-300, in the peak time it reaches 600 as well.
How are the COVID times
Yes, these are tough times, where we have not opened, but I am sure we will bounce again. The COVID has spoiled all our plans.
Are you looking for investments?
Yes, we are looking. Having said that, we are in a taboo sector, like who would like to invest in public toilets. As such, I am not a tech company, we are working as a service company.
This is a CAPEX-heavy business, so I want investment, but I know it will take its own time.
How are you pulling people to use and pay for the toilet?
We might be charging Rs 10, but a person can redeem it for an item in the cafe, so in a way, it is free for the user. Interestingly, a street hawker boy is my returning customer, he uses the toilet 3 times a day.
It is about hygiene.
We are using digital marketing and word of mouth publicity is working amazingly. So we have many returning customers.
Do you have any idols?
I try to learn from many people, you can learn anything from anyone. Ratan Tata, Mahindra, Ambani. Elon Musk, Jack Ma – everyone has their unique point. You cannot become 2nd Ratan Tata or 2nd Mahindra.
I can learn a lot from these people and adopt many things from these people. So I do not blindly follow anyone but I learn from everyone.
I am happy to be known as a Public Toilet guy, I did this startup to provide service of Public Toilets accessible in India.
Future Plans?
Our future plan is to work both on design and technology. One day I want to see 70mm INOX screen of all the Public Toilet – one control room of whole India.
My dream is to make a big change in the Public Toilet in India.
Let us wish Yashwant Suthar and his Lootel cafe and restroom success.
Here is the complete video of the conversation.