If you meet an architect what would you expect?
Plan and design fancy houses & buildings, multistories commercial complexes, skyscrapers, apartments, schools, government offices, etc., etc.
Well, not everyone is the same. There are a few who architect a future.
Farhana Rashid Bhumijo is one such name.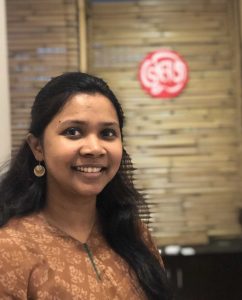 Farhana is an architect by profession & training, but instead of taking a typical role of architecting a building, she is architecting a future, future of people in Bangladesh.
Entrepreneurs discuss solving a problem, but there are very few who start on a problem which is common across the globe, especially in developing & underdeveloped regions of the world – finding a clean & hygienic place to attend nature's call – TOILET.
If you are a woman, the problem is even more severe, the mother will ask their daughters to drink less water in order to spare the plight of finding a toilet.
Farhana Rashid decided to change this mindset so that her daughter and no other daughter has to go through the same turmoil. She decided to start Bhumijo, in Bangladesh – the eighth-most populous country in the world and one of the fastest-growing economies in Asia.
But, like many of the developing and populous countries faces a huge shortage of clean, safe & hygienic toilets.
Farhana Rashid Bhumijo, is into Public Toilets space, providing sanitation services. Considering an architect is involved, the company makes sure the toilets are comfortable and convenient for its users.
Here is an edited version/excerpts of our conversation with Farhana.
Bhumijo, an interesting name!!

Bhumijo is a Bengali word and it means something that has evolved from Earth. So, it is nothing related to the toilet.
I am an architect by profession and then I did my master's in sustainable urban planning and design. The thought of naming the organization 'Bhumijo' actually came from that as my profession demands creating something out of the earth; thus the name was a reflection of that. Furthermore, it was also about acting responsibly in anything that we do.
Why Toilet, not many start their entrepreneurial journey with Toilet
The toilet initiative actually started very early on in my life. Being a woman, I realized that we did not have good public toilets anywhere. We all faced this – me, my mother, and so many other girls.
But we never spoke about it. It was as if we are taking it for granted. In fact, whenever we went outside it was very common for us to drink less water or if we used to take water while going out we were told not to have too much water and this is a very common story among women.
Shortly afterward I came to know that one of my aunts passed away due to recurrent UTI and kidney failure. That is when I really decided that I need to work on that and that I cannot give up. I kept thinking of an idea that could help solve this problem to create a good maintained and better quality, healthy, and hygienic toilet across the country.
What was the journey like
There was this competition called the Urban Innovation Challenge organized by BRAC at the end of 2016. We submitted our idea and we got the funding.
Initially, the idea was like we can do it, it can be done – that stage. But after getting the seed money we translated our idea into reality. It was a women-only toilet at that time.
Within six months it was operationally breakeven. That was another milestone for us. And right now we have seven operational toilets.
Our services now include designing where the public toilet should be and how it should be. We also do the planning and designing and how the construction should be and most importantly the operations and maintenance. While we operate around 7 public toilets, we have designed over 15 toilets across the country so far.
So is it like you provide consulting services to others who want to construct a public toilet?
Yes, we do. We do research related to toilets. Also, provide architectural and engineering design and support for construction. It could be different agencies like the city corporations or government agencies like railway stations or some other private organizations that want to contribute to this sector and also some NGOs.
Most of the public toilets that we operate are owned by other agencies like city corporations or the ones that we operate in markets are owned by market authorities.
What is the business model like? How do you ensure sustainability?
We charge some money and the fees are of two different types. One is a subscribed user and the other one is a pay-per-use user. At the same time, we also have some other things available at the facility like drinking water, washing facilities, hygiene facilities like diapers and sanitary pads, etc.
So it is related and is very contextual depending on some things which are really needed at some place while it may not be available at the other.
What were the initial challenges that you faced?
Building something new is not uncommon but maintaining it with very good quality is very uncommon in Bangladesh. Initially, people thought it would go back to the previous conditions like the typical toilets which are already existing in the country.
Maintaining the hygiene and health of the toilets at the same time and making them operationally sustainable in order to ensure that we do not have to put much money from our own pocket has been the focus. The response has been good so far. Initially, people thought that women-only toilets wouldn't work.
The public toilets are not seen to be, from a business perspective, viable. They are seen more from the NGO lens wherein you donate or it runs via grant or CSR.
How is your experience working with the government authorities? How easy or difficult is it to find space for toilets?
Our initial proposition was not to build a completely new toilet. When we started we found from our initial research we found that there is a lot of underutilized toilets which are not in good condition. So our idea was to make them operation-wise sustainable and also a place that people can go to without hesitation.
Dhaka is very crowded and also most of the urban places are also very crowded. Finding a piece of land is not that easy. And hence the thought of using a toilet that is already in a good location and which has very good accessibility.
At first, we visited some places and developed some findings or metrics like how many people are using the toilet or what are the basic metrics of that location or the mix of the people (age) or how many times are they using it or what is the duration of their stay or what's the purpose. So, if there is an existing toilet our priority was to check if it is possible to work with that building and with that agency and if nothing is available then our next option was to build a new facility altogether.
Coming to working with the government, it completely depends on the Mayor – if (s)he is a visionary. We are working with a few visionary Mayors who are really taking good initiatives and have a good say on public sanitation. Overall, our government is taking it very seriously right now.
Awesome!! How do you operate the toilet? Do you use technology? Or do you provide the manpower to facilitate operations?
Actually, it depends on the location. In some places, using technology does not cover the initial rudimentary cost of operations.
We operate in two ways;
In some toilets, we are doing everything from providing manpower to tissue paper and cleaning – everything.

Then there is one wherein we provide just the supervision in terms of quality since there is another agency and we train them and also check if they are maintaining quality.
In terms of technology, we are still working on it and in the next few months, we are building five new public toilets in bazaars in Dhaka. Within these new facilities, we will be having new technologies incorporated like different sensors and access control among others.
What is the average footfall in the toilets that you operate?
It actually varies from facility to facility but on average it is around 400 to 500 per day as of now.
What has the feedback been like?
The reaction is good. So far our usage is around 400,000 times people have used our toilet out of which 160,000 are women and so far they are satisfied. Hopefully, by using proper technology we could increase the satisfaction level more.
How are you coping with the COVID situation?
The toilets that were located in the public spaces, like in the park or in the railway station where the trains were not being operated, hence the operations were stalled for a few months. But now it has partially opened.
However, the community toilets were operating full time even during the lockdown period. Also, the need for hygienic and good quality toilets increased in these areas. During this time our team also worked on developing a manual touchless system for using toilet paper in order to minimize the risk of contact.
In the current scheme of things, in our country, based on the existing infrastructure, you cannot change everything and it takes time.
The adoption of new technology takes time. We have also worked with other technologies which are low tech but we have already installed them. The touchless solution has been installed in hospitals as part of our COVID response for health professionals.
You were also like a CoVID warrior. So what are Farhana Rashid Bhumijo's future plans?
Just a few days back we completed our business projection and as per our calculation, we are planning to build and operate almost around 100 public toilets in the Dhaka region. That's our current plan and within next year hopefully, we will go for the next round of investment or any kind of co-investment.
What inspires you
I have a daughter and I want my daughter or any daughter to not worry about drinking water. That's the main inspiration and I hope within a few years the problem won't exist at all.
You have written that you are known as Toilet Aapa or Toilet sister right …
Yeah, I have been trained as an architect and some people were like – what are you doing being an architect? You are not designing high-rise buildings – those sorts of things or fancy kinds of things.
The public toilet problem is there in so many different parts of the world. We are sure this can be taken to any part of the world. We at Change Started wish Farhana Rashid Bhumijo great success in architecting a company that reaches heights, taller than any skyscraper.