The world's leading tobacco company is 'AA' rated by MSCI-ESG – the highest rating amongst global tobacco companies. Morgan Stanley Capital International (MSCI) ratings are a measure of a company's long-term commitment to socially responsible investments (SRI) and environmental, social, and governance (ESG) investment standards.
In addition, the same company is also included in the Dow Jones Sustainability Emerging Markets Index and rated 'A' at the Leadership Level for both Climate Change and Water Security by Carbon Disclosure Project.
The name of the company is ITC Limited.
ITC Limited is India's leading private sector company with a presence across the gamut of sectors – FMCG, IT, Hotels, Packaging & Papers, and Agri-Business.
Many of its brands like Aashirvaad, Bingo, Sunfeast, Classmate, and Mangaldeep are not only household names but are used several times in a day.
The Company was established in 1910, under the name Imperial Tobacco Company of India Limited. Over the years, the company diversified into various business segments and was rechristened ITC Limited, which is no longer an acronym.
However, the jewel in ITC's crown is still its cigarette business which it categorizes under FMCG. Therefore the success and ESG ratings this tobacco company has achieved in sustainability aspects speak volumes about its environmental commitment and leadership.
In FY 2020-21, the company's profit was Rs. 15,057.83 crores (~$1.9 bn) on annual revenue of Rs. 59,101.09 crores (~$7.5 bn).
Given the scale and size of ITC, it is bound to create an impact on the environment. The Kolkata-headquartered company's areas of operations touch various environmental factors like food, agriculture, forestry, water, energy, and waste.
To give a perspective on ITC's sustainability aspects, the company recently released its detailed report spread over 140 pages, giving a detailed account of its vision, measures, and achievements.
The report mentions the efforts ITC has made towards decarbonization, building green infrastructure, promoting climate-smart and regenerative agriculture, ensuring water security for all, restoring biodiversity through nature-based solutions, creating an effective circular economy, sustainable packaging solutions, and enabling the transition to a net zero economy.
Below are some of the highlights of the ITC's Sustainability & Integrated Report 2022 for the period 1st April 2021 to 31st March 2022.
ITC's Sustainability Initiatives
Water:
ITC's biggest initiative is towards watershed development projects, the company is water positive for the last 20 years. This year ITC created a total rainwater harvesting potential of over 46 million kl which is nearly four times the net water consumed by its operations.
Agriculture and Forestry: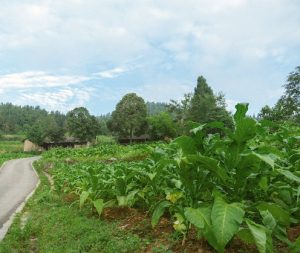 Considering its three leading business divisions – tobacco, paper, and FMCG are heavily dependent on agriculture, the company has done significant work to develop climate-tolerant varieties of major crops like wheat, pulp-wood, and leaf tobacco.
In addition, the company is promoting climate-resilient practices such as zero tillage, soil conservation measures, balanced crop nutrition, drip irrigation, and large-scale watershed development programs.
More than 950,000 acres under forest cover, to date with the addition of 76,608 acres of plantation added under social and farm forestry initiatives that resulted in 6,182-kilo tonnes of CO2 sequestered in FY2021-22
Energy:
More than 40 percent of total energy comes from renewable sources and the company plans to reach 50 percent by 2030. The company plans to meet 100% of purchased grid electricity requirements from renewable sources.
The Company is carbon positive for the last 17 years and this year it has sequestered more than 2 times the amount of carbon dioxide emissions from its operations.
Aligning its facilities on the basis of Green Building certification is also high on the agenda for ITC. The company ITC Green Centre at Gurugram is the first LEED Platinum-certified building in India.
ITC is taking this forward with its portfolio of the world's first 'Zero Carbon' Hotels. ITC Grand Chola is among the largest LEED Platinum Hotel in the World, and ITC Windsor is the first LEED Zero Carbon Hotel in the World. In total 38 buildings of the company are Platinum-rated green buildings by Indian Green Building Council (IGBC).
Plastic and Waste:
The company has a strong focus on waste management and a circular ecosystem. In the current year, the company has completed over 99 percent of waste recycling.
In FY2021-22, ITC turned plastic neutral by collecting and sustainably managing more than 54,000 tonnes of plastic waste across 35 states and union territories. The amount of plastic waste managed exceeded the amount of plastic packaging utilized by ITC during the year.
By 2028, the company targets to achieve 100 percent of packaging be reusable, recyclable, or compostable/bio-degradable. This will be a big achievement for India's fight against plastic, as much of the single-use plastic comes from FMCG packaging.
Wrapping Up
ITC's achievements in sustainability aspects prove that a company can be successful, and generate shareholder value without compromising our environment.
The tobacco business of ITC is still an aspect that makes people and stakeholders reluctant toward its sustainability claims. Time will see if the company hives off this part of the business or not, but ITC's sustainability journey is truly something that calls for admiration.