As the urban population grows and cities expand, we must study interactions between living organisms and the urban environment – man-made structures such as buildings, houses, roads, paved surfaces, green spaces, and so on.
Within this context, urban ecology has emerged as a subfield of ecology in recent decades.
According to the United Nations, more than two-thirds of the world's population will be living in urban areas by 2050, implying that urban ecology is fairly significant.
What is Urban Ecology?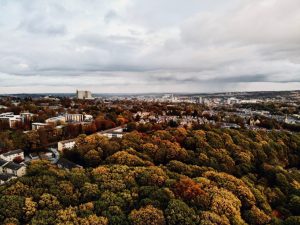 Urban ecology is inherently a multidisciplinary topic of research that requires the study of complex interactions between humans and their surroundings – such as building, energy, manufacturing, housing, transportation, and so on.
Comprehending this topic entails studying geography, sociology, architecture, engineering, anthropology, climatology, and public health, among others.
This is important to examine various factors in a specific city or region – such as landscape use, the effect of green spaces, climate conditions, species coexistence, and so on.
Understanding the distribution and use of landscapes that support the many ecosystem services, involves chemical and biochemical techniques, temperature recording, heat mapping remote sensing, etc. The information gathered from these methods is critical to improving the quality of life in the city and allowing residents to engage socially.
In addition, ecological research is needed for the maintenance and development of green ecosystems as they safeguard natural resources – including recreation parks, gardens, natural open areas, wetlands, and rural lands.
Moreover, studying urban ecology is critical if we want to understand where and how human activity harms the urban environment, or how we can improve human living conditions while causing no harm to the ecology.
Significance of urban ecology
The global population is expected to reach 8.6 billion in 2030 and 9.8 billion in 2050, of which the majority will be living in cities and urban areas. This urbanization will challenge our ecosystems, resources, and the way we manage our cities.
People will require water and air, potable water, and food, which likely be produced outside their cities and delivered to them. Having said that, the inhabitants' quality of life will be significantly tied to the urban ecology where they live.
Moderating weather
The trees and plants in the nature preserves of the city will assist to filter pollutants in the air, produce oxygen, and act as a buffer against climatic extremes like heat waves. The green spaces will lower temperatures, which is especially significant in adapting to future climate changes for landscapes that are prone to high temperatures.
Supporting biodiversity
The existence of green spaces, green buildings, as well as tree-lined roadways, has a significant impact on biodiversity in cities. Natural spaces offer habitats for animals suited to urban settings including birds, insects, and other species.
Promoting well being
The green spaces in the city provide individuals with the possibility to explore nature. It is widely acknowledged that nature has a highly favorable impact on the health and well-being of humans. A visit to a natural space helps in lowering blood pressure, boosting cognitive capacities, and increasing happiness.
Facilitating social interactions
The parks in the city provide its citizens with opportunities for recreation, sports, and social interactions. Natural spaces have an important role to play in the development of children, community engagement, and overall happiness in society.
Mitigate flooding
With climate change posing unprecedented risks of extreme weather events like heavy rainfalls, the unpaved green spaces in a city help in absorbing water and mitigating flooding.
Wrapping Up
Town planners, governments, and scientists have realized that the interplay of the living and nonliving components of urban ecosystems is critical to the survival of all species on Earth, including humans.
Moreover, with increasing environmental awareness in society, we are increasingly seeing expanses of green space within cities. The development of gardens, parks, green spaces, golf courses, and mini forests in cities has become a norm.
However, given the pace at which cities are expanding, city planners would not only need more space for urban ecology but would require innovative ideas to efficiently utilize the limited space.
Therefore urban ecologists must facilitate assimilating the knowledge of the structure and function of the urban-industrial techno-ecosystem, including material and energy exchanges, as well as the variables that influence biodiversity.
Understanding urban ecology will help policymakers to ensure how humans and ecological processes may coexist to assist society in its quest to become more sustainable.
Related Topics
Understanding Urban Ecology is also critical to develop green buildings and sustainable cities.
Want to know about Green Buildings? Click here
Want to know about Sustainable Cities? Click here